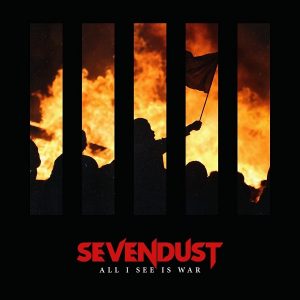 I've always been a Sevendust fan, there's just something about the way they make music that works, the melodies, the tone, the whole damn package. So when it's new Sevendust album time there's always a bit of an internal fist pump as I know what I hear is going to be good! Here we have 'All I see Is War' so let's see what they've done this time around!
'Dirty' was the lead single and what a way to open the album, that signature sound is right there, Lajon is belting this one out, Morgan is doing his thing and this time he gets to scream the album title which I dig. The arrangement on this one is so good, and the way it balances and changes just works, special mention to the solo in here too, Lowery is well back and killing it. I mean how can it get better from here? Oh I'll tell you, with 'God Bites His Tongue' that's how! Instantly that chunky guitar hits and Sevendust have a knack of knowing how to make these songs so damn melodic and in a word approachable, there's nothing to make you squint your face up with like a 'what the hell is going on here?' kind of face, they have this shit down! The breakdown here and oh damn, middle 8 nice! 'Medicated' we have been given a taste of, and this medicine tastes good. 7D you've done it again! I feel like I want to say this one is the ballad of the album, and ballad only in the way that it's a little slower but other than that, here we have a brilliant mid breakdown that has piano, yes, piano, but that doesn't last long as the guitars kick back in. Three in and I can't fault this album so far.
Time for 'Unforgiven' and kablamo! Take THAT, eardrums! I always like to play a game with Sevendust songs as you know that the chorus is going to hit a completely different vibe in the song so when the verses smash you in the face you know a somewhat calming and melody induced chorus is coming and this one is no different, LJ is sounding better than ever, damn that cat can sing! I can't wait to hear these songs live, in fact the way this is going you can leave the rest of the catalogue behind, if they played this album start to finish I'd be more than happy. 'Sickness' starts slower but that'll be deceiving what's the bet? Oh shit, well that's a catchy little ditty! I love how this one turns on its head before getting back on track, not many bands do this well but these veterans have it down. 'Cheers' has a different type groove for the band and I dig it, but what I dig even more is the explosion of 'Risen' damn, now this is where it's at, oh yeah, this one is my stand out so far, the whole package is insane, I'm always a big fan of when the guitars and vocals are mirrored and this one has LJ belting it out on the beat and holy shit wait, what's going on here in the solo, wow, damn, well done John Connolly and Clint Lowery, that was weird and interesting and like nothing I've heard in a Sevendust song before, well done. Wow, that was an unexpected gem!
I just need to make mention as its own entity of the production on this album, 'Elvis' most definitely stayed in the building and what he's done here is an aural pleasure. This album has so much going on in some songs but the balance is perfect. 'Moments' has that piano again as an underlying piece but the overlay of the musical onslaught doesn't wash it out, it's so well done. This one is a bit slower again and these ones are always welcomed as it allows the vocals to shine, oh a whoa oh breakdown, this is going to build to something I can tell… stand by… yeah here's the solo and the chunkiness expected, damn, it's so good to hear Clint back, yes I know he's been back for a while but his sound is a huge part of the Sevendust sound and it truly just works. You may have heard 'Not Original' as the second single and oh wow, this starts off very different, and I'll just say this, Lajon is by far the best vocalist out there in this genre today, go on, change my mind. This one is actually the ballad of the album and how dare you say you're "not original anymore"? This is by far the most original thing the band has done in years, and what a song, and I feel like this will be the 'hey we better play a slower song at the gigs so people don't get worn out' song but it'll be welcomed. 'Descend' turns things back up to an extent and continues the melodic greatness that Sevendust continue to have down, and wow, they know how to nail a middle 8 that's for sure, and the rhythm section, Vince Hornsby the quiet achiever of the band just there doing his this and his bass is the driving force in this one.
Only a couple to go, 'Life Deceives You' being the first and they're going out as strong as they started, for me there hasn't been a lull on this album at all, yes I know I'm a fan and probably have my fan glasses on but so what, I fuckin' dig this record and I get the feeling you all may too as they've really done something pretty damn cool with this one. Oh holy shit, once again they smash they middle 8 out of the park before the wow, non-existent solo here, nice curveball, guys but Morgan gets to scream again which is trademark 7D, love it. It's time to wrap it up and we go out heavy with 'The Truth' and what a way to go! This one is great! Full of big guitars, driving bass and drums, big vocals, big production, this one is just BIG! Now that's how you close an album, you leave people wanting more, after that one I needed another track and it wasn't there. Well done, it leaves me now thinking what's next?! The door is still open, keep it coming!!
It's like as a band they went away and thought 'how can we step things up and just make a fucking killer album that everyone will be happy with?' *thinking guy emoji* and they just figured it out. Well fucking done, Sevendust, in fact all I see is brilliance!
Essential Information
From: Atlanta, GA, USA
Release date: 11 May 2018
Record label: Rise Records
Produced By: Michael "Elvis" Baskette
Website: http://www.sevendust.com
Track Listing:
Dirty
God Bites His Tongue
Medicated
Unforgiven
Sickness
Cheers
Risen
Moments
Not Original
Descend
Life Deceives You
The Truth