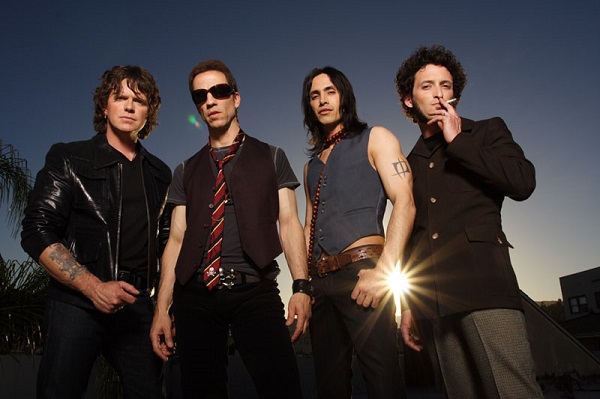 "We've always done our live shows very big and we take a lot of pride in how much energy and how much performance and passion we have there, so I think that's the best way to describe it is you won't be disappointed whether you hate the band or love the band either way."
From Release: Extreme have sold over 10 million albums worldwide since their formation in 1985.  They've released six studio albums, a greatest hits set, and a recent live DVD.  The band had initially described their music as 'funky metal', but it would evolve much more in the mid-90s by blending classic rock influences with post-grunge and alternative rock.  The band's popularity is fuelled by guitar mastermind, Nuno Bettencourt's signature style, Gary Cherone's resonant vocals and socially conscious lyrics, Pat Badger's rock-solid bass, and the hard-hitting Kevin Figueiredo on drums.
While in Hollywood, Nuno gave us a call to talk about Extreme's return to Australia after twenty five years, their show, set lists, new music, and much, much more.
Extreme are finally heading back to Australia for the first time in twenty five years! After so long, how pumped are you to finally be heading back Down Under?
Look you know I'm excited and I'm embarrassed at the same time that it took us that long to get back it's kind of mind boggling that we've been everywhere else in the world and for some reason every time we've tried to come over it wasn't for a lack of trying, it was to do with promoters and things like that and it was always hard to get back there because we left it so long. Hey, we're back, we're coming back and I'm really excited to reconnect with everyone.
I was at the Melbourne show in 1993 and to this day it's still in my top five shows of all time, for someone who hasn't been to an Extreme show, how would you best describe one?
Well I'm hoping that this time will knock our last one out of the top five by this show that's what I'm hoping for, and I think the good news is from a lot of the bands that we're getting to do shows with especially from our generation and with absolutely no disrespect we absolutely come up there and for better or worse we have trouble believing how old we are and we leave it all up there. We've always done our live shows very big and we take a lot of pride in how much energy and how much performance and passion we have there, so I think that's the best way to describe it is you won't be disappointed whether you hate the band or love the band either way.
Amazingly and to the pleasure of many, you're heading here with Mr Big, this is going to be an absolute musical masterclass, how are these shows going to play out?
I don't know, I think I'm going on after Paul (Gilbert) which is not always a fun thing to do for any guitar player, he's such a great player but I really admire him and I think we're very different in how we play. For guitar players it's definitely a great night but it's also I think there will be a good balance of songs and song writing and vocals which makes it an even great night than just a straight up guitar driven evening you know.
When you're coming to a territory after so long away how do you go about structuring a set list?
When you do that it's really not about, imagine doing a new album and that's it we're gonna go and do so many cuts from a new album and that's it *laughs* I think that would be a horrible thing to do, I think the best thing is it's like seeing an old friend, just catching up and to catch up you've got to talk about where you've been and what you've been doing and talk about old times as well which is our first three or four albums, especially three albums, so we definitely because it's been so long we want to make sure that we play all the stuff that people want to hear. So we're going to try and at least cover four or five songs off of each album you know.
Back in the heyday of the 'hair metal' scene, Extreme as well as Mr Big to me always seemed like bands that were more technical and were not so much lumped in to that scene, do you think that was a help or a hindrance at the time?
Look I mean I don't really, when people say 'hair metal' it's always bizarre to me because I don't know I don't even know what that means I get what it means but at the same time we were always in our own kind of egotistical bubble where we didn't care where everybody lumped it or what everybody called it, it was just we were doing what we were doing, we had kind of a funk element to what we did, the radio hits we were doing were acoustic even before Mr Big did theirs, we were kind of one of the first bands since back in the seventies and acts like James Taylor who I think broke pop radio with acoustic stuff like that and 'Hole Hearted' and everything. So we were kind of on our own path we weren't paying attention to what anybody was calling it or what was happening to be honest.
My favourite thing was going to your show and I knew the material and obviously a lot of people were there for 'More Than Words' and 'Hole Hearted' like you said and when you opened the show with 'Warheads' I was watching some of the crowds faces and they were confused and it was so great to see…
Yeah there definitely is a lot of people checking their tickets stubs making sure they're at the right show *laughs*.
Everyone talks about 'Pornograffitti' but I wanted to talk about '3 Sides To Every Story' that turned twenty five late last year, for me this was a perfect album, looking back, what do you remember about releasing this killer album?
I think we were just excited, before 'Pornograffitti' came out we were already almost done with '3 Sides…' writing wise, so we weren't trying to do anything big or anything huge, the orchestra kind of made it more of a bigger deal that it becoming just a regular album you know what I mean? It's a regular album to us, yeah, of course the orchestra is great on the third side and it was a big deal for us a seventy piece orchestra, but I think we were just excited, excited that 'Pornograffitti' had opened doors for us so we were able to shift more music to a bigger audience more than anything.
Now it's been a long time between new music from the band, can we expect anything new in the future?
Yeah it's been way too long, once again way too long for everything, Australia, albums, we've been working on an album for the last eight years and we should already have two out but we are excited, we're definitely releasing something by the fall or definitely by the end of the year and yeah, it's just another Extreme album, it's a new album but we're excited about it.
So it's sometimes easy to say what's changed in your time in a band but what would you say is the one thing that's stayed the same in your time together in Extreme?
I mean I would definitely talk about and I think the thing we get a lot and it's what I was kind of hinted to earlier when we play gigs in the UK or the US we always get those same comments like 'wow I think you guys are better now than you were then' and seeing that same band with the same energy and the same want to be up there, so I think that's the good news, that's the good thing to take away from it is that we've never lost that part of it and it's kind of not that we try to do it it's just who we are. So I think whenever we do a show I think we still feel it like we did when we were seventeen or eighteen years old.
Looking back, was there one piece of advice you were given when you started making music that you still go back to to this day?
No man, I was never really given much advice, the advice was given to me from all the bands I grew up on and the stuff I listened to, it was The Beatles, and Zeppelin and at the end of the day I think all the bands that I loved, Queen, Prince, Zeppelin, The Beatles, the one piece of advice that they gave me is to just be yourself and you don't really try to please everyone, you try to write the greatest song you can and the greatest songs and you try to do the music for no one other than yourself and hope that people will connect and you connect with people and try to be as individual as possible. Of course you have your influences you can't avoid that, they all did, but you're trying to make your own soup if you will, as Zakk Wylde always tells me it's just a different soup and just different ingredients that's all.
Outside of Extreme you've released some solo work before, are there any plans for future releases?
Look, if I can get an Extreme album done that would be a miracle, that would be great first that's the priority, I do want to do some solo stuff maybe the following year there's a couple of interesting things I'm working on for fun and do something really different. Right now it's just get this Extreme album done and get that out.
As one of if not the best guitarist in the world, I know you had Generation Axe a little while back, but who do you see as the next generation of players coming through, anyone stand out as just unbelievable in your eyes?
Yeah actually there's a guitar player that I'm hoping to be playing with and like everyone else you kind of discover on social media or on Instagram and there's this young kid and he hasn't done an album yet and I'm hoping to do an album with him soon, I reached out to him about producing an album for him I think he's really special. His name is Mateus Asato a Brazilian Japanese cat and you can check him out on Instagram he tours with some artists like Jessie J sometimes as well as Tori Kelly but he's a really interesting player, he's melodic and he's got a lot of great ideas and yeah, I'm thinking he's kind of like the future.
Well hopefully you'll do Generation Axe again and then bring it down here…
Yeah listen we were supposed to, they tried to do a tour but once again it's very difficult to make it work but promoters down there are very hard on bands to come over, they don't make it very easy to come down, everybody wants to make a shit tonne of money all the time and it's very difficult to go long distances and do that. We're always up for going down there and it's just to get there even if anyone makes any money or not just to connect with the audiences and hopefully Generation Axe can do that as well.
Lastly let's look ahead to the future, finish this sentence for me, by the end of 2018 Extreme will…
Oh god, have an album out, I prey. I prey.
EXTREME AND MR BIG
AUSTRALIAN TOUR DATES
Friday 1st June 2018 – Eatons Hill Hotel, Brisbane
Tickets available from: www.oztix.com.au
Sunday 3rd June 2018 – Enmore Theatre, Sydney
Tickets available from: www.ticketek.com.au
Wednesday 6th June 2018 – Forum Theatre, Melbourne
Tickets available from: www.ticketmaster.com.au
Thursday 7th June 2018 – Thebarton Theatre, Adelaide
Tickets available from: www.ticketmaster.com.au
Friday 8th June 2018 – Metro City, Perth
Tickets available from: www.ticketek.com.au
Presented by Zaccaria
Essential information
From: Boston, MA, USA
Band members:  Nuno Bettencourt – Guitar, Gary Cherone – Vocals, Pat Badger – Bass, Kevin Figueiredo – Drums.
Website:  http://www.extreme-band.com