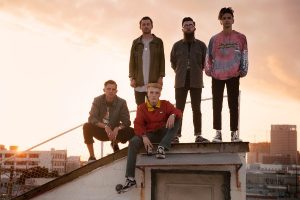 NECK DEEP have become the most successful UK band in the history of the pop punk genre, at an average age of just 23. On the back of appearing at Download Festival and alongside Good Charlotte during their recent headline run in Australia, the pop-punk lords will return down under in November and December for a string of their own headline dates, the first since The Peace & The Panic dropped in August of last year. Already having played over 100 shows throughout 22 countries, and selling over 54,000 tickets since the album's release, the dedication of the 5-piece has seen them on a trajectory of unbridled success, becoming the zeitgeist-capturing band of their generation and scene.
Tickets for all shows go on sale at 1pm, Thursday May 17.
My Live Nation members can secure tickets first during the exclusive pre-sale beginning 1pm, Tuesday May 15.
For complete tour and ticketing details, visit: livenation.com.au.
They've scored Kerrang! and APMA awards along the way and worked alongside legends like Mark Hoppus of Blink-182. Their second full-length album Life's Not Out To Get You smashed its way into the top 10 of both the UK and U.S. album charts. Neck Deep's third album The Peace & The Panic, which debuted No.8 on the ARIA albums chart and hit No.2 on the Billboard 200 chart, is a meditation on the constant duality of life and the struggles that come with it.
Joining Neck Deep on their 'Straya' tour are locals Stand Atlantic, Between You And Me* & Stateside.
Upon releasing their critically acclaimed EP Sidewinder via Rude Records, STAND ATLANTIC continue to go from strength to strength. With an honest lyrical nature being the core foundation of the Sydney female-fronted 3 piece, they've gone on to achieve international recognition thanks to a worldwide touring cycle with some of this genres biggest acts.
With their foot firmly on the accelerator, pop-punk powerhouses BETWEEN YOU AND ME are on an upward trajectory. Just this year, the band have hit the road with Australian pop heroes Tonight Alive and Arizona punks The Maine. They've also been spotted sharing stages with Hellions, Seaway, Little Brother and Cute Is What We Aim For.
Spreading a new-wave of energetic female fronted pop rock STATESIDE have supported the likes of The Wonder Years, As It Is, Cute Is What We Aim For and Knuckle Puck. The band haven't slowed down in 2018, touring Australia with Against The Current, before getting a call out of the blue from Simple Plan, asking them to join their sold out April 2018 National tour.
Do not miss Neck Deep performing a full length headline set in Australia for the first time in almost four years.
NECK DEEP
SUPPORTED BY STAND ATLANTIC,
BETWEEN YOU AND ME & STATESIDE
CAPITOL, PERTH*
THURSDAY NOVEMBER 29
THE METRO, SYDNEY
SATURDAY DECEMBER 1
THE TRIFFID, BRISBANE
SUNDAY DECEMBER 2
170 RUSSELL, MELBOURNE
TUESDAY DECEMBER 4
*Between You And Me not appearing in Perth
TICKETS ON SALE 1PM, THURSDAY MAY 17
Live Nation pre-sale starts 1pm, Tuesday May 15 until 12pm, Thursday May 17
For complete tour and ticket information, visit:
neckdeepuk.com & livenation.com.au