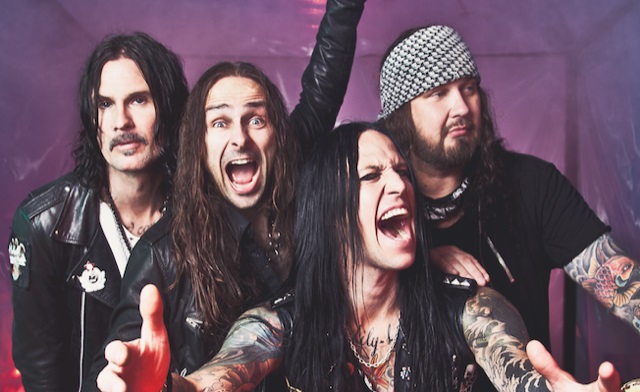 "…now I'm forty four and we were like young kids who wanted to conquer the world and world domination and we still have that in a weird way at the age of forty four still have that I want to conquer the world thing, we take that with us when we record new albums and we think about that…"
From Release: Busting out of Gothenburg with their 1998 debut album, Superstar gave a respectful nod to the generation of LA rockers who came before them while mixing it up with their current day contemporaries. The result was It's Only Rock N' Roll and it can be confidently called a game changer, giving birth to a whole new hybrid genre. By the mid 2000's the band moved slightly away from their core sound and dabbled in some Brit rock and Misfits style punk before circumstances lead to them going on an extended hiatus. During the break the guys worked on restoring a house that one of them inherited. Blasting out Appetite For Destruction, Dr Feelgood and Among The Living on repeat and with a cheeky grin, they knew what needed to be done.  They went back to their roots and refined their sound to be the bastard child of them all and that's been the Hardcore Superstar way ever since!
While at home we gave Jocke a call to talk about the band's long awaited return to Australia, their forthcoming album 'You Can't Kill My Rock N Roll', two decades of the band, home town shows, and much more…
You're finally heading back to Australia after ten years, what can people expect from a Hardcore Superstar show circa 2018?
A lot of energy a lot of power, a good time, most of all a good time.
Of course you were supposed to come over a few years back which never eventuated so we're stoked you are now.
Yeah we had some problems with Soundwave, AJ what's his name? I don't know what happened actually, they changed our schedule and we got a little pissed, so we're sad that we didn't go so finally we're coming back.
In the ten years since your last visit you've released four soon to be five albums, how do you go about structuring a set list after so long away from our fine country?
Yeah *laughs* we're playing for ten hours… no actually it's kind of hard because we have to play 'We Don't Celebrate Sundays', 'Last Call For Alcohol', 'Above The Law', 'Moonshine', 'Someone Special', we have five or seven songs that we have to play the fans demand that so we have to do that and then we try to put in some favourites of our own in the set, but we're playing like fifteen or sixteen songs every night so it's very hard to do a set list but we managed so far so… hopefully the Australian fans will be satisfied as well.
'You Can't Kill My Rock N Roll' is on the way, can you give us three words that will sum the album up perfectly?
Party, once again energy, and good songs.
We can hyphenate good songs so that can count as one.
*laughs* Yeah!
What if anything did you set out to do differently this time around?
Actually this time compared to the last one we're more diverse than the other Hardcore Superstar albums that we released, we went back to basics, the songs we had on the last album we had to get them out of our systems somehow so that's why we released the album, and we loved the album but the fans were like fifty percent were like what the fuck are they doing now, and fifty percent were like ok it's good but they weren't that overwhelmed with the album. This time like with 'It's Only Rock N Roll' we went back to basics more traditional Hardcore Superstar sound, like the 'Split Your Lip' album, more like that kind of area so they will hear that Hardcore Superstar is back.
Being in the band now for over twenty years, what do you think it is about Hardcore Superstar that just keeps on rolling?
The love for music *laughs* with a laugh at the end. I think that we really love music and playing live, and I remember Thomas our first guitar player left in 2008 he told me that when we started out in 98 and we released the first album he told me "you know, Jocke, bands like us we only exist for five or six years" and now I'm sitting here twenty years after. I think it's about you have good quality in what you do and you always do your best then you will stick around you know, time will tell and I'm not getting younger *laughs* but I feel I've got more energy than twenty year old guys so that's a good thing.
On the twenty years, 'It's Only Rock N Roll' turns twenty this year, what do you remember about releasing that first album?
I remember I was so nervous because before that I released some singles and stuff but never a full album, so I remember I was so nervous like they're gonna kill us, they're not gonna like it, but they did but I wouldn't think that we would be here twenty years after that's weird. You take album for album, you don't think about the years actually.
Looking back is there anything you did on that album that you still go back to and use to this day when making albums?
Yeah, we try to take the energy we had on that album to put on every album nowadays or when we write an album or record an album, back then I was twenty four, now I'm forty four and we were like young kids who wanted to conquer the world and world domination and we still have that in a weird way at the age of forty four still have that I want to conquer the world thing, we take that with us when we record new albums and we think about that, and always think about the quality don't do anything too fast and think through and do the best that you can on every song and that's what we had on the first album as well so we still have that in us. I think that's probably why we're still here.
You guys recently sold out an arena in your home town, how did that feel?
Good *laughs* I mean you become legends in your own city I mean we're touring all the year and when we come back to Gothenburg and we sell this place out it's like 3,500 people and it's like a big party for two hours and I remember when we did the show in March I got my family there my two kids and my wife and after the show I was supposed to go on this after party but I was so tired *laughs* that was like "Honey we're going home now" she said "Aren't you going to the after party?", "No, I'm going home" I went home, went into the living room, grabbed a beer, sat down in my sofa and just watched out in the garden and drank the beer and fell asleep in the sofa *laughs* I had no energy left, I gave it all. Home town, 3,500 people it was exhausting afterwards, it was like wow.
So what else is there that you'd like to do that you haven't yet had the chance to do?
I would love to do a tour in Taiwan, Thailand, Korea, Africa, we haven't been there so that would be awesome, and stay a little longer in Australia because we're going down on the 11th of June and then we have two days off and then we play four shows in a row and then we go home. I want to stay longer.
Lastly let's look ahead to the future, finish this sentence for me, by the end of 2018 Hardcore Superstar will…
Release a new album on the 21st of September and probably have done a lot of shows.
TOUR DATES
Thursday, June 14: Oxford Art Factory, Sydney
http://bit.ly/hcsssyd
Friday, June 15: Prince Bandroom, Melbourne
http://bit.ly/hcssmel
Saturday, June 16: Wooly Mammoth, Brisbane
http://bit.ly/hcssbne
Sunday, June 17: Fowler's Live, Adelaide (Lic AA)
http://bit.ly/hcssadl
Tickets on sale NOW
Bit.ly/hcssaus
Presented by Silverback Touring
Essential information
From: Gothenburg, Sweden
Band members:  Jocke Berg – vocals, Vic Zino – guitar, Martin Sandvik – bass, Adde Andreasson – drums
Website:  http://www.hardcoresuperstar.com
Forthcoming Release: You Can't Kill My Rock N Roll (Gain Music / Sony Music) Coming September 21