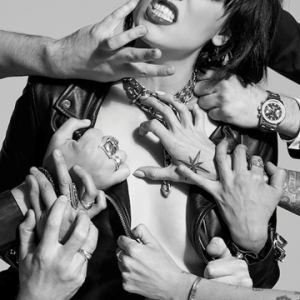 GRAMMY® Award-winning band Halestorm have announced the impending release of their fourth studio album, Vicious, out July 27. Vicious, which was recorded earlier this year in Nashville with producer Nick Raskulinecz (Foo Fighters, Alice In Chains, Rush), is available to pre-order now.
Vicious features the lead single, Uncomfortable; the official video for which was directed by Evan Brace (Phantogram, Taking Back Sunday).
Widely acknowledged as one of the most vital and iconic bands in modern hard rock, Halestorm made a spectacular debut with their 2009 self-titled LP. This was followed by 2012's The Strange Case Of… – which featured the GRAMMY® Award-winning single, Love Bites (So Do I) – and 2015's Into The Wild Life.
One of the hardest working bands in rock or any other musical genre, Halestorm has spent much of its lifetime on the road, performing thousands of live shows since their inception. The band has also made their mark on the Australian live circuit, with tours in December 2015 and January 2017.
Halestorm will discuss their latest album in further detail at several upcoming special events. The band will conduct a Facebook Live interview with hard rock and heavy metal site Loudwire, which will be broadcast on June 1 at 2.45AM AEST. They will also join Huffington Post's Lauren Moraski for an interview and live Q&A as part of the BUILD Series, which will be broadcast on June 1 at 3.30AM AEST.
Finally, the band will host An Intimate Evening of Music & Conversation with Halestorm at New York City's Sony Hall, presented by BackStory Events. The sold-out event will include a long-form interview by journalist and founder of the Women's International Music Network, Laura B. Whitmore, audience questions, and an exclusive performance. The event will be streamed live via the official Guitar World YouTube channel on June 1 at 9AM AEST.
From late July through August, Halestorm will embark on another national U.S. tour, co-headlined by In This Moment and showcasing all female-fronted hard rock bands.
Vicious track listing:
Black Vultures
Skulls
Uncomfortable
Buzz
Do Not Disturb
Conflicted
Killing Ourselves To Live
Heart of Novocaine
Painkiller
White Dress
Vicious
The Silence
FOLLOW HALESTORM
OFFICIAL WEBSITE | FACEBOOK | TWITTER | YOUTUBE