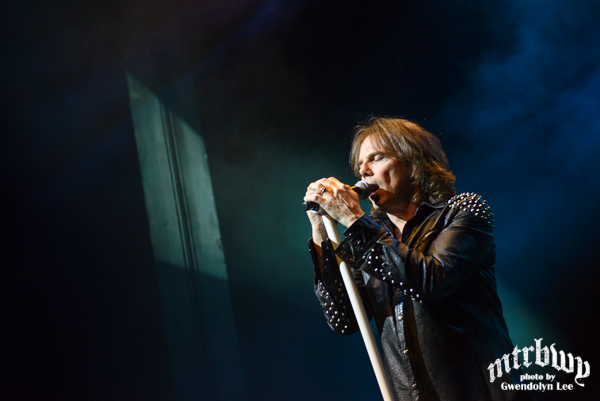 It kind of feels hard to believe that Europe have never toured Australia, but here we are in 2018 and they're finally here to give us an evening with Europe, all Europe, all night and the crowd here are pumped and ready (even if a lot of them are here for one song.) Let's see how converted they are after this show!!
Here we go!!! Yeah, I'm excited so get used to that in this review.
Opening with 'Walk the Earth' as almost expected as they are out in support of their newest album of the same name, and straight away I have to say wow. Just wow straight away!! Joey Tempest sounds absolutely incredible and let's also talk about John Norum's guitar tone, unbelievable. I don't know how I can contain this level of excitement for the whole show. What an opener!!!! These five guys are delivering a sound that is astronomical, they explode straight into the heavy 'The Siege' and the tambourine gets a run which is so Rock and Roll. Holy shit! 'Rock the Night' this early! I'm gonna lose it. This is amazing. We get to do the 'whoa oh's' and I'm eleven years old all over again. Mic steps away from the keys to strap on a guitar and they belt out some AC/DC with 'Whole Lotta Rosie' and it sounds great! They round out the tune bringing it back to 'Rock The Night' and everyone loses their mind. There is such a buzz in here.
Wow, taking it way back to 'Wings of Tomorrow' and pulling out 'Scream of Anger' which slays and again Norum doesn't miss a note. Oh man we're back to The Final Countdown album and it's 'Danger on The Track' and it just sounds so heavy! I always loved the solo in this one with the split keys / guitar and here it just was perfect. Norum straps on the Flying V and things get heavier with 'Firebox' and the tambourine resurfaces to somehow make this song even better. Let me just say that it's hard thinking of words other than wow or amazing to describe this show so far but who cares. Wow this is amazing!!!
Mic solo intros 'Sign of The Times' and it's awesome to head to 'Out of This World' and to hear Norum play a Kee Marcello solo was sweet. Norum takes to the front of the stage and the band join in for 'Vasastan' and this instrumental is still better than most things I've seen by any other band this year. This is just precision skill and this band is TIGHT. The drums hit and Joey runs back on stage for 'Girl from Lebanon' and that was heavy, John Leven's driving bass through this was a standout! Joey throws on an acoustic for 'Open Your Heart' and it very quickly became a monster. I've been waiting a long time to hear this one and it truly didn't disappoint. Although let's talk about 'War of Kings', this song is made for the stage, this is a monster and has become the stand out of the night for me so far.
'Heart of Stone' sounds so matured in this environment, plus the chorus is outstanding and what a surprise that one was. Joey now has an electric on and we're back to 'War of Kings' with 'Days of Rock 'n' Roll' which is a great rocker indeed. Now, here's the song I've been waiting thirty years to hear, it's 'Superstitious' and I don't care, I was belting out every word and with an interlude of 'So Lonely', 'Here I Go Again', 'No Woman No Cry' and back with an outro of the song and the crowd went crazy, now THAT is a damn good rock song. Time for a break, and boy, after that start we all bloody need it. I kid you not, I could leave now and still be happy but knowing there's another set, the excitement levels are growing.
Now it's time for the band to rock us just a little more with 'Ready or Not' as they return to the stage. Then as the prelude to 'Last Look at Eden' plays Ian counts the song in and here we go, and this one is heavy! That was actually close to the highlight of the night. Wow what a song, and to be honest I wasn't really expecting anything from that album so that was a nice surprise. Things stay heavy and chunky with 'Hole in my Pocket' from 'War of Kings' and they've kicked things off nicely with this second set. They keep it absolutely rockin with 'Seven Doors Hotel' and are you kidding me? This is faultless. This is an unexpected gem thrown in, and by gem I'm talking their first ever single back in 1983 kind of gem. Stoked and the harmony keyboard and guitar solo here is a treat to witness too.
The crowd roars as Mic hits the opening chords of 'Carrie' the place goes wild. That was easily the biggest sing along of the night. Again, in waiting so long to hear these songs they're all delivered so well and it's just a pleasure. More mic stand work from Joey with 'Turn to Dust' and that was epic, them time for a drum solo from Ian which is all sorts of entertaining. 'Stormwind' gets us rockin' again then the acoustic comes out again for 'Prisoners in Paradise' which sounded great and felt maybe a little slower but was so great to hear and we needed a slower one after the continual aural onslaught of heaviness and amazingness. Things get a whole lot louder in here with 'GTO' then it's time to head back 'Out of This World' and they 'Let the Good Times Rock' and its hook laden goodness. They belt it out and leave the stage, but wait, there's more.
They run back within no time and it's finally time for 'Cherokee' and hearing that drum beat open it and those keys kick in the place lost their mind, this one sure got a huge reaction, although nowhere near as big as what happened next. You guessed it, it's time for that song that all those new Europe catalogue converts were waiting for, it's 'The Final Countdown'. No need to talk about that, it was OK… I kid, I kid… from the countdown from ten to one when it kicked in the place erupted. You could just see how happy not only the crowd were but the band also. Every member was smiling tonight, they got to see what we've waited thirty plus years to see, just pure joy. That song is timeless and hearing it live in person for the first time just capped off a night that will be hard to top in 2018, 2019, 2020, you get the point. I haven't seen or heard a band that tight and that good in years.
Thank you for finally coming, Europe, you've made a lot of people very happy and here's to next time and there better be a next time. Once again, Wow that was amazing!
Essential Information
Venue: The Enmore Theatre – Sydney
Date: May 22, 2018
Presented by: Showcase Entertainment Group
Website: http://www.europetheband.com
Photo By: Gwendolyn Lee – Gwendolyn Lee Photography – Check out our full gallery HERE
Check out our interview with Joey Tempest HERE
Set List:
Walk the Earth
The Siege
Rock the night / Whole Lotta Rosie
Scream of Anger
Danger on The Track
Firebox
Sign of the Times
Vasastan
Girl from Lebanon
Open Your Heart
War of Kings
Heart of Stone
Days of Rock 'n' Roll
Superstitious
Ready or Not
Last look at Eden
Hole in My Pocket
Seven Doors Hotel
Carrie
Turn to Dust
Drum Solo
Stormwind
Prisoners in Paradise
GTO
Let the Good Times Rock
Cherokee
The Final Countdown