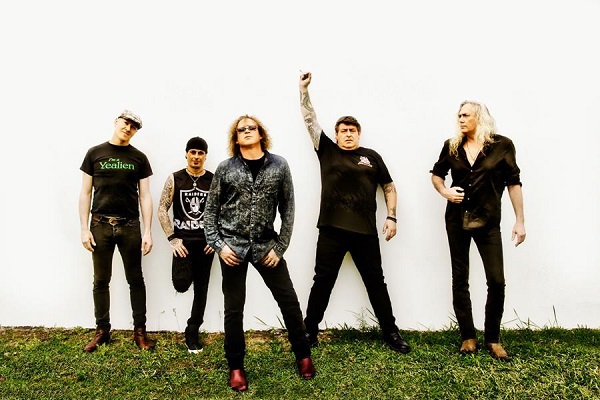 "We were very lucky to come along when there was loyalty for bands and it was also the end of the pub rock era and yeah our live shows were probably second to none and we always put a lot into our live shows, the songs obviously play a huge part in that…"
From Release: 2017 was a huge year for The Screaming Jets with two solo laps of the country off the back of their "Chrome" album success, culminating in the They Who Rock tour with the Baby Animals. With 12 sold out shows across the country, punters proved that radio rock is still alive and proud in this country. The Screaming Jets radio history delivers a long line of high rotation hits to the airwaves. In 1980 radio station Triple M Sydney was launched and 11 years later, in 1991, The Screaming Jets released what was to become an Australian rock classic titled "Better".
We gave our old mate Dave Gleeson a call to chat about the Rock Radio Riot tour coming up with Boom Crash Opera, as well as their new covers album, the bands thirtieth anniversary, and more!
Mate, it's been just under a year since our last chat, so as always let's catch up, how's everything been over the last year?
Yeah good thanks, mate, just on the road done a bunch of touring, a bit of recording, I've just recorded two albums in two weeks actually. We've re-recorded The Angels 'Face To Face' for its fortieth anniversary and just finished recording The Jets album which is the covers album 'Got You Covered'. So apart from that just trying to wrangle the family and do all that stuff as well *laughs*.
You're heading back out on the road, this time with Boom Crash Opera! Have you thought about how you'll be shaping up the sets for these shows?
Yeah look it's just gonna be a party set, I think we recorded sixteen songs for the 'Got You Covered' album, everything from 'Darlin' It Hurts' to 'Rock and Roll Damnation' and yeah gonna be playing a bunch off that and obviously we'll be playing all The Jets songs but it'll just give us a new bent on how we do it. Get The Screaming jets to your Christmas party that's what I reckon because when you do Christmas parties or corporate events usually around the end of the year what you'll find is there's huge Jets fans that have been on the committee to organise The Jets at the corporate event and they'll know every song and they'll want to hear 'FRC' and 'Blue Sashes' and whatever but then it kind of steps down the scale as you go along the line and people know a few songs and people that know one song, but, now that we've got this album out now we'll be able to get out there and play 'Rain', 'Overkill' by Men at Work, a bit of AC/DC, a bit of Dragon, a bit of Paul Kelly and I think it's a perfect way to have your Christmas party. So just putting it out there *laughs*.
Have you done 'Rain' by Dragon? That's one of my favourite songs…
Yeah well I did that song in my very first band, we were called Aspect and obviously it's been one of those songs that been a part of the Australian music psyche for years there will be people saying "That's not an Australian band" and I'll go "yes they are" as I'm sure you've heard, Russell Crowe when he gets an Academy Award he's Australian and when he throws a telephone at someone across a desk he's a Kiwi *laughs*
Did you think about doing a Boom Crash Opera song so you could piss them off and play that song on tour?
*laughs* Bummer now I've thought of it, we did an Angels song but, we did 'Shadowboxer'.
So it's all Australian stuff I'm gathering?
Yeah the great Australian songbook volume 1 because obviously Rod Stewart did the great American songbook, and next year is our thirtieth anniversary so obviously we didn't wasn't to bring out an original album this yeah but we knew we needed to bring something out so this was an idea to do all the covers The Jets have done over the years and our bass player Paul said well that sounds like the most half assed idea I've ever heard in my life and said ok fair enough, and thought what better thing to do but tip our hats to some of the great Australian bands that we've loved over the years and maybe do an album. We recorded it with Steve James down in Melbourne at Sing Sing studios and yeah it really worked.
When's that coming out?
That comes out the end of June. So I go on tour with the Angels starting May 11th to the end of July and then we've got a couple of weeks off and then start with The Jets on the 3rd of August, so my year's just about done.
It's called 'Rock Radio Riot', tell us what does that title represent to you personally?
Great name and the boys have got a bunch of songs that are well and truly have a great place in Oz rock so it should be a great celebration of Oz rock.
2017 was a big year for The Jets, seems almost one of your busiest in a while, has it been great getting the engines oiled and out there in full force again?
Oh my word, the tour we did with The Baby Animals was spectacular and sold out everywhere we went, I man with Suzi who doesn't want to see her on stage? But yeah we started off the year with the Red Hot Summer tour with both The Angels and The Screaming Jets on it, The Baby Animals, Moving Pictures, Chocolate Starfish, Suzi Quatro and we played for six or seven thousand people every day so that was a fantastic thing with The Screaming Jets kind of rebuilding the brand as they say in the biz. Then to have this tour coming up is just going to be a great stepping stone coming into 2019 as I said which is our thirtieth anniversary.
Let's talk about that as that freaks me out as that means I first heard you when I was thirteen. What do you put the longevity of The Jets down to?
We were very lucky to come along when there was loyalty for bands and it was also the end of the pub rock era and yeah our live shows were probably second to none and we always put a lot into our live shows, the songs obviously play a huge part in that written chiefly by Paul Woseen and Grant Walmsley so there's a whole lot of different things that go into it. The other thing is rolling with the punches, when someone leaves we've never missed a step, if someone has left or we've had to sack someone we just instantly get someone in and on the road again in two weeks' time. So a lot of time bands kind of falter when those things happens but we don't care *laughs* we don't care about those that have gone before, we just get someone in and take their place and off we go again.
I don't know whether it's nostalgia or if people are just fed up with the bullshit being released these days around the world but does it feel to you that there's almost a resurgence in people wanting to get out to a show and hear real live music again?
Yeah that's what sets all those bands apart, Icehouse, Cold Chisel, The Oils, all those bands are set apart because they're great players who learned their chops long before they ever came to the public's attention, now people come to the public's attention very, very quickly, they go out on the road and people go "wow, they're shit" just because they haven't got their stage craft up and the band doesn't play as well as they possibly could and yeah all those things and all our bands were very lucky in the poker machine days to play any room anywhere to crowds who might throw stuff at you, and over time you play and you do a residency and you think you're on the right track and doing something right, so that trial by fire doesn't exist anymore, you get out there and you don't really have a chance to learn your craft and to learn in front of a million people on YouTube and quite frankly it can sink the boat very, very quickly with egos and you know you get out there and you're kind of out there on your own unlike back in the day with us even when you were playing with the big bands like The Angels and The Divinyls and The Choirboys and there was an amount of respect involved and you got out there and met your heroes and now it's very isolated and you kind of block smoke up your own bum and if it doesn't work very quickly then you're kind of out the door very quickly as well.
So obviously things change over time, but what would you say is the one thing that's stayed the same for you over your time making and performing music with The Jets?
Just the camaraderie and just the getting on really well with each other. Leaving egos at the door, all that stuff that prior to getting fame there was times when we had ego clashes and stuff like that now it's all about just getting in there and doing what's best for the band, playing as well as we can, writing songs that we love and just doing it for the right reasons and that's what's stayed true to us and the joy of doing it.
You've teamed up with some great Aussie bands but is there one band you'd love to go out on the road with you haven't yet played with?
I'd love to do a tour with Chisel, that would just be fantastic, we've done plenty of shows with Barnesy, we've toured with Barnesy, we've toured with Mossy as well but to do a tour with Chisel that would be at the top of the list.
Lastly as always let's look ahead to the future, finish this sentence for me, in 2018 The Screaming Jets will…
Be at the top of our game ready to take on 2019 in our thirtieth year and show people exactly why we've been around that long.
ROCK RADIO RIOT TOUR DATES: THE SCREAMING JETS
WITH SPECIAL GUEST BOOM CRASH OPERA
Friday 3 August – Bridge Hotel, Sydney NSW ***
Saturday 4 August – Bridge Hotel, Sydney NSW ***
Friday 10 August – Shoppingtown Hotel, Doncaster, VIC
Saturday 11 August – Village Green Hotel, Mulgrave, VIC
Friday 17 August – Kingsford Juniors, Sydney NSW
Saturday 18 August – Rooty Hill RSL, NSW
Friday 24 August – Parkwood Tavern, Gold Coast, QLD
Saturday 25 August – Hamilton Hotel, Brisbane, QLD
Friday 31 August – The Gov, Adelaide, SA
Saturday 1 September – The Gov, Adelaide, SA
Friday 7 September – Ravenswood Hotel, WA
Saturday 8 September – Charles Hotel, Perth WA
Friday 14 September – Miranda Hotel, Sydney NSW
Saturday 15 September – Revesby Workers, Sydney NSW
*** The Screaming Jets only
TICKETING INFORMATION: www.thescreamingjets.com.au
Essential Information
From: Newcastle, Australia
Band Members: Dave Gleeson [vocals], Paul Woseen [bass], Scott Kingman [guitars], Jimi Hocking [guitars] and Mark McLeod [drums]
Website: http://www.screamingjets.com.au
Forthcoming Release: Got You Covered (coming soon)