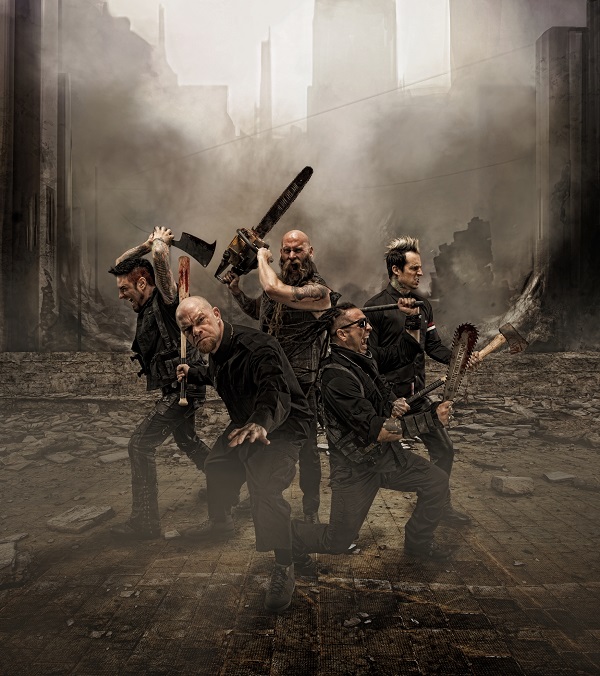 "We are blessed and very fortunate to have the opportunity to do exactly what it is that we love, that's writing music, playing live, meeting with the fans, doing the various charity works that we do, we're very fortunate and we've done it for ten years now and I'm hoping for at least another ten."
From Release: Confidently leading heavy music in the 21st century, Five Finger Death Punch continue to make the impossible a reality at every turn. Since their emergence in 2007, the hard rock band has achieved six consecutive RIAA Gold-certified albums, three of which have gone Platinum since, as well as a Platinum single culminating in their 2015 #1 album Got Your Six, while at the same time being one of the top rock streaming acts with over 2 billion global streams to date. In 2016, the band also received the prestigious "Soldier Appreciation Award" from The Association of The United States Army. 5FDP frequently play all major festivals globally from Download to Rock Am Ring to Rock on the Range and sell out arenas around the world to countless screaming "Knuckleheads." 5fdp's forthcoming seventh full length album, And Justice For None, to be released on May 18, 2018 will undoubtedly raise the bar again.
We gave our mate Chris Kael a call while he was at home in Vegas to talk about the band's new album 'And Justice For None', cover songs, tours, advice, and so much more…
Chris, it's been just over two years since we last chatted, so let's catch up, how have the last two years been for you?
*laughs* I think it's been all over online how the last two years have been *laughs* it's been hectic and busy to say the least. We came out of a legal battle with the record and kind of solved that whole problem with the greatest hits record which gave us a chance to get a couple of new songs out to the fans, so that was good for us and for the fans and then May 18th we've got the brand new record 'And Justice For None' coming out worldwide, so coming out of the storm and the haze was the triumph and flag raised and ready to get back to the business that is Five Finger Death Punch.
Your newest album 'And Justice For None' is a killer record, what if anything did you guys set out to do differently with this new album?
Well obviously we tried a little bit of small changes here and there because this is the seventh record for Five Finger Death Punch so as a band we're aware of the sound that we bring, it's just natural for us to write that kind of stuff you know? The first riff that Jason came to rehearsals with was that kind of bounce riff on 'Sham Pain' which was a little bit of a different feel and that kind of set the tone for the whole rest of the record, we were going for that signature Death Punch sound while kind of creatively flexing some extra muscles as well and keeping it interesting for us and the listener was a very important priority for this band.
It's such a good balance, there's some real heavy stuff and then some real slower stuff, it's really cool.
Thank you very much, we always like to maintain the heavy aspect of things, that's my personal favourite type of music is the heavier stuff but when you're writing and I don't want to say the lighter fare, the stuff that's not so fist to the face type stuff it gives you the chance to get in front of audiences that the heavier stuff might not get you in front of anyway, so you get those people through the door with those songs and hopefully they fall in love with Heavy Metal as much as we have.
Now everyone has heard the Offspring song but I want to ask about the Kenny Wayne Sheppard cover, what was the idea behind covering 'Blue on Black'?
Nice! That was a collaboration, I think Ivan wanted to do that one, he loves that song, that one and The Offspring song they were both straight from Ivan Moody, he grew up listening to Offspring and 'Blue on Black' was one of his warm up songs that he would warm up vocally before he hit the stage. So it's nice to have that song to be able to throw in the set so he doesn't have to do it only backstage or the bus or the dressing rooms, he can actually get out in front of people and warm up now *laughs*.
Sadly you guys had to cancel your shows here with Black Sabbath a couple of years ago, and I have to ask, is there a chance we may see you back in Australia soon?
Man I was so upset about that, Black Sabbath was playing here in Las Vegas and I didn't go to the dam show because I knew that we were going to be playing Australia with Black Sabbath, so I wanted the first time that I got to see Black Sabbath to be us opening up for Black Sabbath. Lord knows what happened on that thing but we weren't able to do it and I not only didn't get the chance to get back to Australia, I also missed the chance to see Black Sabbath, so I was doubly angry about that one. The goal is definitely to get back over there, the time we were over there was Soundwave and great responses and the support has only grown since then so we are anxious to get back over there and get back in front of the Australian knuckleheads and get to sing it live and get it rolling over there. It's been far too long, we're all anxious.
You live show is really where it's at, how have you seen the band's show evolve over the years?
Man, the stage show has gotten bigger, and bigger, and bigger, we grew up listening to bands like Iron Maiden, KISS, you've got Rammstein out there now and we want to be able to bring those huge stages that we grew up watching as fans of heavy metal and we have a brand new stage set that's coming out with us on this, we have a huge knucklehead and I remember when I first saw the rendering on a computer they were showing me I was like "oh man that could be fun" and I hadn't seen it and didn't realise how big it was but I remember walking into the arena and looking up and seeing this huge Knucklehead over Jeremy's drums and I was like "My God this is gonna be amazing" *laughs*.
So in terms of touring what does the schedule look like for the new record so far?
Currently we're doing some festivals around the States, in between those festivals we're going out with us and Shinedown and Bad Wolves, and then July through September we've announced dates with Breaking Benjamin, and past that I haven't seen anything on the schedule, I'm hoping that includes Europe, Russia and Australia and Japan because it's been a while since we've been to Australia and Japan  and I'm hoping that's part of the plan but that's out of my pay scale, I hold the bass currently *laughs*.
So sometimes it's easy to say what's changed in your time together but what would say is the one thing that's stayed the same in your time making music with Five Finger Death Punch?
Just the drive and the desire to do what it is we do. We are blessed and very fortunate to have the opportunity to do exactly what it is that we love, that's writing music, playing live, meeting with the fans, doing the various charity works that we do, we're very fortunate and we've done it for ten years now and I'm hoping for at least another ten.
Looking back was there one piece of advice you were given when you started making music that's stuck with you and that you still go back to to this day?
Well it's one that I still continue to throw out there for anyone who will listen, dream big and take chances. If you don't go out there and get it no one's gonna give it to you, no one's just waiting to give you an opportunity. You've gotta find those doors, kick 'em open and take that opportunity so dream big, it's better to have lofty goals that you don't necessarily attain versus having lazy goals and conquering all those, that's not gonna get you anywhere. So dream big, take chances.
What do you still enjoy about it being in this band?
Not much really *laughs* I'm completely kidding. Just the opportunity to get out there and play live, when you get up there and you're playing that music you get the automatic response from the fans that instant gratification. So I love going to new cities, seeing the world, we've had the opportunity to be all over the place, Australia, Japan, Russia, Europe, South America and of course The States, Canada, Mexico, all over the place. So the travel and getting front pf new fans and seeing how the responses in every area is a little bit the same but there's certain differences around the world and it's great to be able to have the opportunity to get out there and see that.
You can even feel the energy through the pictures you guys post, it's great.
Oh yeah, especially with all of us being in a good place now, Zack Myers said it best this past weekend, when we are focused and driven and all on the same page we're the most dangerous band in the world, I tend to agree with Zack Myers on that one.
What's left on your list of things you want to do that you haven't yet had the chance to do?
Oh man, I think personally one thing that I want to do just because it's a band I grew up listening to and they're still massive and playing stadiums, I mean we're doing arenas at this point but these guys are doing stadiums and have been for a while, I would love to get the opportunity to open up for Metallica. Go out on the road, hang out with those guys and watch that level of… they're icons, be able to see how those icons work and apply that towards us. At the end of the day everyone wants to be as big as Metallica and I am no different. I would love to be in front of that many people all the time playing those classic shows and giving the love to the fans and receiving the love that they give as well, we are on that scale but not quite there. So that's a goal, to get as big as Metallica *laughs*.
Lastly, let's look ahead to the future, so finish this sentence for me, by the end of 2018 Five Finger Death Punch will…
Still be together, still playing *laughs*. As volatile as the last year and a half has been that's a solid goal and right now things are great, again, all on the same page, we're in a pretty good headspace and continuing to grow both as friends and as a band, so getting out there and crushing it still.
Essential Information
From: Las Vegas, NV, USA
Band Members: Zoltan Bathory – rhythm guitar, Jeremy Spencer – drums, Ivan Moody – lead vocals,  Jason Hook – lead guitar, backing vocals, Chris Kael – bass, backing vocals
Website: http://www.fivefingerdeathpunch.com
Latest Release: And Justice For None (Out Now – Eleven Seven / Sony Music Australia)