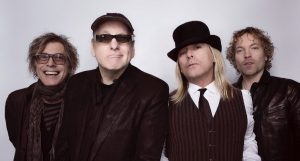 Rock and Roll Hall of Famers 
CHEAP TRICK 
today announce they will play East Coast headline dates this October. Recently announced to play with Foreigner at Botanic Park in Adelaide on Sunday 14th
October, the illustrious quartet will take their guitar laden rock-pop sound to Melbourne's 
Palais Theatre 
on 
Monday 15th October
, Sydney's 
Enmore Theatre 
on 
Wednesday 17th October 
and Brisbane's 
The Tivoli 
on 
Thursday 18th  October
.
One of the most influential rock groups of the past fifty years, and propelled by genre-defying global smash hits like 'I Want You To Want Me', 'Dream Police', 'Surrender', 'The Flame' and more, Cheap Trick has sold in excess of 20 million records worldwide.
Since exploding onto the music scene in the mid-1970's, they've been blending elements of pop, punk and even metal to create soundscapes that are immediately recognisable. Consistent touring over the past five decades – notching up more than 5,000 shows, appearances on 29 movie soundtracks plus 40 gold and platinum recording awards has seen them become one of the top and most prolific rock bands of all time.
Fronted by the dynamic Robin Zander, and comprising founding bassist Tom Petersson, famed for his 12-string bass, with Rick Nielsen on guitar and his son Daxx Nielsen on drums, Cheap Trick are a vibrant on-stage force like no other.
"Cheap Trick live is uniformly tight, as blistering and raw as it is cunningly melodic"
– 
Rolling Stone
"a very tasty smorgasbord of thick electric-guitar licks with a definite garage-rockabilly vibe and just enough hair-metal in the mix to keep the whole thing appealingly gnarly."– Business Insider
We're All Alright! is the band's 18th studio album, released in mid-2017 to glowing reviews.
"Cheap Trick continues to be a model of freakish consistency with We're All Alright!"
– 
Paste Magazine
"Combining their trademark power pop with a harder rockier edge…still sounding remarkably youthful…"– Louder Than War
The quintessential rock band, Cheap Trick have set stages alight right across the world, joining the likes of Pearl Jam, Aerosmith, Peter Frampton and more in front of jam-packed rooms and continuing to sell out shows from California to London and Glasgow. As Paste Magazine suggests, "they're not going anywhere, so you might as well start listening". 
CHEAP TRICK | WE'RE ALL ALRIGHT! | ALBUM OUT
NOW
CHEAP TRICK | 2018 TOUR DATES
Presented by Chugg Entertainment 
MELBOURNE
Monday 15th October – Palais Theatre (All Ages)
ticketmaster.com.au
 
SYDNEY
Wednesday 17th October – Enmore Theatre (All Ages)
ticketek.com.au
 
BRISBANE
Thursday 18th October – The Tivoli (18+) 
ticketmaster.com.au
Also appearing at Botanic Park Adelaide, Sunday 14th October, with Foreigner 
TICKETS ON SALE THURSDAY 17TH MAY
10:00AM LOCAL TIME
Comments
comments