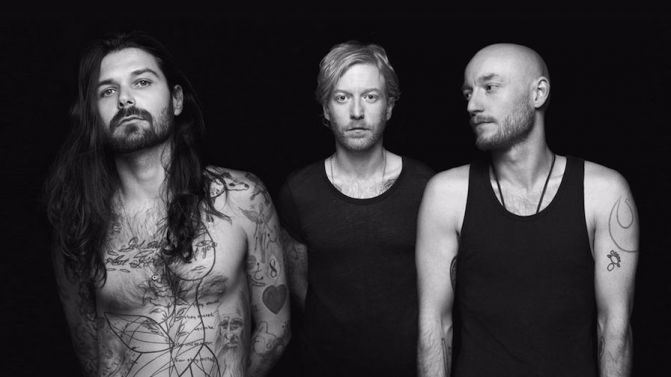 It's been about four years since we've had the pleasure of witnessing Biffy Clyro live in Australia and tonight at The Enmore this place is full and you've gotta love that, and gotta love that people are well on board with Biffy!! Seeing these guys a few times before I can tell you that tonight will be nothing short of spectacular. Yes I can see the future, and this is just a heads up.
As they stands still on the stage while the intro plays, the band that hates shirts absolutely go hell for leather as they tear into 'Wolves of Winter' and what I've always loved about Biffy Clyro is that this intensity will stay this way for the entire show, just watch. This one from Ellipsis was always going to get a run and to hear it open the show is amazing. Damn these guys impress me musically, as 'Living Is a Problem Because Everything Dies' starts, each note is perfect, and this one gets the place rockin'. How can you not love a bit of the Golden Girls theme thrown in then straight back into it and finishing the song with the crowd joining in. Wow. '57' this song is amazing!! Ben is taking vocals in it, and what a melody. This sounds monstrous in here! Wow. That end! Wow!
"Hello Sydney, we are Biffy Fucking Clyro and it is a pleasure to be back", Simon, the pleasure is all ours. Thank YOU for coming. As he introduces 'Biblical' it's great hearing the crowd yell this one back at the stage. I love the 'Opposites' album so anything that gets a run from that is a bonus tonight. 'Who's Got a Match?' sees the band lit up in colour and they love this one that's for sure. 'Bubbles' is next and who doesn't like bubbles?! Oh man this one is the most well received so far and they're jumping, clapping, and singing along to this one as the song builds musically and changes time signatures and just straight up rocks the fuck out of the place.
'In The Name of The Wee Man' explodes straight away into a massive rocker which is all you need in a song, frantic, soft, brutal, all of the above. Next though is one of my favourites and I'll be back in a few as it plays. I have to enjoy 'Black Chandelier'. OK it's done and as expected, it rocked. They simply don't miss a beat and it's outstanding. Whoa what's going on here?! 'That Golden Rules' kicks off with mass intensity and bathed in gold lighting they destroy this one as expected. I simply do not understand how this band is so good, it's inhuman. Wow.
Back to 'Ellipsis' and the set actually slows down for the first time which I won't say it was needed but it's nice to have a breather! 'Re-Arrange' fits perfectly into the set and is a new favourite of mine from their catalogue. It's time to take some 'Medicine' as Simon stands on stage with as acoustic and takes it one step slower than the last one. Some great harmonies from James on bass pad this one out and it was nice to continue the breather. Yeah, so that's over now as it's time to 'Howl' and they instantly have the crowd in the palm of their hands once again. This hook laden track is a stand out on Ellipsis and here tonight is even more of a stand out. A whole lot of whoa oh's make this a live show necessity and I for one love it.
I could spend a page telling you how good 'Mountains' was just then but let's just say it was easily the best song of the night so far and the crowd lapped it all up. What a fucking great song. '9/15ths' and its interesting composition and melody fit well into the set as it's just a big rocker and we all love that. 'Animal Style' keeps that big rock sound up and again, these songs sound so much better in this environment. They're made for the stage and I'm completely ok with that!
'There's No Such Thing as a Jaggy Snake' and wow, this one just got a whole lot of punk. Like I actually have no idea what's happening in this song but it's intense and they're all over it. 'Many of Horror' is next and they're all singing it back instantly and holy shit that was a moment. That song is nothing short of live perfection. I seriously had goosebumps for that song and they played it with such passion that it demanded the love it got back from the crowd.
They leave the stage only for Simon to return with an acoustic and a version of 'Machines' and this is beautiful. The crowd are taking vocals and the balance is perfect. What a song.  One more. Time to blow the roof off the place with 'Stingin' Belle' and there's the same level of intensity there was ninety minutes ago. This is the perfect closer. I seriously don't want this show to end.
In summary, no band should be this good. It's actually humanly impossible. How Biffy Clyro do what they do is beyond me but holy shit it is spectacular.
Mon the fuckin' Biff!!
Essential Information
Venue: The Enmore Theatre, Sydney
Date: April 30, 2018
Presented by: XIII Touring
Website: http://www.biffyclyro.com
Set List:
Wolves of Winter
Living Is a Problem Because Everything Dies
57
Biblical
Who's Got a Match?
Bubbles
In The Name of The Wee Man
Black Chandelier
That Golden Rule
Re-Arrange
Medicine
Howl
Mountains
9/15ths
Animal Style
There's No Such Thing as a Jaggy Snake
Many of Horror
Machines
Stingin' Belle