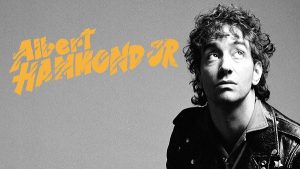 Frontier Touring is pleased to announce that Albert Hammond Jr. – songwriter and guitarist with garage rock giants The Strokes – will return to Australia in July 2018 for two intimate headline shows in Sydney and Melbourne.
No stranger to Australian shores and with 20 years of critically-adored music under his belt, Hammond Jr. makes his way back down under to perform songs from his recently released acclaimed fourth album Francis Trouble, out now via Red Bull Records.
With his latest disc of exuberant, playful guitar pop inspired by the persona shifts of David Bowie, the talented songsmith has been winning over fans throughout the US on a recent tour. Hammond Jr. has several multi-platinum albums to his name – first up, the ground-breaking 2001 Strokes' masterpiece Is This It, not to mention follow-up releases. Meanwhile his breezy solo recordings are every bit as enticing: 2006 debut Yours To Keep, 2008's ¿Cómo Te Llama?, 2015's Momentary Masters, and now, 2018's Francis Trouble.
With newfound energy, Francis Trouble sees Hammond Jr. taking "the baggage of my name off the record" (see The Village Voice). Francis Trouble explores a deeply personal topic – the stillborn death of Albert's twin brother, Francis, whose existence he only learned of two years ago.
It was not until he was 36-years-old that Hammond Jr. learned from an aunt that part of his twin brother had remained in the womb, and was born alongside him – a fingernail. The songwriter soon wondered if the new musical direction he felt calling came from another avenue of himself, perhaps emanating from whatever he and Francis had shared for the few short months they had together in the womb. And so an energetic alter ego was born.
"What the music says may be serious, but as a medium it should not be questioned, analysed or taken too seriously," says Hammond Jr of the disc and its sound. "I think it should be tarted up, made into a character, a parody of itself. The music is the mask the message wears and I, the performer, am the message."
Joining Hammond Jr. as special guest in Sydney and Melbourne is Sydney duo CLEWS, aka sisters Lily and Grace Richardson, who grew up in the NSW south coast town of Mollymook. With the pair's folksy harmonies, '90s rock guitars and big pop choruses, their winning single 'Museum' (and earlier track 'Feel') are all over triple j's airwaves after being discovered via Unearthed – check out their profile here.
In celebration of Francis Trouble, Hammond Jr. has been touring the USA, and while in Australia he'll also perform at the sold-out Splendour In The Grass. With plans to first bring his unstoppable energy and jam-packed setlist to international festivals Roskilde (Denmark) and Rock Werchter (Belgium), after visiting Australia he'll also hit up Fuji Rock (Japan). Fans take note: these special Sydney and Melbourne shows are not to be missed!
ALBERT HAMMOND JR.
AUSTRALIAN TOUR
JULY 2018
With special guest CLEWS
Presented by Frontier Touring
Tuesday 24 July
Factory Theatre | Sydney, NSW
18+
ticketek.com.au | Ph: 132 849
Wednesday 25 July
Corner Hotel | Melbourne, VIC
18+
cornerhotel.com | Ph: 9427 7300
FRONTIER MEMBERS PRE-SALE 
via frontiertouring.com/alberthammondjr
Runs 24 hours from: Wednesday 30 May (2pm AEST)
or ends earlier if pre-sale allocation exhausted
GENERAL PUBLIC ON SALE
Begins: Friday 1 June (10am local time)