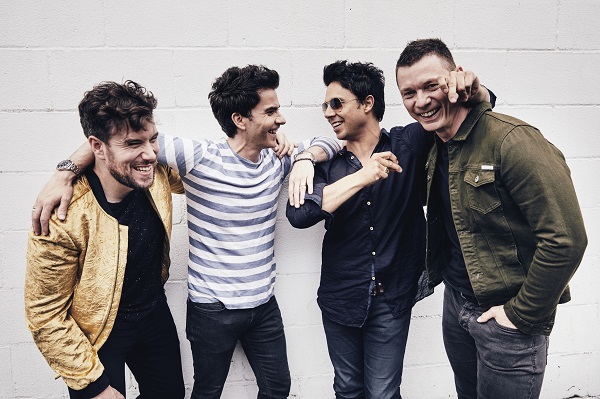 I love the Opera House as a venue, there's just something about bands playing in such an iconic venue that makes the show feel even more special and tonight I get to pop my Stereophonics cherry at this very place. From everything I've heard and I suppose from the two sold out nights something tells me I'm in for a great show.
With no support and bathed in red the band take to the stage and we're immediately told to stand up by Kelly (usually a no no at The Opera House) and everyone does just that. Straight into 'Bartender And The Thief' complete with rockin' outro the Welsh flags are lifted high and there's no time wasted before the groovy riff from 'Vegas Two Times' starts and this one sounds killer in here. That was impressive. Oh they know this one, and admittedly I'm part of that knowing as my introduction to the band was through 'A Thousand Trees' and hearing it this early is a surprise but a great one. This song was great when it was released and still stands up. 'Caught By The Wind' and hello new favourite, this slower rocker is right up my alley and I'm all for this one. Without even pausing Kelly starts 'Taken a Tumble' and this is just as good as the last one. These guys are super tight and musically flawless. I have to say as a casual fan of the band I don't know a heap of their catalogue but I'm loving learning it so far tonight. Slower again with 'All In One Night' and this electric drum laden almost haunting track sounds like it could be a Depeche Mode song and that's fine by me but as it builds it becomes a big rocker as Jamie jumps behind the kit and Kelly shreds at the front of the stage. What a big song.
'Have a Nice Day' takes its place with a whole lot of bahs and da das and because this one got its fair share of play here there are phones lifted to capture it and they're loving it. Oh ok well it seems everyone also knows this one, 'Maybe Tomorrow' is a big sing along and that was a ripper but as Kelly puts the acoustic away and the SG returns it's time to rock the place up again and they do just that with 'Superman' and I'm biased with this one purely because of the topic. 'Geronimo' is a biggie, then we head slower again with 'Mr Writer' and that was even bigger!
It's time for an acoustic set 'I Wouldn't Believe Your Radio' starts it off then the strings come out for a song written by Mike of Manfred Mann and 'Handbags and Gladrags' which was beautiful. Kelly jumps behind the piano and thanks us for coming along on their twenty year journey hits us with 'Sunny' which turns into a massive jam session but Kelly never drops a note. Very impressive.
'Graffiti On The Train' was amazing continuing with 'Roll The Dice' and 'Violins And Tambourines' and this is just so good. The strings are still out and giving these songs a nice and different dynamic. 'Indian Summer' just may be my favourite of the night so far too as this is one hell of a groove then throwing in 'Liberty' which is a much slower one, it broke up the set a little which was good. An electric 12 string comes out for 'Mr and Mrs Smith' ooh that progression, love it and a big drum solo in it was amazing and had the crowd cheering.
The acoustic is back for 'Traffic' and again the crowd singing this back was a moment. There are then cheers as 'Just Looking' starts and it feels like we're getting to the end of the set based on the reactions and the sing alongs. Oh man, the melody here is amazing for 'Local Boy in The Photograph' and it is amazing! Surely there can't be many more after that one!! Yeah they've headed off stage and of course will return shortly.
As s chant of 'Wales' starts it doesn't take long for them to come back. 'C'est La Vie' starts the encore and then 'I Wanna Get Lost With You' follows and I have to ask, how do these songs just keep getting better? The set of course ends with 'Dakota' which starts solo with Kelly and then blasts into the big rocker we all know and love. The crowd belted this one back to the stage and you could tell this is the one they'd all been waiting to hear.
This band tonight delivered a flawless set with amazing musicianship and vocals, a twenty six song set over two and a quarter hours is something not many bands can do these days and Stereophonics did it and barely broke a sweat. This may have been my first time seeing them but it won't be my last I can tell you that right now.
STEREOPHONICS
SCREAM ABOVE THE SOUNDS TOUR 2018
Remaining tour dates:
THE TIVOLI, BRISBANE
SATURDAY APRIL 28 – SOLD OUT!
THE FORUM, MELBOURNE
MONDAY APRIL 30
HQ, ADELAIDE
THURSDAY MAY 3
FREMANTLE ARTS CENTRE, PERTH
SATURDAY MAY 5
For complete tour and ticketing information, visit:
stereophonics.com & livenation.com.au
Essential Information
Venue: Sydney Opera House
Date: April 26, 2018
Presented by: Live Nation
Website: http://www.stereophonics.com
Set List:
Bartender And The Thief
Vegas Two Times
A Thousand Trees
Caught By The Wind
Taken A Tumble
All In One Night
Have A Nice Day
Maybe Tomorrow
Superman
Geronimo
Mr Writer
I Wouldn't  Believe Your Radio
Handbags And Gladrags
Sunny
Graffiti On The Train
Roll The Dice
Violins And Tambourines
Indian Summer
Liberty
Mr And Mrs Smith
Traffic
Just Looking
Local Boy In The Photograph
C'est La Vie
I Wanna Get Lost With You
Dakota