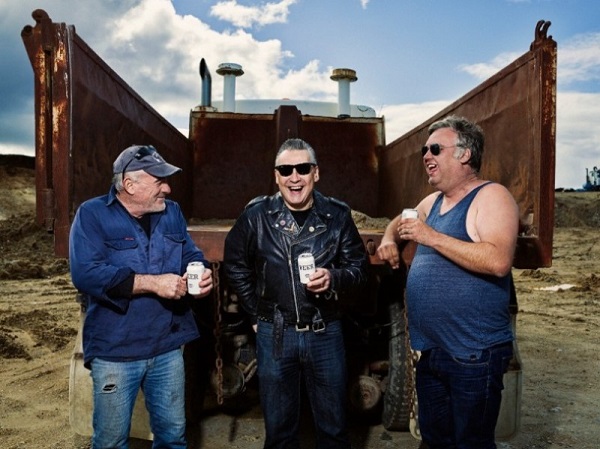 "I'm not quite your Axl Rose who sits down for six months to just find two words, mine just falls out of my ass really quickly and if I don't write it down quick I'll forget about it, so I think for every eleven albums I've written songs for I've probably forgotten fifty albums."
From Release: The Psychos are back, mate!  Australia's most legit export since Crocodile Dundee have announced the release of their eleventh studio album, 'Loudmouth Soup' on April 6, 2018. Having sent their previous record labels broke, the 'Psychos will release Loudmouth Soup on April 6 on the band's own label GO THE HACK Records. The LP was recorded last year on singer Ross Knight's storied farm, Spring Plains, and produced by longtime collaborator Silvia Vermeulen. Flown into to the rugged fields of Eastern Victoria especially for the gig, Vermeulen has been the Psycho's trusted live engineer in Europe for longer than they can remember.
While sitting in his ute in a paddock miles from nowhere staring at his bulldozer sitting at the bottom of his dam we gave Ross a call to talk about the band's new album 'Loudmouth Soup', its creation, their touring schedule, vinyl, Elle Macpherson, and more…
 'Loudmouth Soup' is just over a week away from release, what can people expect from this new album?
Nothing new, of course in the Psychos tradition *laughs* we write songs when we feel like writing songs and then we record them and have a few beers and then we do it all again in another few years and that seems to be what we need to do and all we want to do too. It's the same formula, a bit of fun and yeah all a bit tongue in cheek and something you can sit down and have a beer to hopefully.
Your album titles have always been great, how did 'Loudmouth Soup' win the naming rights?
I don't know, it's just a term I've used for beer I've picked it up off some old blokes I remember hearing people call beer loudmouth soup back in the 70's and it just sort of comes through every now and then people just talk about what they did on the weekend and how much fun they had and too many cans of loudmouth soup and got themselves into trouble and all that stuff and I think I just figured it seemed to be a good old Cosmic Psychos album name really. It's very apt for our intelligent song writing.
This is your eleventh album, how if in any way has the creative and song writing process changed for you throughout the years?
Probably if anything, look my song writing just comes very quick and I don't try to write songs I think that's the secret, I'll be sitting on the dozer and I'll think of something a line or a riff and if I can remember it I'll go home and play it or jot a few pointers down but things just happen instantly. I'm not quite your Axl Rose who sits down for six months to just find two words, mine just falls out of my ass really quickly and if I don't write it down quick I'll forget about it, so I think for every eleven albums I've written songs for I've probably forgotten fifty albums. Maybe when they do an autopsy on my carcass they'll find all these missing songs stuck to my brain somewhere, you never know.
As the connoisseurs and consumers of beer, much like music beer seems to have evolved also, and much like music it's gotten shitter in my opinion. What are your thoughts on the craft beer movement?
Look, like any musician I don't want to hang shit on any musician, I don't want to hang shit on anyone that makes beer, but, I reckon some of the craft beer available now they can maybe hold off on a bit of the smashed avocado and passionfruit juice that they're putting in it nowadays and just make beer that tastes like beer perhaps. I know a lot of people that are passionate about it but there's a lot of craft beers I've put to my mouth and I can't get it past my nose ya know. Whatever floats your boat!
2018 sees you out playing a shit tonne of dates, for someone who may never have seen you before, what three words best describe a Cosmic Psychos show?
Three words to describe us live? Well… loud, stupid and relentless.
So what can people expect at these shows, the new album, straight up hits?
Well we've never had a hit so I don't think we'll be having too many hits but we'll just pull songs and try and put something from every record we've ever done I guess. We'll be adding a few new songs as we go and as people get used to it, if I was going to go and see AC/DC or The Rolling Stones I don't really want to listen to their whole new album, we'll try to give a fair representation of the garbage that we've been performing in the last thirty five to thirty seven years.
You've been doing this now for a long time, what do you still enjoy about being in this band?
Hanging out with my mates, I don't see Macca and Dean or Digger our glorious roadie unless we're doing the band, we just have so much fun on tour and I don't think there's been a band and I've yet to see a band in my time that has as much fun as we do, we actually really have a good time and it's a wonderful opportunity and I feel a bit of a privilege to plonk yourself around the world with free beers and cheese platters all over the joint. I wake up every day wondering what's real, is going to work real or is going on tour real? I can't decide whether reality or stupidity which ones which.
So it's easy to say what's changed over time but what would you say is the one thing that's stayed the same in The Cosmic Psychos?
Probably I would say the most consistent thing about the band would be my out of tune bass sound I suppose that's been the one consistent ever since I picked up a guitar and that's playing through an old cheap ass fuzz box. That's been consistent and the other thing is not taking things to seriously, I do a lot of and write a lot of songs of things that piss me off but it's all tongue in cheek so we're not trying to save the world but people might just sing along and enjoy a hangover with us, it's as simple as that.
I asked a mate of mine who's a big fan of yours for a question and he came up with this one. Did Elle Macpherson ever thank you for the beautiful song you wrote for her?
No, she didn't. Look I actually though, there was a couple of times when she was single and it was only a matter of time before she'd ring me, but unfortunately there was nothing there.  That song itself, if there hadn't have been that copy of Sports Illustrated in the studio when we were looking for one more song to record or write it never would have happened but it's as simple as that but she never rang… she never rang.
Maybe she'll see this and maybe it'll happen one day…
Maybe one day but she better hurry up because I don't know how long my mortal coil will be standing upright for so she's running out of time.
Now a lot of your catalogue has been reissued on vinyl, can we expect more along the way such as 'Blokes You Can Trust'?
Yeah look I think so, we're going to try and bring it out and vinyl is making a screaming comeback now and I've always been a huge fan of vinyl and still have a huge vinyl collection so if anyone wants a Psychos vinyl record we're gonna try and bring them out anyway.
And you guys have got your own label as well which is great…
Yep, we decided we'd experiment with our own label and rip ourselves off and then if that's successful we'll sign other bands and rip them off so that's the plan. *laughs*
Lastly as always let's look ahead to the future, so finish this sentence for me, in 2018 The Cosmic Psychos will…
In 2018 The Cosmic Psychos will be very tired by the end of it. We've got the Australian run then a European run and then I think there might even be Canada and US shows coming up too so it's gonna be busy. I'll hope the farm stays in one piece while I'm spending all this time away.
'LOUDMOUTH SOUP' TOUR DATES
TICKETS ON SALE NOW
www.cosmicpsychos.com.au

Wed April 4 – The Basement, Canberra
Thurs April 5 – Uni Bar, Wollongong
Fri April 6 – Bald Faced Stag, Sydney
Sat April 7 – Long Jetty Hotel, Central Coast
Sun April 8 – Cambridge, Newcastle
Thurs April 12 – Prince of Wales, Bunbury
Fri April 13 – Rosemount, Perth
Sat April 14 – Mojos, Fremantle
Sun April 15 – Mojos, Fremantle
Tues April 24 – Karova Lounge, Ballarat
Wed April 25 – Fowlers, Adelaide
Fri April 27 – Club 54, Launceston
Sat April 28 – The Brisbane, Hobart
Sun May 6 – Cherry Rock, Melbourne
Thurs May 17 – Racecourse Hotel, Ipswich
Fri May 18 – Triffid, Brisbane
Sat May 19 – V Room, Noosa
Sun May 20 – Shark Bar, Gold Coast
Sat May 26 – Croxton, Melbourne
Fri June 1 – Tanks, Cairns
Sat June 2 – Dalrymple Hotel, Townsville
Sun June 3 – Mt Pleasant Tavern, Mackay
Sat June 9 – The Rails, Darwin
Essential information
From: Australia
Band members:  Ross Knight — lead vocals, bass guitar, John McKeering — lead guitar, Dean Muller — drums, backing vocals
Website:  http://www.cosmicpsychos.com.au
Latest Release: Loudmouth Soup – (Out Now – Go The Hack Records)