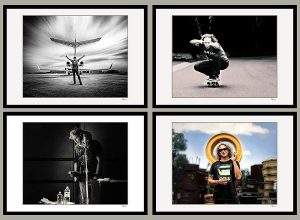 Sometimes, the creative partnership between two band members can crossover from music to other visual mediums. The Screaming Jets and Scott Kingman Photography have become synonymous with high quality live capture of the phenomenal Screaming Jets live shows for many years. If it's a great photo of the Jets… it's been taken by Scott Kingman!
Only a small portion of Scott's phenomenal work with The Screaming Jets is released on his and the band's social media platforms. Scott has taken many intimate shots over the last 10 years of his tenure with the band and these have, until recently, been archived away….
A limited selection of intimate portraits of Dave Gleeson, shot by his friend and bandmate, Scott Kingman, have been released to the public. Scott has handpicked a selection of 4 up close and personal portraits of Dave for auction. 
Only 10 prints of each image will be produced. A total of 40 framed and mounted portraits, personally signed by Dave and Scott, individually numbered and lovingly framed and mounted by the photographer himself. (Unknown to many he has a carpentry qualification also!). 
Each offering will be accompanied by a Certificate of Authenticity confirming the offering is Official Screaming Jets Merchandise, commissioned exclusively by the band.
This rare and unique offering is now available via auction.
These images will deleted after the auction is closed, making this a truly unique and special event. Go to: www.thescreamingjets.com.au for the special auction link and further information.
Outside of his renowned rock 'n' roll images, Scott Kingman Photography has created a thriving business in his seaside hideaway on Victoria's East Gippsland region. His life long passion for photography is better described as an obsession which has emboldened with age and experience. He is self-taught and has honed his craft through years of experimentation, reading, an abundance of practice and a fair swag of trial and error. He has captured landscapes, local characters (both human and animal), weather happenings and other visual moments largely missed by the less than super-human eye of a normal citizen. Scott has amassed a selection of online International awards for his photographic work through Viewbug and Canon Australia in recent times. He ranked in the top 30 out of over 200,000+ entrants in a National Geographic photo competition in 2017.
Outside of his musical pursuits with The Jets his other passions include music production and making great music in general. His creative resume stretches across some legendary Australian artists including recording and touring with James Reyne, Diviynls, Horsehead and Daryl Braithwaite.
Over the past 10 years Dave Gleeson and Scott Kingman have played over 500 shows together, occupied a moving vehicle for tens of 1000's of kms around our sunburnt country, stayed in too many shared motel rooms and spent countless midnight hours solving the problems of the world over the more than occasional bottle of Jack Daniels. During this time, Scott has had the opportunity in private offstage moments to candidly photograph one of the busiest and most iconic front-men Australia has ever produced. 
Born from a working class family in Newcastle, NSW, Dave Gleeson has become an iconic figure in the Australian rock n'roll landscape as the enigmatic frontman for the Screaming Jets. 2019 will see The Jets celebrate their 30th year in the music business, no mean feat itself given the volatile nature of the business they exist within.  The Screaming Jets have been called "A national treasure that Australian's should treasure more…" HotMetal Online. Neil Jeffreys of the famed Kerrang magazine called The Jets… "The best live band I have ever witnessed".
In recent years, Dave has also expanded his musical portfolio as the lead singer of industry veterans The Angels. John Brewster of The Angels has described Dave's addition to the Angels as, "Dave….He brought his own magic with him. Like Bon Scott, Billy Thorpe, Johnny O'Keefe, Doc Neeson, Ross Wilson, to name a few, Dave has earned a special and lasting place in the greater Australian music community…". High praise from a respected and loved industry veteran.
Dave is widely considered to be the 'heir apparent' of the Australian rock 'n' roll industry. His ability to engage and empassion his audience is second to none. His performances are always high energy and full tilt. It's the only way he knows how to operate. Offstage many call him a larrikin, a loose cannon, opinionated, and the voice of the working man.  Stuart Hitchings (Sydney Morning Herald) once wrote.. "In the same way that his band The Screaming Jets exemplify no-bullshit rock'n'roll, Gleeson is the epitome of the straight talking bloke, that never lets political correctness get in the way of a good joke…"  Enough said!
Partnering in the first of a series of awareness raising activities with The Screaming Jets will be music industry charity, SupportAct. SupportAct is a charity, unique in Australia, helping artists and music workers who are facing hardship due to illness, injury or some other crisis that impacts on their ability to work in music.
For more info about the work that SupportAct do go to: www.supportact.org.au
Product Offering/Description
– 10 day auction – Bidding Commences on April 20th– Auction Closes on April 30th. Go to: www.thescreamingjets.com.au page for special auction links.
– 4 separate images. Limited to 10 prints only of each image. 40 prints only to be produced. After that the master files will be destroyed to safeguard the exclusivity of the prints.
– All images are printed on high quality archival rated photographic paper.
– Prints will be hand numbered by Scott Kingman 1/10, 2/10, 3/10 etc…
– Hand framed and titled by Scott Kingman (the photographer). 
– All prints will be individually signed by Scott Kingman and Dave Gleeson.
– All shots taken by Scott Kingman using professional level Canon cameras and lenses.
– Delivery 4 to 5 weeks after the conclusion of the auction.    
– Frame size is 50cm x 70 cm 
– Print size is 40cm x 50cm
– Titles in order of composite left to right
– All purchases come with a Letter of Authenticity confirming goods are Licensed /Authorised Screaming Jets merchandise.
Go to: www.thescreamingjets.com.au page for special auction links.