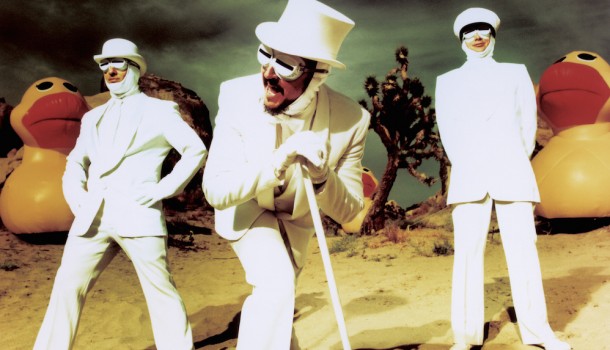 "When we're in the studio we're kind of writing as well, we don't sit and record everyone's parts together, then one person might know what he's doing and the other ones won't and it wouldn't make sense."
From Release: Primus is responsible for some of the most cutting edge and original rock music of the 1990's. They were strictly an underground phenomenon that refused to be pigeonholed – merging alternative, punk, country, roots rock, and experimental music.  Couple that with Claypool's penchant for witty and often humorous storytelling lyrics, it made them a genuinely intriguing proposition.  In the years between their third and fourth albums, their cult grew rapidly, and they fully infiltrated the mainstream.
While in Washington, Tim from Primus gave us a call to talk about the band's upcoming return to Australia, new music, playing live, and much more.
You're heading back to Australia to see us with such a vast catalogue do you have an idea how you'll be shaping up the sets for these shows?
I would believe it might be structured where we do a little bit of our older stuff, we'll do probably the new record we're doing, and then we might finish with some more hits *laughs* so to speak. So I don't know for sure but we've used that kind of structure recently, so maybe.
Being here before over the years do you have a stand out memory of a previous trip here?
Wow, well yeah we had gosh Big Day Out we played I don't know when that was, twenty years ago maybe more and there was like Soundgarden and Bjork and all kinds of cool acts, so that was a big deal for me I thought that was really awesome I remember that. Then we were just down there a couple of years ago and we had some really good shows and it was really cool to be playing on the Big Day Out festival as well, but it was the touring one, the one we first did I think it was just in one place in Sydney. Yeah I could be wrong about that I thought the Big Day Out was just in Sydney the first time we played it and it became like a touring thing. We did that on the last tour.
Well the only time I've had the pleasure of seeing you guys live was on the 2014 Big Day Out…
That was 14? Gosh that was wow, that was four years ago? Oh my gosh.
Yeah, and what a musical experience it was. How does the live environment differ for you from creating music in the studio?
Entirely, especially for me, a lot of the times the drums kind of go down first like on this latest album Les had pretty much laid out pretty much all of the bass tracks and some vocals so I went in and played to those and he ended up replaying his parts to my drums and at that point you know there's no music to it really it's just bass and drums and I don't know what's happening really, I'm just trying to make sense of it and so by the time all the vocals get on and the guitars and he might change some bass stuff and then it sounds like a song. It's very different live when I get to play the actual finished product. So it's very different.
I don't know how you guys do it, the structures and the time signatures; it's so amazing to watch.
Oh wow thank you, yeah it's just how we sound when we play together *laughs*
In terms of new music we just had 'The Desaturating Seven' out last year, the band's first in a long time, why was now the right time for new music from Primus?
You know there's no real specific answer to that, it just happened when it happened.
I'm a big fan of a concept album, what was it like putting this one together compared to your previous albums? Was anything different this time around?
From what I remember in the past it's kind of a similar structure you know? Yeah. When we're in the studio we're kind of writing as well, we don't sit and record everyone's parts together, then one person might know what he's doing and the other ones won't and it wouldn't make sense.
To me there's no one else out there that sounds like Primus, what is it do you think that makes you guys stand alone?
Well I think it's just the way we sound when we play together, we're very lucky to have that voice and music that's our own.
So obviously things change over time, but what would you say is the one thing that's stayed the same for you over your time making and performing music with Primus?
Les and Larry *laughs* I've been in and out of it a few times so I'm the thing that's kind of changed, we've had a few different drummers playing throughout the years.
Over your career you've done a lot so far but is there anything that tops your list of things to do you haven't yet had the chance to do?
Oh, man, I'm just venturing into the hard cider business, I just started my own cider company called Herb's Cider and I want to get it down to Australia somehow.
What about touring, any places you'd like to tour you haven't yet been to?
Yeah there's probably a lot of places that I haven't been, there's some Eastern European places that would be really cool and some Asian places too that we haven't really been to that often, but yeah we pretty much hit the main Europe and the US, we've done a little bit of South America but not much, I would like to do more down there too.
Lastly let's look ahead to the future, finish this sentence for me, in 2018 Primus will…
Primus will *pauses* be on tour *laughs* probably.
PRIMUS 'AMBUSHING THE STORM' AUSTRALIAN TOUR 2018
Special Guests: The Dean Ween Group
Friday 6th April
Enmore Theatre, Sydney
Tickets available at: www.ticketek.com.au
Sunday 8th April
Eatons Hill Hotel, Brisbane
Tickets available at: www.ticketmaster.com.au OR www.oztix.com.au
Wednesday 11th April
Thebarton Theatre, Adelaide
Tickets available at: www.ticketmaster.com.au
Friday 13th April
Metro City, Perth
Tickets available at: www.ticketek.com.au
Sunday 15th April
Palais Theatre, Melbourne
Tickets available at: www.ticketmaster.com.au
For full concert information, please visit: www.zaccariaconcerts.com.au
Essential information
From: San Francisco, CA, USA
Band members:  Les Claypool – Vocals / Bass, Larry LaLonde – Guitar, Tim Alexander – Drums
Website:  http://www.primusville.com
Latest Release: The Desaturating Seven (Out Now)