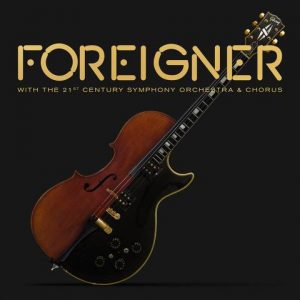 I Want To Know What Love Is, Cold As Ice, Waiting For A Girl Like You, Hot Blooded, Juke Box Hero.
FOREIGNER's timeless anthems continue to rock the charts with ten multi-platinum albums, sixteen Top 30 hits and album sales now exceeding 75 million copies.
For the first time ever, FOREIGNER will present all their hits with a 58 -piece orchestra and a 60-piece choir with FOREIGNER with the 21st Century Symphony Orchestra & Chorus available on April 27th, 2018 via earMUSIC.
In May 2017, the band performed two sold-out shows in Lucerne, Switzerland, together with the 21st Century Symphony Orchestra & Chorus, conducted by Ernst van Tiel. FOREIGNER with the 21st Century Symphony Orchestra & Chorus represents this year-long collaboration between FOREIGNER founding member and lead guitarist Mick Jones and GRAMMY nominated composing/arranging team, Dave Eggar & Chuck Palmer, exploring the deep symphonic potential of these classic and iconic songs. Dave Eggar, Juilliard protégé and cellist/pianist/composer, and Chuck Palmer, producer/writer/percussionist, have toured, performed and recorded with artists such as Paul Simon, James Taylor, Patti Smith, Coldplay and many more.
Mick Jones: "I could never have imagined when I set out to create Foreigner 40 years ago, that we'd still be touring around the world and performing the music we love all these years later.
Dave Eggar and Chuck Palmer's orchestral arrangements have shown us a new symphonic dimension of our music, which I hope our fans will enjoy."
FOREIGNER are: Mick Jones (guitar), Kelly Hansen (lead vocals), Jeff Pilson (bass, vocals), Tom Gimbel (rhythm guitar, sax, vocals), Michael Bluestein (keyboards), Bruce Watson (guitar) and Chris Frazier (drums)
FOREIGNER WITH THE 21st CENTURY SYMPHONY ORCHESTRA & CHORUS
CD Tracklist
1. Overture
2. Blue Morning, Blue Day
3. Cold As Ice
4. Waiting For A Girl Like You
5. Say You Will
6. When It Comes To Love
7. That Was Yesterday
8. Feels Like The First Time
9. Starrider
10. Double Vision
11. Fool For You Anyway
12. Urgent
13. Juke Box Hero
14. I Want To Know What Love Is
DVD Tracklist
1. Overture
2. Blue Morning, Blue Day
3. Cold As Ice
4. Waiting For A Girl Like You
5. Head Games
6. When It Comes To Love
7. Say You Will
8. The Flame Still Burns
9. That Was Yesterday
10. Juke Box Hero
11. Starrider
12. Double Vision
13. Fool For You Anyway
14. Hot Blooded
15. Urgent
16. Feels Like The First Time
17. I Want To Know What Love Is
DOUBLE-VINYL Tracklist
Side One:
1. Overture / 2. Blue Morning, Blue Day  / 3. Cold As Ice  / 4. Waiting For A Girl Like You
Side Two:
1. Double Vision / 2. When It Comes To Love / 3. Say You Will / 4. That Was Yesterday
Side Three:
1. Urgent / 2. Juke Box Hero
Side Four:
1. Starrider / 2. Feels Like The First Time / 3. I Want To Know What Love Is
PRE ORDERS AVAILABLE NOW