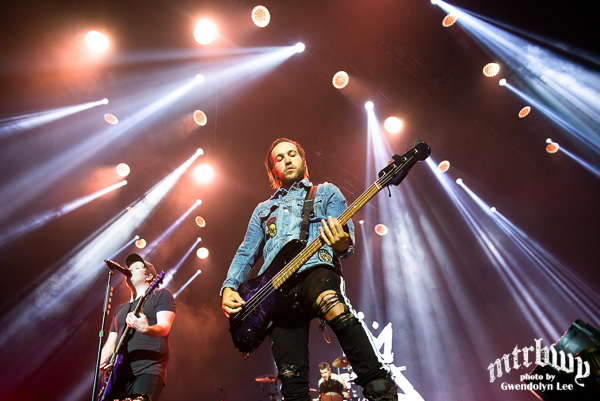 They're back! It's been a few years since we've seen Fall Out Boy in Australia and I'll tell you what hasn't gone by the wayside, their fan base! This place is pretty damn full besides a couple of curtains upstairs and it looks great in here. I've perched myself at the back of the venue near what looks like a mini stage, let's see what happens there later on shall we?
Well there goes my hearing. Screams deafen me and that's just as the lights go down and a countdown appears on the screen, the crowd counts out of time and there's fire!!!! "Put on your war paint" is heard as Fall Out Boy launch onto the stage and into 'The Phoenix' and they've got the crowd eating out of the palm of their hands from first song in. Horns (musical not rock) signify the beginning of 'Irresistible' oh sweet now there's pyro! You're winning me over very early fellas. Patrick Stump's voice is in fine form and that continues into 'Hum Hallelujah' which is just one of their catchy little ditty's. Pete addresses the crowd and they literally kaboom into 'Sugar We're Going Down' which is my favourite FOB tune so it's great hearing it this early. They still play it with such gusto too although the jumping and spinning seems to have slowed which is completely acceptable.
'Immortals' is up as I get distracted by 'Big Hero 6′ plays behind the band on the giant video screen and I haven't heard them play this one live before and man, it's so good and so much more rockin' in the live arena. What I dig about these guys is that it's just the four of them up on stage and they kill it, each of them you can focus on and be entertained. 'Stay Frosty Royal Milk Tea' from 'Mania' was large and 'Centuries' sees Stump animated and taking the mic and bounding around the stage, he's come a long way from the first time I saw them many years ago and he didn't say a word. Now it's time to 'Save Rock and Roll' as the piano rolls out and mobile phones light the place up. You've gotta love a big power ballad (yeah you know I do) and a key change?! Fellas you're killing me!! Amazing!! By far the best song of the night so far.
'The Last of The Real Ones' from newest album comes across so much more rockin' live than on 'Mania' and I love it. Patrick stays out there solo on the piano for 'Young and Menace' then Andy smashes out a hell drum solo like the animal he is while Pete appears in front of me on the mini stage (told you something would happen) as they play 'Dance Dance' which was crazy as expected and hearing that bass riff right in front of me was cool. Then 'Wilson (Expensive Mistakes)' from the new album was awesome here. That's one that's really growing on me. Pete shook my hand as he walked by and then two weird llama things came on stage throwing out shirts but the band came back with a whole lot of middle fingers for 'I Don't Care' which is kickin' ass. The place goes nuts for 'This Ain't a Scene, It's an Arms Race' and right now everyone is into cats and watching this from the back is awesome as the crowd lap it up and sing it back to the stage. There's so much fire and it's amazing. The show just keeps getting better as they head back to the new one with 'HOLD ME TIGHT OR DON'T' and the rock vibe is a bit subdued but it slips in nicely!
As expected 'Grand Theft Autumn/Where Is Your Boy' turned into a sing along and this one is always a favourite at FOB shows. You can tell we're getting to the end of the set as 'Thnks fr th Mmrs' kicks in and of course they smashed it! 'Champion' is heavy!! Wow! Didn't expect it to come across this way live and it's amazing. It closes the main set but I'm pretty sure we'll see them back.
Here they come and yes!!! They're playing  'Thriller' (theirs not MJ) and I didn't expect this one at all, been ages since I've heard them do that and the heavy and detuned guitars kick ass!! 'Uma Thurman' throws in some more pyro for good measure and wow that actually may be one of their best of the night. 'My Songs Know What You Did in the Dark (Light Em Up)' and it was huge with so much fire I could feel it at the back of the arena. That song was written I'm sure purely to be played live as the place was on fire (pun intended).
Closing the show with 'Saturday' complete with confetti cannons, NSW jerseys and crowd love, they go out rockin' and once again showed everyone how it's done. Fall Out Boy really are a great live band, they put on a great show both musically and visually and they'll continue playing arenas as long as they keep delivering shows like this.
Essential Information
Venue: Qudos bank Arena – Sydney
Date: March 2, 2018
Presented by: Select Touring
Website: http://www.falloutboy.com
Photo: Gwendolyn Lee – Gwendolyn Lee Photography – Check out our full gallery HERE
Set List:
The Phoenix
Irresistible
Hum Hallelujah
Sugar, We're Goin' Down
Immortals
Stay Frosty Royal Milk Tea
Centuries
Save Rock and Roll
The Last of the Real Ones
Young and Menace
Drum Solo
Dance, Dance
Wilson (Expensive Mistakes)
I Don't Care
This Ain't a Scene, It's an Arms Race
HOLD ME TIGHT OR DON'T
Grand Theft Autumn/Where Is Your Boy
Thnks fr th Mmrs
Champion
Thriller
Uma Thurman
My Songs Know What You Did in the Dark (Light Em Up)
Saturday