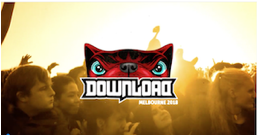 Food glorious food, sizzling burgers with mustard!
While we're in the mood, hot pizza and mushrooms!
Tacos, donuts and Gozleme!
What next is the question?
In-di-gestion!
Download Melbourne has a plethora of goodies to satisfy your appetite for degustation in 2018!
Introducing……….
Hell's Kitchen, the result of asking a bunch of our closest pals and the most inspiring folk in our foodie orbit to come together to create smoke the likes a music festival has never seen before!
Combining the smoky eyes of Aaron Turner (IGNI), the African insanity of Duncan Welgemoed (Africola), the cheek of Dani Alvarez (Fred's), the sauce of David Moyle (Longsong), our Mary's crew have created one delicious fucking monster.
Burgers. Beer. Music. Friends. Nuff. Said.
Raf's Foodworld, a magical biosphere of your preferred vendors, Beatbox Kitchen (Burgers), Taco Truck (Tacos), Juanita Peaches (Fried chicken sandwiches), HSP (Halal Snack Pack), and for all your sweet tooths… All Day Donuts (Donuts)!
All of Melbourne best food trucks featuring Blue Bonnet BBQ (American BBq), Dos Diablos (Mexican), Emmy's Gozleme (Gozleme), POKnKOK (Thai), M.I.L.F (Man I Love Felafel), Bruno's Souvlaki (Fairground Faves), Lil Nom Noms (Vietnamese), Caliko (Korean Fried Chicken), The Little Mushroom Co (Vegetarian), and Bavarian Bangers (German Sausages)!
Special guests Heartbreaker Pizza (Harley & Rose) will be serving up the cheesy stuff.
And rounding out your eats, are much loved festival faves, That Arancini Guy (Italian), The Rib Crib (Ribs), Lets Meat Up (Greek), HOPPA (Korean), Loaded (Loaded Fries)!
For those who like to shop… we salute you!
Our great mate, Doug from Rare Records in Melbourne has curated the Download Melbourne Markets. From collectable merch to jewellery, Henna tatts, clothing, guitars, music and more!
The good folk from Fender, Maniacs, Artist First, Broken Lock, Natural Henna Arts, Sullen Clothing, Plastic Money, Sea Shepherd, Melbourne Hunt Saboteurs, PopCultcha, American socks, Pipal Tree, 24/7 sunglasses, Pachinko Hats & Accessories, and 24 Hundred/Unified will give you plenty of opportunities to browse or burn a full tilt hole in your bank account.
For event information, regular updates, alerts, playlists and information on every artist on the line up, download the Download Melbourne 2018 app iPhone and Andriod.
Stay tuned for information regarding signing tent schedules.
TICKETS TO DOWNLOAD
downloadfestival.com.au/tickets
Ticket prices:
GA – $169.90 + booking fees and credit card charges
RIP – SOLD OUT
? 2018 EVENT INFORMATION: 
? March 24th Flemington Racecourse 18+ event
TRANSPORT:
Flemington is the home of Australia's largest sporting and entertainment event – The Melbourne Cup Carnival. Flemington has hosted some of the largest one-day music Festivals to hit Australia including Soundwave, Big day and Future. Flemington is only six kilometers from Melbourne's CBD and is easily accessible by car, taxi, train, tram, helicopter or ferry.
By train
Trains run throughout the day, departing from Flinders Street Station, stopping at Southern Cross and North Melbourne Stations before arriving at Flemington's.
Travel time is approximately 15 minutes.
By tram
The No. 57 tram runs from the corner of Elizabeth Street and Flinders Street directly to the Flemington Racecourse main gates.
Travel time is approximately 30 minutes.
DOWNLOADFESTIVAL.COM.AU || facebook.com/downloadfestAU twitter.com/downloadfestAU  || instagram.com/downloadfestau
#DLMELB2018