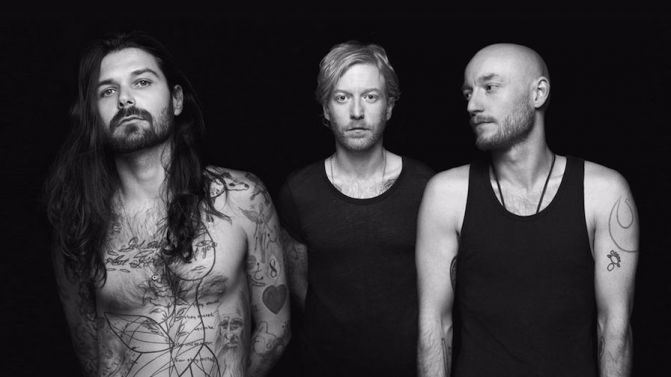 "I think as you watch us there are some bands you can tell they're putting it on, but we very much mean it and we demand a lot of ourselves and I think people see that and then put that kind of pressure on themselves and boost themselves to get into it and keep us going…"
From Release: Biffy Clyro have announced Australian dates for April 2018. The tour is in support of Biffy Clyro's seventh studio album 'Ellipsis'. The last album debuted at #15 on the ARIA album chart. It's their second to hit the ARIA top 50, following on from Opposites (#22 Feb. '13) and is their second consecutive #1 in the UK. Critics praised Ellipsis, the band's most successful album to date, nominated for "Best British Group" at the recent BRIT Awards as well as "Best British Group" and "Best Festival Headliners" at the NME Awards.
Over in Europe Ben gave us a call to talk about Biffy Clyro's return to Australia, their live shows, new music, unplugged, Star Wars, tattoos, and much more!
It's been about three and a half years since we last chatted, so let's catch up. How have the last three and a half years been for you?
They've been great, man, they've been really good. Obviously we released 'Ellipsis' and that's been our most successful album to date, so you can't really ask for more than success getting better and better every time. Got to play all over the world, spend some time in America over the past few years and had some great times in Scandinavia and Germany, unfortunately we haven't been to Australia but we're going to do that in April. Yeah, mate, honestly it's been great, we've done some really amazing shows, met some great people and the band's better than ever so I'm a happy dude.
As you said you're heading back to see us in Australia and as the catalogue grows are you finding it harder to construct a set list these days?
Big time *laughs* there are songs that were successful singles in the UK that we can't fit in the set any more and that's weird because they're staples that you've played for years and they make you feel at home on stage and you've gotta go up there and replace that with a brand new song and hope that it does the same job if not better. Which it has been doing, 'Ellipsis' is a great album to play live, some of the songs really come into their own when we put them on a stage, so we're lucky in that respect but yeah, it's always sad to see some of the old songs fall by the wayside but you know, we can't play forever, we still play long sets but we don't want to do three and half hours like Bruce Springsteen and people have to leave for the train and shit, so we try to keep people happy.
Your live show is for lack of a better word, intense, what do you think it is about this band that almost demands so much energy from the crowd and gets it?
Hopefully our performance and how much we put into the gig and how much belief we have in ourselves when we're up there. I think that translates, obviously the lyrics are a very hard sell, a lot of them are their language so I think a lot of them connect with the lyrics when they're at home so I imagine at the gigs they're more connected with the energy we're giving off. I think as you watch us there are some bands you can tell they're putting it on, but we very much mean it and we demand a lot of ourselves and I think people see that and then put that kind of pressure on themselves and boost themselves to get into it and keep us going and it's so easy to be filled with energy up there when you're playing to a Biffy crowd because they're just the best fans in the world. *laughs*
Bring to Australia a number of times do you have a stand out memory from a previous tour here?
God, I'm so bad with dates and I forget my anniversary every year *laughs* but there was a while we had like three close friends from Scotland all living in Melbourne and when we'd come over we just happened to have days off before and after and just did all sorts of stuff and it just so good to catch up with those friends and to do it in Australia was just unbelievably nicer than Scotland *laughs* that's such a great place to spend time. I remember we went to the zoo in Sydney and the Opera House which was incredible, I even got myself in the water and I'm terrified of sharks so that was pretty crazy for me to do that, but yeah every time we come we try and get a little time off before and after and try and acclimatize and get our body clock ready for the shows and have time to spend and check stuff out you know. So every time has been fun and I'm not just saying that. Every time has been amazing and I don't have a bad memory at all.
Back to 'Ellipsis' it does sound like some songs just sound like they're meant to be played live, was this something taken into consideration when writing material for the album?
Not really, not at all I think if anything I felt that this album was the most studio album we had and that may sound weird saying that because a lot of our albums have a lot of orchestration and stuff put on so you can tell they're studio albums, but for me this one it was a lot of things born in the studio and Simon had the songs written but to the extent of a click track, an acoustic guitar and a melody, there weren't drum parts written, weren't bass parts, there were a lot of things we didn't have before going in and that was all done on purpose to give Rich Costey the producer a chance to get really involved in the band and with ideas and help us move in a different direction a little bit. So for me I think of it as a studio album very much so, but then there are songs like 'Animal Style' and In The Name of The Wee Man' when we play those songs live they just go off you know you just can't stop them once you start and they're way more fun live than when we pressed record, so I guess you're right too *laughs* so I'm not really sure. It's working out really well and so many songs that are just made for a big stage.
You've been a band now for well over a decade. Looking back at your time together what do you still enjoy about being in Biffy Clyro?
I say the most is playing live, we love recording, we like getting days off in the middle of touring and hanging out together and go have fun watch movies or hit some go carts, or play some golf, that's all fun, but for me it's definitely getting to sit behind my brothers and watch that happen, that really is the best thing in the world. It doesn't really lessen at all, I'm never on stage and don't want to be there I'm always happy to be there and some gigs are tougher than others but it's still always better than a new job *laughs* so I mean I'm always having a good time.
So it's sometimes easy to say what's changed in your time in a band but what would you say is the one thing that's stayed the same in your time together in Biffy Clyro?
Probably the fact that we just try and enjoy what we're doing, it's never become a business venture for us, we've never sat down and thought how do we make more money or how do we get more fans? So we still feel like we're the same guys that we were when we were fifteen in school when this band started and we still get the same kind of shivers when we're rehearsing a new song that Simon's written and we'll look at each other and go "oh Fuck! This is amazing!" and the satisfaction that we get from it, and also just being daft and quirky in our music, we still love to piss people off and to be obstinate and aggressive sometimes and then be too soft for a band that are that aggressive we like to have the strings split up things and really be a band that you can't pigeonhole easily. Like bands you look at the music and you play and it and have trouble to describe it, I think most journalists have trouble with what kind of music it is. So all the little things that make us us is still what I enjoy so much and they're the things that will never change with this band.
What does the rest of 2018 have in store for the band?
So, we have, crikey, we're doing a soundtrack for a movie, we write the soundtrack and then the actors improvise over the music which is a crazy arse backwards way to do things but that's how this guy Jamie does his movies. So at the moment we're kind of writing the soundtrack for that, we're also trying to write album number eight, and also we just did MTV unplugged at the Roundhouse in London so that'll be getting released in May sometime, so we're super busy. Then we go to record the album and that'll be coming out early 2019.
So not busy at all?
*laughs* Not busy at all, man, we're just putting our feet up, going fishing *laughs*
So with the unplugged, when a show like yours is so intense how do you translate that into an acoustic scenario?
Well you don't. You make it a different thing, we go so the other way. If you watch say Pearl Jam or Alice In Chains to me it's not really unplugged, I love those performances but there's a full drum kit with sticks and cymbals and the only different thing is they're not hitting distortion pedals but apart from that the whole thing is the same. So we go the other way completely, I had only two or three drums and I'm using brushes and everything is really quiet and we like to strip it right back, so that's what we do. Regardless of how hard we try and strip it back when you get a Biffy audience there they get involved and it always ends up pretty raucous anyway. So I think when you come to watch it and hear that it's the most kind of crowd participatory MTV unplugged there's ever been
As you continue and tick off huge moments and accomplishments what still stands out for you as something you want to do that you haven't yet had the chance to do?
I'm really racking my brains for that one man, because we've honestly played with all our favourite bands, obviously there are some we'll never get to play with, people dying, that's so selfish, but like it's really tough I guess the one thing would be to headline Hampden Park in Scotland where the Scotland football team play their national games, that's a biggie we haven't headlined that yet and that's the only thing I can think of. We've headlined Reading at least twice, we still haven't headlined Glastonbury we played second last, we've headlined Donington but honestly when I see these things I still don't believe we've done them but there are pictures of the gigs so we actually did do them. Yeah I think Hampden Park will be the only one I know that's a bullshit answer *laughs* but we really have accomplished so much more than I ever thought we would have in a billion years so we're happy chappies.
On tattoos did you and James draw straws on who got what positioning for the Ellipsis tatt?
*laughs* No not at all it was entirely down to the artist Chaim Machlev who does these wonderful pieces on us and got us to line up back to back and Simon doesn't have much room left anyway so he had to start on his leg. I just left it to what he wanted to do, I would've gotten it bigger but I was so privileged to get in that guys chair, he has a three year waiting list and we just went straight in and got these tattoos done and I'm super stoked with them and a good thing to get. I've been back to see him since and had more work done and he did a great piece on my wife's arm as well and he's now a true friend so that's a wonderful thing to have happened and I'm very proud of those tattoos and we're forever linked with one tattoo now.
Also on tattoos I know you have a Star Wars tattoo and are a big Star Wars fan, have to ask, The Last Jedi, yes or no?
Yeah! I loved it man, I thought it was amazing, absolutely amazing, I've only seen it once which I'm a bit embarrassed about because I do have a Star Wars tattoo on my arm so I should've been at least ten times, I've only managed to make it the once because my wife's not that big a fan *laughs*, but I thought it was amazing, I was bawling, I thought it was very emotional, it maybe wasn't totally in line with the earlier movies but everything has to evolve and has to change.
Lastly let's look ahead to the future, so finish this sentence for me. By the end of 2018 Biffy Clyro will…
OK… will… will have a new album recorded, hopefully.
I love it they just keep coming, no mucking around!
Yeah man there's no point in messing around, we want to make as much as we can, we want to be like Rush by the end of our career, we want to have like twenty five albums, so we've gotta up the pace. *laughs*
DATES
Friday 27th April Forum Theatre, Melbourne
Sunday 29th Eatons Hill, Brisbane
Monday 30th April Enmore Theatre, Sydney
Get Tickets via 
www.xiiitouring.com  www.secretsounds.com
Essential information
From: Glasgow, UK
Band members:  Simon Neil – guitars / vocals, James Johnston – bass / vocals, Ben Johnston – drums / vocals
Website:  http://www.biffyclyro.com
Latest Release: Ellipsis (Warner Music Australia) Out Now!