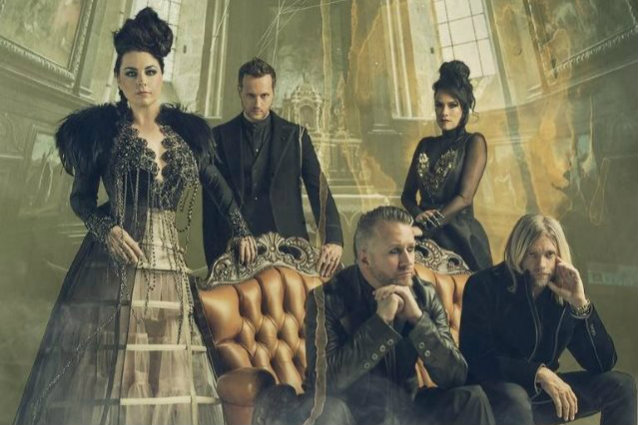 "So we've gotten this to a point where we're really happy with it, it's a very different experience, I've had a lot of people describe it as somewhat cinematic, really emotional, it's a different thing it's still Evanescence through and through but it's a different experience for sure…"
From Release: Two-time GRAMMY award-winners Evanescence are heading to Australia for Synthesis Live With Orchestras, to celebrate their triumphant fourth studio album, Synthesis. Set to deliver a transcendent experience, Synthesis Live will see the band collaborate with world class Australian symphony orchestras alongside electronic programming to showcase the spectacular new album Synthesis.  Not simply a 'greatest hits' album, Synthesis takes a selection of Evanescence's three previous studio releases along with two new songs, and reimagines them with brand-new recordings and arrangements. Synthesis is an amalgamation of Amy Lee's masterful singing and piano playing, supported by her band, a full symphony orchestra performing arrangements by long-time collaborator David Campbell as well as an array of electronic music programming and effects.
In Orlando, Florida the home of Mickey Mouse, Will gave us a call to talk about Evanescence's return to Australia for the Synthesis tour, the making of the album, plans for new music, and much more.
Of course we're here because you're heading over to see us for these set to be amazing orchestra shows, so can you give us an idea of how the shows are set to shape up?
Yeah so we've been on this tour for this record since October and playing with orchestras since the beginning of October. So we've gotten to a point where we're pretty comfortable with what we're doing, you know we made some adjustments in the show and just kind of gotten it to a point where everybody's really happy with it and because honestly this is the first time we've ever done anything like this, and honestly we don't even know of anybody else that's done it the way that we've done it, this is very new territory and nobody drew a map of how to do this *laughs* right or wrong. So we've gotten this to a point where we're really happy with it, it's a very different experience, I've had a lot of people describe it as somewhat cinematic, really emotional, it's a different thing it's still Evanescence through and through but it's a different experience for sure and we've got some very smart and artistic fans and they're definitely along for the ride. Everybody's really liking it.
When making an album like 'Synthesis' was it an interesting exercise choosing and reworking these songs and adding in the orchestral elements?
Yeah so I think one of the things that Amy mentioned about it when she initially started talking about "here's the basic idea" was and this is just as an example, there are hard rock bands or heavy bands that have done orchestral albums and maybe more recently like KISS or Metallica but what they did is basically kind of played their songs and added an orchestra into that which isn't normally in most of their music, where that's already what Evanescence is, we have that stuff in 90% of our music. So to do that would be well that's a live album, that's not anything different or new, so the vision was and if you broke it down to the core of the song which is the vocal and the melody and then rebuild these songs around that with this orchestral element but she wanted to bring in this while electronic element as well, so that's where the title 'Synthesis' comes from as well it's kind of the blending and the blurring the lines between the rock elements that we are, the orchestral elements, and the electronic elements.
How is the dynamic different for you in the live environment playing these songs rather than the coming together of them in the studio?
Yeah for me it was really interesting and strange and beautiful *laughs* and kind of awesome. When I started I was the first guy to go in and really and really all it was was a vision, an idea and we don't know where this is going but what do you have? What kind of rhythms, what kind of ideas, what kind of arrangement things are you feeling, what can you do to kind of put a taste in the mouth so to say of what this song is going to be? So I was kind of driving blind when I went in and it was an interesting experience to hear what I did, how it came out, what helped shaped where the song went and I think the big thing for Amy and the big thing for all of us was to try to think OK I've been playing a lot of these songs now since 2007, some since 2011 on the last album that we all wrote together and how do I play something different? So completely shutting that part of my brain off, in all of us you know? All of us doing that and shutting that part of our brain off and how can I let me hear this song in a completely different way which was really liberating in a lot of ways where I don't have to do anything and I can do whatever I want, it was really cool.
It's been a long time between visits to Australia, what do you remember about that last time you were down here with the band?
Well, I remember staying in Sydney and we stayed in a hotel that was across the street from the Opera House and it was the first time I'd been to Australia and the first time I'd seen that and it's a magnificent looking building and then it was like 'God, what would it be like to play there? That's gotta be incredible' I mean I've been seeing pictures of that since I was a kid and I remember that being very young. So being able to come back and go play there is surreal *laughs* it's not a reality for me yet. I can't wait.
So, with the new tracks and the band firing again are there plans for newer music sooner rather than later?
You know, that's a big question and question that gets asked a lot and Amy is our leader, this is her vision and we're all honoured to be a part of it and shape it and ultimately it comes down to for her I think it's her headspace and mentally when she's ready to take that on, I think everybody knows how much she pours into the lyrics and the performances, and as emotional as the music is I think it takes a lot man. I would like to think that it's soon, we finish this up we're gonna be doing Synthesis for the rest of the year and I would like to hope that maybe first part of next year, I mean February of 2017 we started Synthesis, maybe there's a possibility that we start getting the next record going next year, but I don't know. It could be longer than that, it could be sooner, it just depends, I'm on board for whatever so I hope it's soon *laughs* it would be awesome.
When you all came back after a bit of a break was there a renewed energy and now the band is firing on all cylinders?
Yeah so it's interesting, there was some time down in 2015 we did a few shows, just a couple of festivals came up and shows came up and that's when we welcomed Jen our new guitar player in the band, the second female member, We did that and out of that came more show in 2016 and then came 2017 this past year we did a full blown run of festivals in Europe, we did a full blown run in The States that previous 2016 in November, so we've been playing the songs that we had from the past three records, so it's a cool thing to see that there's still interest and that people still love this music and their passionate about it and I can honestly say as long as they're there we'll be there, we'll come play. So we've been kind of getting it going and we took a hard left turn with this with Synthesis and this tour and that's exciting man, it's a whole new ballgame and I'm really happy that we're doing it and honestly I think what it's done is just given the band some longevity, I think it's given the band a status of not just being a nu-metal type band from the early 2000's which I'm not knocking that because I love that music but I think the band's a much broader, artistic band than I think anybody had any idea that we were.
So what I do with everyone is I get them to look ahead to the future, so finish this sentence for me. By the end of 2018 Evanescence will…
*laughs* I've gotta think about that one *laughs* Evanescence will have realised that we're much different, broader, mature than we ever imagined that we could possibly be and we're moving forward with so many colours in our palette that it's gonna change everyone's perception of who they ever thought that we could be.
EVANESCENCE: SYNTHESIS LIVE 2018
Presented by TEG Live and Sony Music
Tickets from TICKETEK

SAT 10 FEB | BRISBANE CONVENTION & EXHIBITION CENTRE
W/ QUEENSLAND SYMPHONY ORCHESTRA | DATE & VENUE CHANGE
TUES 13 & WED 14 FEB | SYDNEY OPERA HOUSE
W/ SYDNEY SYMPHONY ORCHESTRA | FINAL TICKETS RELEASED
FRI 16 FEB | ROD LAVER ARENA
W/ MELBOURNE SYMPHONY ORCHESTRA | SELLING FAST
Essential Information
From: Little Rock Arkansas, USA
Band members: Amy Lee – Vocals / piano, Tim McCord – Bass, Will Hunt – Drums, Troy McLawhorn – Lead guitar / backing vocalist, Jen Majura – Guitar.
Website:  http://www.evanescence.com
Latest release: Synthesis (Out Now – Sony Music Australia)