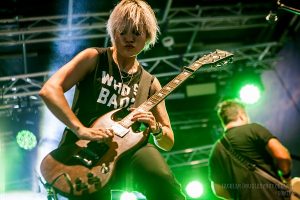 Aussie rock icon, Sarah McLeod, announces the launch of her fashion label, BAD VALENTINE. The range will debut with a small selection of T-Shirts that project bold statements for the brave at heart. McLeod's single of the same name will also launch with a video clip featuring models Lola Van Vorst, Tuyamaa Tumenjargal (Miss Mongolia), Natalie Sweete in the reimagined Enchantment Under The Sea scene from Back To The Future! Link here: https://youtu.be/1YIb1LJ54ZQ
With a penchant for embellishing T-Shirts for stage for many years, and more recently making her own T-Shirts for her solo shows and performances with her band The Superjesus, the calling became an obvious one. An overwhelming number of requests from fans wanting to know where they could get the same T's was the catalyst to bring BAD VALENTINE to life.
Well known for her palpable energy and strong sense of self, Sarah has never been shy of being bold and brave. Adored for her straight up ballsy rock & roll character, she has moved through her 20 plus years in the media spotlight with a pinch of endearing larrikin, and a fistful of authenticity. "
BAD VALENTINE is a clothing label dedicated to the celebration of self-confidence, empowerment, and freedom of speech. As Queen Latifah once said: "Be bold, be brave enough to be your true self".
"I want people to feel empowered wearing these shirts. They are tongue in cheek but also a very powerful tool of self-awareness and confidence. I want people to know its ok to be bold and its ok to be confident and its quite alright to let 'em all know you feel that way by pasting it across your chest in broad daylight!  Yes you may get some funny looks but if you back it up with a smile and spades of conviction, you'll BE the business." Says McLeod…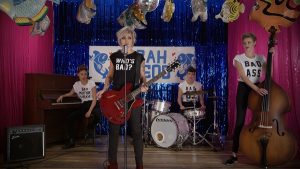 Initial collection consists of the following 7 shirts (in Women's and Men's sizes)
BAD ASS
BAD MUTHA FUCKA
WHO'S BAD?
FUCKIN' UNREAL
BOSS
BAD VALENTINE 69
BAD VALENTINE SKULL LOGO T
BE BRAVE. BE BOLD. BE BAD. BAD VALENTINE
Available at: https://www.badvalentine.com.au
FOLLOW ON INSTAGRAM: https://www.instagram.com/badvalentine69
Sarah is also gearing up to take Australia by storm in her role as St Jimmy (shared with Grinspoon's Phil Jamieson, and Magic Dirt's Adalita) in Green Day's award winning Broadway phenomenon American Idiot. Check out her knockout performance at the Australian Open recently