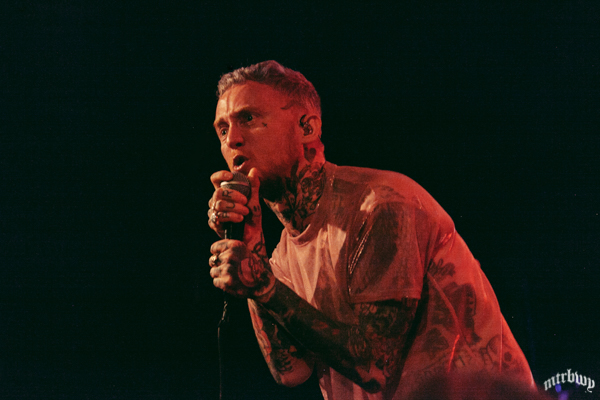 While Frank Carter & The Rattlesnakes have been around for barely three years, the main man Frank Carter has been both musically and artistically on any true hardcore fans radar for quite a while. It has now been thirteen years since he started Gallows, which he later left and Pure Love was formed seven years ago before Carter took his own name into play and added a backing band of great UK musicians calling them his Rattlesnakes. After a sold out string of Aussie shows during his last visit, tonight we were in for a treat.
The Beverly Chills were an opening act of the night. Melbourne's own lo-fi, fuzzy punk duo, consisting of singer and guitarist, the band was entertaining enough to bop my head along to 'Loner', their most recent single. Green mullet haired singer, Twiggy Hunter, hopped into the crowd for a good five minutes and the folks seemed to really dig it. I have never seen or heard these guys before, but they'd be a perfect discovery for the fans of Gooch Palms and Dune Rats alike.
Cancer Bats were up next! Good lord, these Canadians sure know how to party, easily the best support band show of the year for me (so far). Charismatic, chaotic and totally memorable – Liam Cormier's vocals resonated in my head long after the band was done playing, both charming and kooky the singer got the crowd going with a solid set list of top songs from across the band's five studio albums, including : 'Hail Destroyer', 'Pneumonia Hawk', 'Lucifer's Rocking Chair' and with extremely spot on Sabbath-like rocking guitars – 'Children of the Grave'(Black Sabbath cover). Confirming their kookiness the band also played 'Sabotage' by The Beastie Boys and happily greeted fans at the merch desk after their set.
While not sold out and not completely full, the venue did seem packed enough to provide a good starting point for some crowd surfing action. Highly anticipated entrance by the man himself, Frank Carter witnessed the fans go nuts! Carter walked out wearing plastic heart shaped sunglasses and head to toe Gucci swag. A see through t-shirt made his tattoo-covered body glisten in yellow spotlight of the stage. Starting off with 'Primary Explosive' and literally jumping onto 'Fangs' The Rattlesnakes delivered really good sound throughout the whole show, but all eyes were on Carter.
After calming down punters with a bit of a chatter : "I know you are excited coz we are from England, palest lads you've ever seen." Carter dedicated 'Wild Flowers' to all the women in the audience, so the ladies could partake in crowdsurfing, safely and to their own enjoyment. I mentally thanked Carter for being nice enough to take a stand against the "misogynistic scum" that music industry worldwide turns out to be.
During 'Juggernaut' the fans gotten fairly rowdy and 'Vampires' moved Carter from the stage into the crowd. Legs up, Carter struggled at first to get his spot on top of his fans, but he did end up directing the crowd to do whatever the hell he wanted them to do. Returning to stage, Carter paused the show while spotted in the crowd, security led a fan out of the venue.
"That's what happens If you harass a lady at my show, you have to leave." When everyone seemed to quieten down Carter dedicated next song to "the one person I love back home" – his daughter. The song was 'Lullaby' and the flock of adoring fans sang it back to the him.
Continuing this very late show with a variety of songs across a variety of his records and bands:
'God Is My Friend', 'Modern Ruin', 'Snake Eyes' and 'Devil Inside Me' to name a few.
Frank Carter & The Rattlesnakes sure love Australia and Australians love them. Welcome back anytime.
Essential Information
Venue: The Metro Theatre – Sydney
Date: February 10, 2018
Presented by: Destroy All Lines / Chugg Entertainment
Special Guests: Cancer Bats
Supported by: The Beverly Chills
Website: http://www.andtherattlesnakes.com
Photo and Review by: Annette Geneva – Check out our full photo gallery HERE