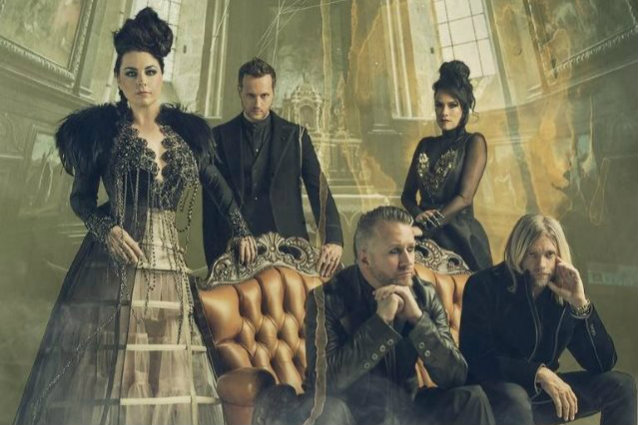 Evanescence are back in Australia and tonight they're here to do something pretty special. Not only have they reworked their songs for their newest album 'Synthesis' but they're here to play it in full tonight with the Sydney Symphony Orchestra in probably the most iconic venue you can get, the Sydney Opera House.
The orchestra warms up for us and we're treated to a taste of what we can expect when Evanescence walk on stage. Special mention to the orchestral version of 'Bach in Black' yes, that's right, Bach. Very clever and with that people are already listening and ready to go.
A single note on the piano starts the night off as the orchestra joins in and the 'Overture' leads into 'Never Go Back' and Amy's voice, I can only think of one word right now and that's wow. She moves from piano up front of stage and I seriously can't take my eyes off Will Hunt absolutely smashing the electric kit set up tonight it's insane.
A heartfelt thankyou this early on is amazing, then 'Lacrymosa' keeps the level of intensity and power going and this is going to be one of those reviews that just gushes over the band because if this level of professionalism and ability stays up then holy shit. Starting 'The End of The Dream' with just Amy's vocal and the silence in the room is something to behold, there is a whole lot of respect in here tonight and deservedly so. 'My Heart is Broken' is probably my favourite track off synthesis and here it's taken to another level as the guitars kick in and fill it out I'm loving it. Amy moves back to the piano to finish the song and the cheers are unbelievable. 'Lithium' gets a cheer as it begins but that's followed by immediate silence and awe by the adorning crowd. Those notes are just something to behold, unbelievable.
OK, so here's the one everyone knows and the no videos rule is thrown out the window as phones light up the floor to capture it. I love what they did with 'Bring Me To Life' on the album and live it's even better. Actually, it was nothing short of epic. The applause started while the last note was held and kept going and getting louder and was deserved. When you get to hear something like that? Wow, I haven't seen that for a long time. Back on the piano to outro the song then back out front while 'Unravelling' plays and as the violins hit the opening stings, it's just so impressive. "There's no way I can say it so I'm going to do my best to sing it" is the best way to address the crowd and 'Imaginary' blows minds then 'Secret Door' did exactly that too and more as it exploded into a musical masterpiece. I mean I've heard bands play with orchestras before but this is something so different that it's just mind blowing. 'Hi-Lo' and 'Lost in Paradise' again, wow this is almost like an out of body experience tonight. 'Your Star' is hauntingly beautiful and takes on the most electronic arrangement of the night. Will steps down from the drums for a rest as Amy takes on 'My Immortal' with the orchestra and the room once again is dead silent as she delivers a version of this song that is nothing short of magical. In fact I'll never be able to listen to the original version ever again after hearing it played this way tonight.
As Amy sits back dish at the piano for 'The In-Between' then 'Imperfection' which is another electronically charged masterpiece and the one that closes out the Synthesis album and I'm just sitting here shaking my head at what I just saw. A standing ovation and rightfully so as the band leaves the stage only for Amy to return and once again solo on the piano and delivers 'Speak To Me' as the orchestra begins their accompaniment on this, one of Amy's solo tracks and never hearing this before it's damn beautiful. Another on the piano, 'Good Enough'  which was beautiful and as the band returns to the stage for one more which is 'Swimming Home' and a perfect way to close this show. This song is just gorgeous and finally! The harp gets its time to shine!
Excuse the French but holy fucking shit. That was phenomenal.
Essential Information
Venue: The Sydney Opera House
Date: February 14, 2018
Presented by: TEG Live
Website: http://www.evanescence.com
Set List:
Overture
Never Go Back
Lacrymosa
The End of The Dream
My Heart Is Broken
Lithium
Bring Me To Life
Unraveling
Imaginary
Secret Door
Hi-Lo
Lost In Paradise
Your Star
My Immortal
The In-Between
Imperfection
Speak To Me
Good Enough
Swimming Home