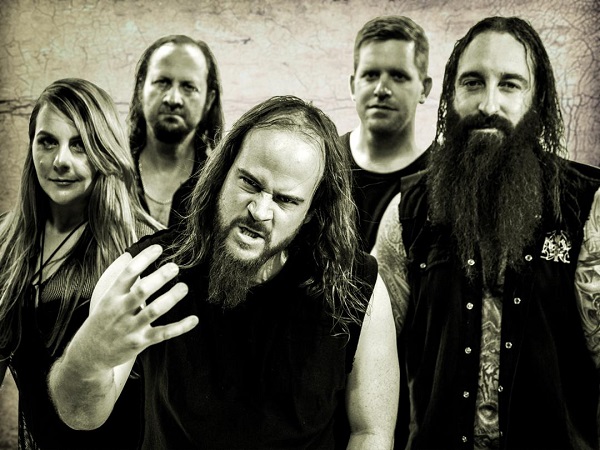 "I think this album is the most stylistically diverse of our albums, but somehow manages to still sound like Claim The Throne. Each song was like a little project by one person that was jammed out and built upon by the other members."
From Bio: Ripping apart folk metal with a merciless assault, finally a band is delivering an extreme take on melodies that fans of pagan and melodeath alike have been raging for. Australia's CLAIM THE THRONE deliver their epic fourth full-length album ON DESOLATE PLAINS with passion and ferocity – An epic slab of heavy folk-influenced melodic death metal that sees the band at the peak of their 10 year raid. CLAIM THE THRONE have ruthlessly torn up stages around the world leaving their mark as a top quality band who refuse to sacrifice their ability to drink your booze and have a kick ass time in the process. The band's 2013's FORGED IN FLAME album received massive rave reviews and built a loyal global following.
We had Ash from Claim The Throne answer some questions for us about the band, their music, touring, and much more. Check these guys out as our newest Best Thing You've Never Heard!
Let's start with the basics; although the band has been around for some time, for those that aren't aware of you, can you please give us the abridged version of the Claim The Throne story, and how you would best describe the music of the band?
Claim The Throne are 5 piece Folk-Melodic Death band from Perth, Western Australia. The band has been around since 2005, but swapped a keyboardist in 2007, a drummer in 2009 and a 2nd guitarist in 2010 to round out the current lineup. We have 4 studio albums, 1 acoustic album, 1 EP and a partridge in a pear tree. We've also extensively toured domestically and internationally over the years while being unsigned and completely self-managed.
Can you now please introduce each band member including yourself, and give us a rock 'n' roll fact or myth about each of you?
Cabba is our vocalist/guitarist – in the early days of the band he wore chainmail that he made himself, link-by-link, at school. He would wear it onto planes when touring to keep baggage costs down.
Jim is our bass player vocalist – he once went on a hunger strike during tour just to give us all the shits. He only 'ate' Bloody Marys for like 4-5 days.
Jesse is our vocalist/keyboard player – she has the nicest singing voice in the band but has been doing Jim's screaming parts live at recent shows while he's been in the US.
Dysie is our guitarist – he has a fulltime job as Head of Quality Control for Chiko Rolls, Australia.
I am Ash, the drummer – In 2006 I set the world record for slowest drum beat ever, clocking in with 2 crochets for that year.
You have recently released your newest album 'On Desolate Plains', so instead of giving us a standard review, let's say if you had to give us your best door to door sales pitch to try and convince someone to listen to it before they slam the door in your face, what do you say to them?
"Hi there old man, do you like The Eagles Greatest Hits? Then you'll love this record."
Realistically, this album is for people who don't mind a bit of folk, melodic death and black metal. Sometimes fast, sometimes slow, sometimes dirty and sometimes nice.
In the four years since 'Forged In Flame' what if anything did you feel you were able to do differently with this new album that you hadn't done previously?
I think this album is the most stylistically diverse of our albums, but somehow manages to still sound like Claim The Throne. Each song was like a little project by one person that was jammed out and built upon by the other members. We pretty much used the same equipment as the previous few releases, so I have to put the change down to the writing style.
In terms of your song writing, what do you consider to be the most important ingredients that make up one of your songs?
I see our songs as a sort of 2-way structure: from bottom to top – the layering of the elements from rhythm on the bottom, chords in the middle and melodies and lyrics at the top, and the actual song structure itself – how the elements are presented, compositional dynamics (or lack of in certain songs) and mood changes. Probably nerdy or wanky to speak in those term, but I am the 2006 World's Slowest Drummer.
So what bands did you grow up listening to and how did they help create the style of music that can now be heard throughout your music?
I personally grew up on a variety of shit. At first it was mostly my Mum's music, so lots of old stuff like Dire Straits, The Pretenders, Bob Marley, Mariah Carey and a whole lot of Michael Jackson. That kept me pretty open to all styles. At some point I stumbled across Greenday, Offspring, Nirvana and Red Hot Chili Peppers. They all got me playing guitar and drums and into the idea of alternative, faster and heavier music. From there I went through a numetal phase primarily with Deftones and Korn which lead as a stepping stone to Tool, and eventually across to all sorts of metal. I think there are definitely drumming influences in CTT from most of what I mentioned in there. Primarily I consider myself a wannabe funk drummer in a Tool tribute band that got told he has to play double bass and do blast beats.
In releasing music for a decade now what's the biggest thing you'd say you've learned about being in this band?
That this band functions well because we are all in it for the music, the friendship and the lols. I absolutely adore every member of this band and want to always be around them even if we stopped doing the band tomorrow.
In terms of touring, here's your chance to plug any upcoming shows, and also for those that haven't seen you, how would you describe a typical Claim The Throne live show?
Well our most recent live set have been focussed around our new material. Generally our album launch shows and tour will show off maybe 2-3 newer tracks, but this time we've played up to 5-6 in a night. It's been really cool to showcase those tunes and probably a fresh look at us. The biggest reason you should check us on this next Aussie tour is that we have renowned medium-pacer, 'Razor' Ray Mcgill, of the Doncaster Bushpigs filling in on bass.
For a bit of fun, say you get the chance to open for any artist or band in the world, who would they be and why?
We've been lucky enough to have opened up for many our favourite bands, and played for them too, so that's a bit tough… I'm gonna say Megadeth circa 1992 – find Holy Wars live on YouTube from that year and you'll see why – that era has a killer lineup and those shows have awesome sized crowds.
Lastly, with 2018 under way, here's a chance to gaze into your crystal ball and see the future.  So, by the end of 2018, Claim The Throne will:
Tour Europe
Write a new album
Release some new music
Essential Information
From: Perth, WA, Australia
Band Members: Brendon Capriotti, James Parker, Jesse Millea, Ashley Large, Glenn Dyson
Website: www.claimthethrone.com
Latest Release: On Desolate Plains (Out Now)