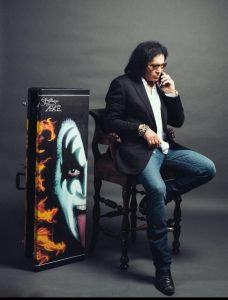 Legendary rocker Gene Simmons has today announced he will be moving his forthcoming Australian concert dates with the Gene Simmons Band to August and September 2018, celebrating the milestone 40th anniversary of the release of his self-titled solo album.
Gene's new tour dates will kick off in Adelaide on August 28th at the Entertainment Centre Theatre, followed by Margaret Court Arena in Melbourne on August 30th, Sydney's Enmore Theatre on August 31st, and winding up in Brisbane at Tivoli Centre on September 1.
For KISS fans, September 2018 is an important date as it marks the 40th anniversary of the release of all 4 Kiss band members' solo albums (Sept 18, 1978). Gene's was the highest charting album of the four and to mark the occasion, Gene will perform songs from his solo album at the Australian concerts.
Having sold more than 100 million albums worldwide with KISS, Gene Simmons has written and performed some of the most well known anthems in the history of music. His tongue wagging onstage antics and distinguishable makeup often overshadowed his grossly underrated musicianship, the Rock 'N' Roll Hall of Fame inductee receiving extensive accolades throughout his illustrious career.
Existing ticket holders for the original dates simply hold on to their tickets as they will be valid for the new dates.
Ticket holders who cannot attend the new dates are able to obtain a refund from Ticketek (Sydney, Melbourne and Adelaide) and Ticketmaster (Brisbane).  Venues will communicate directly with ticket holders.
To purchase tickets for the new dates, please head to www.ticketek.com.au for Adelaide,Melbourne and Sydney shows, and www.ticketmaster.com.au for the Brisbane show.
Current reviews in the US are praising Gene for bringing a loose, fun and ferocious rock show direct to his fans:-
"This is what long-time KISS fans have been waiting for and the time is here."  Backstage Axxess
"It may be a bit bold to say, but as I was listening to them play, it was like I was listening to the KISS ALIVE I album. Gene and his band are killing it live!"  Legendary Rock Interviews
"Did Gene deliver the goods? You bet your ass he did!"  Mike's Music & Concerts
"Just 5 guys on stage having a great time. Gene, Ryan, Jeremy, Phil and Brent put on one hell of a show. If this show comes to your town, GO! Gene once again showed the big boys how it's done."   Legendary Rock Interviews
"Gene Simmons had several things to prove on this tour.  He is not slowing down, he can rock the house without Paul, and the music of KISS is every bit as bombastic without the bombs as it is with them.  All these things were proven."  Glacially Musical
Gene Simmons Australian Tour – featuring his monster line up of rock musicians in August and September 2018.
GENE SIMMONS AUSTRALIAN TOUR DATES:
On sale now
Tuesday, 28 August 2018 – Entertainment Centre Theatre, Adelaide
Thursday, 30 August 2018 – Margaret Court Arena, Melbourne          
Friday, 31 August 2018 – The Enmore Theatre, Sydney
Saturday, 1 September 2018 – Tivoli Centre, Brisbane

For ticketing information, head to www.ticketmaster.com.au or www.ticketek.com.au
For more on Gene Simmons, tour dates and The Vault: