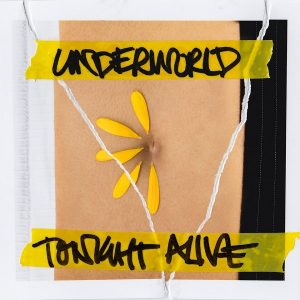 I've been excited for this album for a while now, as watching the process of this band grow and evolve over the years through countless live shows that never disappoint, and music that delivers a message and a feeling is a treat. This album is in a way a new beginning for Tonight Alive as they move to a new label home and get ready to bring the same if not more passion to this new album.
OK how can I not love an album that starts with a 'whoa oh'? We're off to a good start Tonight Alive. Big drums drive this one before it kicks in and 'Book of Love' is the perfect way to be back, this sounds great and will easily be a show opener for months to come. 'Temple' was our first taste of the new album and this is one of those songs that when it gets stuck in your head stays there and I actually found myself humming it as I walked to work the other day, that damn hook in the chorus is where it's at and lyrically this song shows so much growth in this band, these kind of songs are really important and if you hadn't noticed it's been our 'Video of The Week' up on the site since it was released, that's how much we dig it. Newest single 'Disappear' slows things down slightly and allows Jenna's voice to truly be heard as the guitars underlay here with some amazing production allowing the song to get to where it needs to be, almost electronic in parts and different to anything we've heard from the band it's really well done and with the addition of Lynn Gunn of PVRS on this track I'd be very surprised if this one didn't make it into the band's live shows as a staple.
'The Other' is something a little different for the band but different is good as oh man, I love the way the drums are recorded on this one, and if there's one thing Tonight Alive do well it's write a chorus. 'In My Dreams' is another slower rocker and has just became a favourite of mine, I'm seriously digging what they've done here. This is such a personal album, you really need to truly concentrate and listen to get involved, throw on some headphones, turn off the lights and enjoy. 'For You' I'm calling a ballad on the album and this perfectly crafted love song is destined to be playing as the credits roll on a movie that deserves it. Sorry 'In My Dreams' you just got trumped by 'For You'. 'Crack My Heart' turns the guitars back up on this huge rocker and the solo / breakdown section is great, and again nice production here. Watch the video for this one, it's great!
'Just For Now' showcases Jenna's voice once again as she reaches those notes she effortlessly hits, and once again parts in here sound nothing like anything we've heard from Tonight Alive before and it's so refreshing. 'Burning On' continues the run of there not being a bad song on this album, and 'Waiting For The End' is a big one saying "I am not afraid to live" and it's such a powerful statement and words to live by. Listen to this one closely this is a song about being in control, it's so good. Damn it, this one is super catchy from the first second and with 'Last Light' I know I'm gonna like you, and here we go, yeah you've just turned part power ballad and all awesome, these songs are just so well-crafted it's ridiculous. Let's just top it off with a bitchin' Middle 8, stop it, you're killing me! Dave Petrovic you've produced one hell of a tune here, as with the others but this one is truly a stand out.
A piano begins 'Looking For Heaven' as this ballad comes in late into the album, and is a nice wind down after what we've had prior, it's also nicely unexpected but hearing the words so clearly and the delivery of said words is a treat. Now THIS I want to hear live, just a piano and Jenna's powerhouse voice on stage would be outstanding. We close the album out with 'My Underworld', this one featuring Corey Taylor as he takes the second verse and what a pairing, damn, this works so well. I truly can't say enough good things right now about this one, I just found my favourite track of not only the album but this year, yes we're only eleven days in, but this one will be on rotation for quite a while. Big, bold, and perfect.
In my opinion this album has set a benchmark for 2018, both musically, and lyrically. Tonight Alive are an important band in today's musical landscape and they once asked us on their debut album 'What Are You So Scared Of?' and right now if I was to ask the band that question I hope they'd say 'Nothing' as they have delivered, and delivered so damn well with 'Underworld'. Music is such a personal thing and for Tonight Alive to open up like this and deliver us this album full of songs that share their honesty with the world shows so much respect for the craft and for their fans who can be let in. I wish more bands had the balls to make an album like this. I'm so bloody proud of this band.
Essential Information
From: Australia
Release date: 19 January 2018
Record label: UNFD
Produced By: Dave Petrovic
Website: http://www.tonightalive.com
Track Listing:
Book of Love
Temple
Disappear
The Other
In My Dreams
For You
Crack My Heart
Just For Now
Burning On
Waiting For The End
Last Light
Looking For Heaven
My Underworld