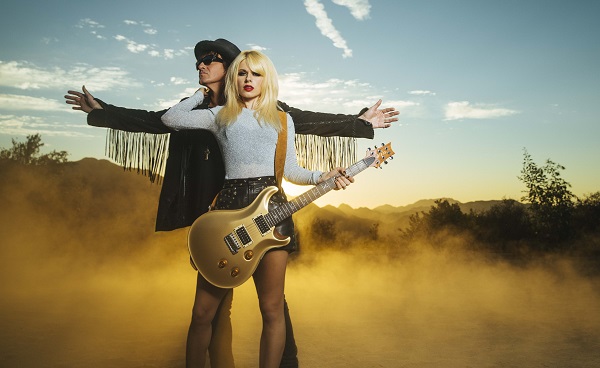 "I'm super proud of our work on this, it has been a real journey, working with Richie has been so great. We continue writing all the time together; it comes very naturally."
From Release: Richie Sambora and Orianthi are joining forces for a new, genre-spanning musical project under the name RSO that sees these two platinum-selling singer-songwriters and world-class guitarists teaming up as a duo and will be touring Australia's east coast in January 2018. RSO will also be joining the cream of the Aussie rock industry, Jimmy Barnes, Diesel, Richard Clapton, Ash Grunwald and Dallas Crane will round out this first class Under the Southern Stars lineup.
Ahead of their Australian tour Richie and Ori answered some questions and they were sent to us so we thought we'd share what came through as they talk about touring, their new music, working together, collaborating with artists, experiences, and much more.
What is your typical day like at the moment? 
Richie – Between touring, coming out with a new record, and trying to build a great new thing to [bring people happiness], and recording, and a little bit of family, and travel, there is a lot going on.
When were you last in Australia?
Richie – 2016 and loved it, had a wonderful time as usual, as we always do in Australia! I don't believe I've ever had a bad time in Australia.
Orianthi, how often do you get back to Australia – what do you miss about home? Have you visited the Sunshine Coast before? 
Orianthi – I try to come back every year and see my family. I miss my family a lot and my friends and my Pomeranian, Pumba.
What can people expect from the 2018 Australian tour? 
Richie – Sincerity. That's the biggest thing anyone has going from them.  Sincerity is about love – we are coming there to spread our sincerity and our love – that's what we're gonna do.
Your new EP Rise has been well received – how was the experience in creating this record?  
Richie – It was the beginning of the beginning, it was beautiful. Great songs, great chemistry – Bob Rock, BMG, Doc McGhee, ADA, Label Logic: Jeff & Jay – there's a lot of people involved with this project and everybody's happy about it so that's good.
Orianthi – So happy to share the new music with everyone, I'm super proud of our work on this, it has been a real journey, working with Richie has been so great. We continue writing all the time together; it comes very naturally. He is an amazing lyricist and writer.
How would you describe the EP? When can we expect a full album? 
Richie – There's 2 1/2 full albums that we have recorded, so it's just a matter of time before they put [the EPs] all together.  I don't think there's a lot of people who can put out double albums any more.  We've defiantly explored [many of] the genres and hopefully owned them in a way they are sincere enough that people will get the spirit of our recordings.
Tell us about your work process when you are writing together?
Richie – It's all shared and we do sit at the kitchen table because that's where the studio is and it's always different.  Sometimes Ori comes up with stuff, sometimes I come up with stuff, sometimes we come up with stuff together, sometimes there's other people in the room, sometimes there's not – it's all fun and games until someone pokes an eye out (laughs).
What are the positives (or negatives) of living and working together?  
Orianthi – We spend a lot of time together but we are so comfortable around each other. After close to four years, we know what works for both of us. The positives are being able to share experiences together and the negatives are sometimes about just being able to switch off work mode and relax but we are able to do that as much as we can.
So, Orianthi, How did you and Richie meet? 
Orianthi – We met in Maui as I was playing a charity jam show on the island with Alice Cooper and Richie was vacationing there with his daughter. Alice called him to come and jam, I remember he walked in the room and he came up and said hello. We just had chemistry off the bat when we started jamming then I sat down and had a chat with him and I thought he was super sweet.
Richie, how has performing on stage and in public changed in the past thirty years?
Richie – Truly hasn't.  It's the same sincerity, and the same throw down. You do the best that you can do – that's how it hasn't changed.  I mean, obviously, if you look back and go, I've got 30 some-odd years behind me of all this life experience and everything I've experienced in this business, that's different. But basically it stays the same because every day you go out and you do your best. Throw down your sincerity and see how that reacts against the audience that's there, and see how that works. So it's a very brave thing.
You've collaborated with many talented performers through the years – who for you has been the standout?
Richie – Orianthi has been the stand out. Stevie Wonder… Bruce Springsteen, a bunch of people, Buddy Guy, Eric Clapton – it's not a fair question, Bob Dylan, Jimmy Page, Paul McCartney. It's endless.
Orianthi, tell us about your experience with Michael Jackson – what did you learn and take away from this?
Orianthi – It was an amazing experience working with him.  He was a very kind and inspiring artist; He chose me from YouTube clips and reached out through MySpace. Rehearsing with him was very surreal. It was so sad that he passed, it felt like a crazy dream, actually.
You must have grown up listening to the music of the likes of Alice Cooper, Michael Jackson and Kid Rock – what has it been like to not only play with, but be respected by, these performers?
Orianthi – It's amazing and an honour to work with these artists. I am constantly learning and to have the experiences I've had has been incredible. I've played huge festivals with Alice [Cooper], toured around the world for 3 1/2 years and learned a lot from him as a performer. And Michael definitely pushed me to get out of my comfort zone while playing.
What was your first instrument and when did you know that you wanted to make a career out of music.
Richie – The accordion was my first instrument and I still play it.  I just bought a new one not too long ago, it's fabulous.  But I couldn't get any dates playing accordion so I switched to guitar.
SEE: Richie Sambora & Orianthi – RSO
January 10th:  RSL Club Southport
supported by The Rich and Famous
www.rslclubsouthport.com.au
January 11th:  The Shed at Aussie World, Sunshine Coast
www.theshed.live
January 12th:  Max Watts, Sydney
Supported by The Choirboys
www.oztix.com.au
January 13th:  Prince Band Room, St Kilda, Melbourne
Supported by The Choirboys
www.oztix.com.au
UNDER THE SOUTHERN STARS
JIMMY BARNES, RSO, DIESEL, RICHARD CLAPTON, ASH GRUNWALD, DALLAS CRANE
TICKETS ON SALE MON 13 NOVEMBER
January 6th:  Harry Elliott Oval, Tuncurry (NSW)|
www.ticketmaster.com.au
January 7th:  Hastings Foreshore Reserve, Mornington Peninsula (VIC)
www.ticketmaster.com.au
FOR EVENT INFORMATION VISIT:
www.underthesouthernstars.com.au
Essential Information
From: USA / Australia
Website: www.rsoofficial.com
Latest release: Making History (EP – out now)
You can WIN tickets to see RSO at the Under The Southern Stars festival. Click HERE to find out how!