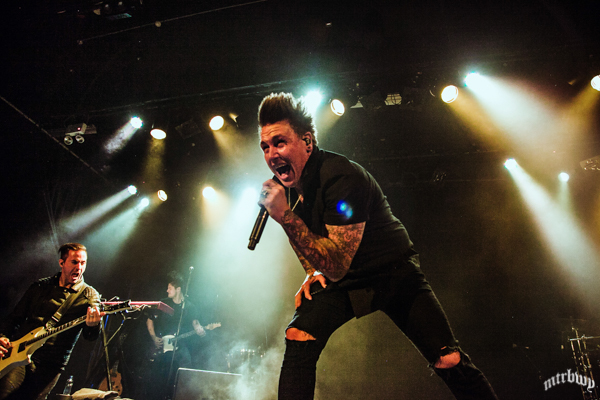 It's so crazy to think that twenty five years into Papa Roach's career that this is their first headline tour to Australia, and here we are on the second night of their Sydney run and ready to witness the mayhem and long overdue tour.
Opening the night are The Pits. Well that was entertaining as all get up. Panic! at the Disco meets Reel Big Fish with some Queen and even the Cantina theme from Star Wars thrown in for good measure, oh and the dancing when the horn section wasn't required is making this stand out. These are fun songs, these guys are enjoying the hell out of their set and it shows. I'll be looking out for these guys for sure.
Alright here we go!!
Opening with a bang with 'Crooked Teeth' and how's the intensity?! These guys mean business straight out of the gate, damn I need a rest after the opener. Straight into 'Getting Away With Murder' and the pit goes nuts. This is heavy! This is awesome! Holy shit I wish the air conditioning was working in here. Damn this band is tight. Here's one for the old school crew and there's a number of them here tonight obviously as they scream 'Between Angels and Insects' back at the stage as the first of what I'm expecting to be many circle pits opens up and as the band outro this one and Jacoby goes off for a well-deserved rest, I mean that, he is ON!! He returns to thank us for being awesome and to get them jumping again with 'Born For Greatness' which you could sort of say slows things down a little is needed but slow means only slightly explosive. Taking it back to 'Love Hate Tragedy' with 'She Loves Me Not' and wow. How this level of intensity stays up is beyond me.
Oh man. Here's 'Scars' nice and early, I thought we'd get this much later, awesome. Hang on gotta join in 'GO FIX YOURSELF!' Yeah that was needed and you can tell this was a favourite of many here. Ok now it's time to slow things actually down, from the newest album 'Periscope' and this sounds so full live and what a killer song to add to the set. They're covering Blur, nice. Woo hoo indeed. Unexpected and awesome and this band who have already been going nuts jump around and smash this one out of the park! Things get a little 'Traumatic' in here with some amazing crowd participation that Jacoby sets up with one of the best analogies I've heard to get people to crouch down, but hey the way this show is going and the way this band commands the audience I think they could get the crowd to do anything tonight and it would be just fine. A little bit of Eminem's 'Lose Yourself' leads into 'Broken Home' which was a favourite so far and so good to finally hear live. I wasn't expecting 'Forever' to be in the set but here we are. In terms of a love song this is it, so damn good. Fuck. They've just thrown in some of Linkin Park's 'In The End' respect.
Back to 'Crooked Teeth' with 'American Dream' that blows the place up again, then as 'Help' kicks in I've been waiting for this one as it's such a stand out from their newest album, this one will become a staple in the bands set for sure. The band leaves the stage but the energy remains in here and before we even had time to catch our breath they come back.
Things get even heavier in here with 'None of The Above' and they stay heavy with 'Falling Apart' and I have no idea how this band does what they do, every one of them is still firing on all cylinders and delivering so much energy and intensity. Oh and that gets even more so with a little song everyone knows called 'Last Resort' which lifts the roof off the place as you'd expect. Jacoby gets down to shake some hands and I have to say that it felt so good yelling that one back to the stage. The pit opens up one more time for 'To Be Loved' as the show comes to close and with a mic drop the crowd erupts as the band look more blown away than the crowd, they smile, they bow, they're done.
It's really rare to see a band connect with an audience this way but tonight Papa Roach schooled everyone on how it's done. This is truly a band you need to see live. Now. Do it.
Essential Information
Venue: The Metro Theatre – Sydney
Date: January 24, 2018
Website: http://www.paparoach.com
Photo By: Annette Geneva – Every Day Is Saturday – Check out the full gallery HERE
Set List
Crooked Teeth
Getting Away With Murder
Between Angels and Insects
Born For Greatness
She Loves Me Not
Scars
Periscope
Song 2
Traumatic
Broken Home
Forever
American Dream
Help
None of The Above
Falling Apart
Last Resort
To Be Loved