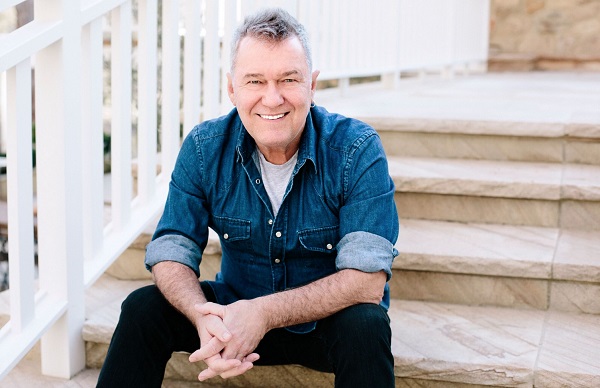 "I think the thing that's kept me going is that I like to work hard, I have also been blessed to work with a lot of great people.  Not many get to start out a career with a band as good as Cold Chisel, that's pretty lucky."
From Release: Jimmy Barnes is the heart and soul of Aussie Rock and Roll. After 40 years on stages of all kinds, Jimmy is an icon – his nickname "Barnesy" conjures up thoughts of rock music at an ear-splitting volume. As frontman of the legendary Cold Chisel, to his distinguished solo career, Jimmy has had more #1 albums than any other Australian artist and been inducted into the ARIA Hall of Fame. Twice. Jimmy has been through it all and lived to tell the tale detailing it all in his bestselling memoirs, Working Class Boy and Working Class Man, adding bestselling author to his resume and cementing his place in Australia's heart and heartland. Along the way, he has sold more records in Australia than any other domestic rock & roll artist. Jimmy's live shows are legendary for their intensity.
Ahead of the 'Under The Southern Stars' shows, Jimmy Barnes answered some questions and they were sent to us so we thought we'd share what came through as he talks about the festival, his new book, highlights, what's next, and much more.
The homegrown line-up for this show is a beauty. Can we expect some friendly rivalry between any/all of you? It must be hard not to gatecrash each other's sets no?
We are all friends and could end up jumping up on stage with each other. But in my experience, things like that are always better without planning them. The more spontaneous the better.
The version of Working Class Man you performed on Q and A was sensational. What impact has revisiting your past for your books had on your storytelling in the musical realm? Have you found new meaning in your own lyrics or rediscovered songs you thought you knew inside out after all that digging around into yourself?
I am always finding new things in the songs I sing. They take on new meaning every time I sing them. The writing process obviously opens up new doors to the songs. I think that a lot of these songs can be seen in a new light as I grow and as I learn more about myself.  It is an exciting time for me as a man and as singer. And I hope I can bring this experience to my audience. They have been a huge part of my journey and my growth. We have shared some history. This town and I.
It's been a big year for you, can you tell me a bit about the process of writing and releasing your new book?
It's been a huge year actually, after touring 'Working Class Boy' I sat still for a little while and then realised that I wanted to write 'Working Class Man' straight away. This book was tough to write for different reasons than 'Working Class Boy'.  For one, I had to take responsibility for my own actions if I was going to learn from the process.  So every day I would sit for 5, 6 sometimes 7 hours writing, hardly stopping to read it until the end of the day.  It was very cathartic and once again, with every sentence I felt a weight lifting off my shoulders.  I know this is just the beginning of the journey and I have a lot of work to look forward to doing for the rest of my life.
What has been the biggest highlight to come from 2017 for you, has there been anything that's happened to you this year that's taken you by surprise?
I was awarded an Order of Australia (AO) for services to the Music industry and community work and I found that pretty special and humbling. My second book came in as number 1 best seller so that was pretty stunning. I have 13 grandchildren so every day is full of surprises. 
We talk about your current activities but you've been in the industry for so long. How have you sustained such longevity?
I think the thing that's kept me going is that I like to work hard, I have also been blessed to work with a lot of great people.  Not many get to start out a career with a band as good as Cold Chisel, that's pretty lucky.
You've got the "Under the Southern Stars" festival coming up in Hastings, can you tell us a bit about we can expect from you and the other performers?
This is a really good Rock 'n' Roll bill.  I think people can expect to see some great music, some fantastic guitar playing. Who knows, we might have a few surprises for everyone on the day.  We are all good mates.
What can the crowd expect from the Under the Southern Stars Festival?
A great day out.  We are really looking forward to playing on a bill like this. Everybody will be at the top of their game.
Are we able to get a glimpse into what songs we'll be hearing from you at the festival?
There's a whole bunch of songs that I love to play. Some big hits from Chisel and the ones from my solo career… there may be a couple of new songs, who knows? I usually decide on the day
2017 was a big year, but what comes next in 2018 and beyond for Jimmy Barnes?
I've already started making a new rock album for next year. I'll be touring the (book) Working Class Man: An Evening of Stories & Songs, and I'll be doing a few shows with Cold Chisel. We are talking about making a new album as well.
Any last words to fans planning to come and see you at "Under the Southern Stars"?
Come and have a great day and be ready to Rock
UNDER THE SOUTHERN STARS
JIMMY BARNES, RSO (Richie Sambora & Orianthi), DIESEL, RICHARD CLAPTON, ASH GRUNWALD, DALLAS CRANE
TICKETS ON SALE MON 13 NOVEMBER
January 6th:  Harry Elliott Oval, Tuncurry (NSW)|
www.ticketmaster.com.au
January 7th:  Hastings Foreshore Reserve, Mornington Peninsula (VIC)
www.ticketmaster.com.au
FOR EVENT INFORMATION VISIT:
www.underthesouthernstars.com.au
Essential Information
From: Australia
Website: www.jimmybarnes.com
Latest release: Working Class Man (book – out now)
You can WIN tickets to see Jimmy Barnes at the Under The Southern Stars festival. Click HERE to find out how!