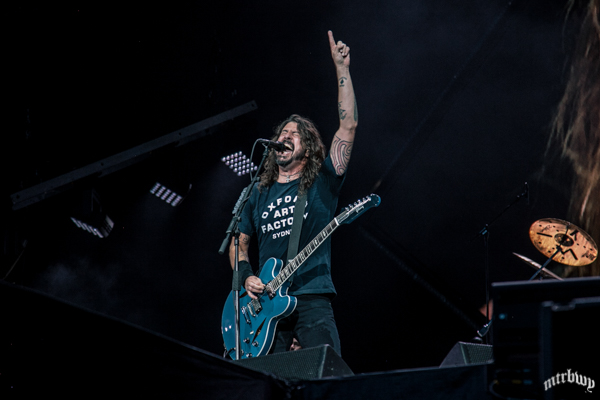 Tonight is destined to be a kick ass night of live music! The Foo's are back in Australia and ready to rock ANZ stadium. The weather is perfect and there are a heap of people in here early to make sure they catch the supports, or maybe just to get a good spot down the front for their favourite band. Either way, it's time.
The Preatures start the afternoon off and now I have to say, I'm impressed at not only the songs but the sound in here was amazing. The guys have it down and played a great set at the front of the stage to get those already inside the stadium warmed up for what's to come. I haven't seen these guys before but after this and seeing how well they played I'll be making sure I see them next time they're around.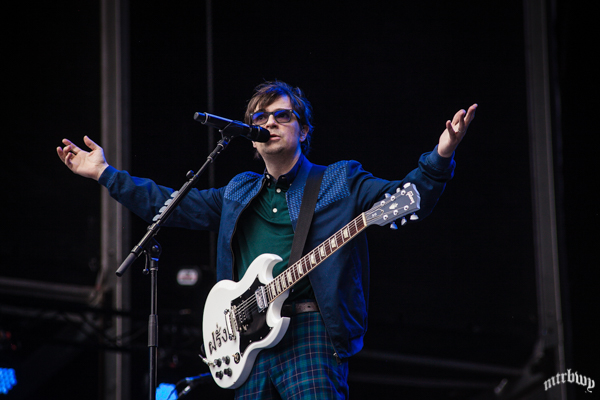 Although, here comes Weezer! This is what I've been waiting for, and as 'Surf Wax America' kicks things off and you sometimes forget just how fun these guys are. Yeah! It's time for some 'Pork and Beans' nice and early. This is my favourite of theirs and I'm good! A few pops for Sydney and then 'El Scorcho' which sounds great followed by 'My Name is Jonas' which continues this catchy set and the greatness that Weezer are. This one takes it a little bit of a darker turn for the band 'Thank God for Girls' sounded great, then Rivers takes to the catwalk as 'Undone (The Sweater Song)' begins and they rock this one out, you could see the casual Weezer fan here get into this one that's for sure. 'Happy Hour' from their newest album slips in and this Butch Walker produced goodness sounds killer.
Throwing in a Pixies cover of 'Where Is My Mind' which was cool to hear and did justice but when that riff of 'Hash Pipe' kicks in and continues through the song it fills the stadium. 'Feels Like Summer' again from the new album slips right in but we're getting close to the end of the set and with that they take us on a trip to 'Beverly Hills' after an extended intro and with the addition of a talk box I'm happy. Here we go with one that they all know with an oo ee ooo we get 'Buddy Holly' and the crowd are now fully receptive to Weezer and it was cool to see and hear. 'Say It Ain't So' sounded great in here and they close the set with 'Island In The Sun' which was another that got everyone one ready and was the perfect way to close a fun set from a band that is so damn awesome!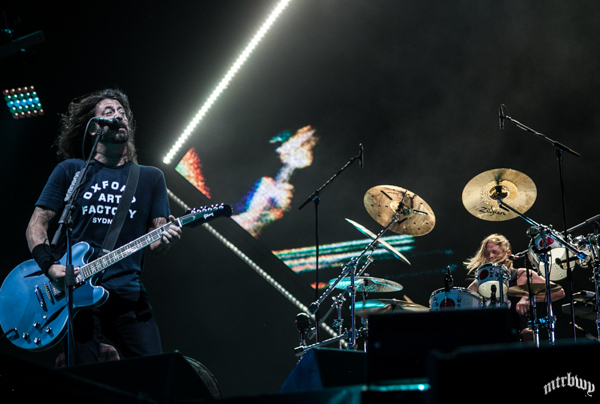 Bang on 8pm Dave Grohl runs out onto the stage, and I mean literally runs out and straight down the massive catwalk as the remaining Foo Fighters come on and get warmed up before counting in to 'Run' and they stay warmed up as the front pit starts jumping away in time and wow these guys are on from the start, this is gonna be a crazy show. 'All My Life' turns the tempo up a notch and gets everyone screaming the chorus back  and clapping along in the breakdown but building up to the big go crazy section was insane to watch from the seats. Oh man they're pumping out the hits early as 'Learn To Fly' lands and Taylor Hawkins is a monster on this one, amazing. Are they trying to kill us? I think so! 'The Pretender' keeps the intensity up before a little story time from Dave telling us he came here to Rock and Roll as he and Chris Shiflett rock out together and the band jams until bringing it back around and playing out this one. Damn this band is so tight it's ridiculous.
'The Sky is a Neighbourhood' slows the pace down a little then 'Rope' brings it right back up and that trademark Foo Fighters formula is present and it sounds kick ass here tonight. Although it turns into a bit of a jam session I'd say more for them to cool down a bit, well besides Taylor who is still smashing the hell out of his kit and when said kit raises like Peter Criss's we're treated to a drum solo this early into the set. No wonder this is supposed to be a three hour show as I'm tipping two hours of it will be jamming at this point. Oh they're back, thank god, that felt like it was way too long! Taylor takes lead / dual vocals on 'Sunday Rain' which was good but after the jam I would've been happier with a big hit to get us back into it, but we had to wait for the next one to get that. 'My Hero' starts with Dave solo at the end of the catwalk and the crowd helping him along but the band comes back to take it to the next level and finish it loud and proud.
Rocking out 'These Days' which was outstanding followed by 'Walk' was a perfect pairing in the set and I'll never get tired of watching an entire floor of a stadium clap in time to a song and this one delivered it perfectly. 'Let It Die' thrown in for the 'old' Foo Fighters fans slows things down again until as always it Foos up and goes a whole lot of rock and roll on us. Then 'White Limo' is as punk as you want and so well received as that hadn't been played here for quite some time. Then 'Breakout' gets us singing along again and gets a little crazy up in here as Dave somehow keeps his vocal chords intact after screaming this one to his best ability.
Chris takes lead vocals on the Alice Cooper classic 'Under My Wheels' followed by full band introductions and a snippet of 'Another One Bites The Dust', 'Jump' and some 'Blitzkrieg Bop' just for shits and giggles. Dave gets behind the drums and as he hit the opening beats of 'Smells Like Teen Spirit' and the place went nuts, alas that's all we got!! He stays on the drums as Taylor takes to the front of the stage for an actually unbelievable version of 'Under Pressure'. Wow, that actually really worked well. Going way, way back to the first album with 'Big Me' and off set is a treat and a half and unexpected, then back to the set list with 'Monkey Wrench' which is always massive live and tonight is no different.
Back to the new album with 'Dirty Water' aka the everyone is going to get a drink song, then 'This is a Call' is the holy shit they're playing that better I run back to my seat song. Love these old tunes and so good that they still make it in the set!! 'Best of You' finally takes its place and I'm happy as are many more here as it's such an amazing song for the stage and as the outro rounds it out in another lengthy jam it cements it as an absolute favourite. Even though these songs run so much longer live there is such consummate professionalism here, these guys really are ridiculously perfect at their craft. As the band leaves the stage to thunderous applause you can actually hear a number of people say simply 'wow'.
An amusing encore interlude promises us four more songs and as Dave comes back out with an acoustic and at the end of the catwalk he gives us a story and 'The Ballad of the Beaconsfield Miners' followed by 'Times Like These' on the acoustic, then as the band kick back in mid song the place rocks up again to this big hit. A nice tribute and shout out to Malcolm Young with a blistering version of 'Let There Be Rock' and damn that was crazy!! Dave does a pretty good Bon I must say and completely unexpected. Time for the fourth of the promised songs and it could only be one, a little song called 'Everlong' and as the entire, and I mean entire stadium stands up for this one they play it like it was the first song of the set, the energy hasn't wavered, the sound is perfect and for the first time tonight I was happy to hear an extended version as this song is worth it.
The show finished at 10:56pm and for a band to play pretty much three hours these days is few and far between, and besides the extended jams (as good as they were) this was a damn good set full of what you'd want as a Foo Fighters fan, great songs, great playing, great laughs and just a great damn time. "If everything could ever feel this real forever…"
Essential Information
Venue: ANZ Stadium – Sydney
Date: January 27, 2018
Presented by: Frontier Touring
Supported by: Weezer & The Preatures
Website: http://www.foofighters.com
Photo by: Annette Geneva – Every Day Is Saturday – Check out our full gallery HERE
Set List:
Run
All My Life
Learn To Fly
The Pretender
The Sky is a Neighbourhood
Rope
Sunday Rain
My Hero
These Days
Walk
Let it Die
White Limo
Breakout
Under My Wheels
Under Pressure
Big Me
Monkey Wrench
Dirty Water
This is a Call
Best of You
The Ballad of The Beaconsfield Miners
Times Like These
Let There Be Rock
Everlong