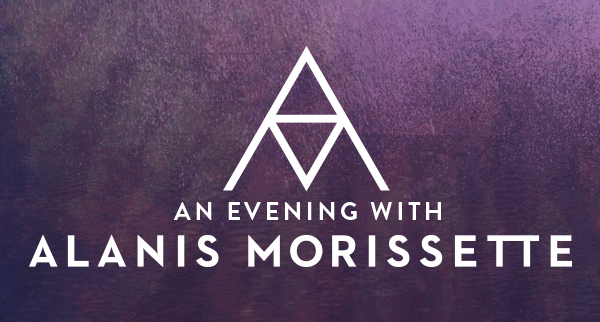 Well it's been far too long since Alanis Morissette has been to Australia and here we are tonight for what is going to be pretty special as we get a stripped down night of her classic songs, songs that have shaped music and stuck with those here for now over twenty years.
As Alanis and her two guitarists take their seats, and with a simple "hi" from Alanis this place erupts and without even hesitation 'You Learn' begins. The eruption continues and quickly turns to silence as the sold out crowd sit and take in every word of this one. Her voice is exactly as if hoped in my first time seeing her, it's perfect. Oh she plays harmonica too? Of course she does. Here comes a big sing along 'All I Really Want' the album opener from 'Jagged Little Pill' sounds so good in this arrangement and a lot less angry but just wow. 'Precious Illusions' is up next and I think it's going to be hard to falter this set and especially her voice. It's simply wow.
'Mary Jane' sees the ukulele come out to give this song such a different feel and it's so haunting. I have to give special mention to her mic technique, Alanis knows what she's doing. 'Hands Clean' aka the in love with your lesbian teacher song done this way just may be my favourite version of the song. Wow. That bridge and chorus gets me every time, such an amazingly crafted song. 'Right Through You' continues this brilliance as does 'Guardian' but it's 'Hand in My Pocket' that gets the crowd singing along to a much slower version, and what it all comes down to is that even at twenty three years old this song is still so good. With her harmonica skills shining through again this song takes on a whole new life, of course everyone yelled the 'chicken shit' bit back along with the 'yeah yeahs' and 'baby's' and it sounds so good.
'Everything' was great but 'Head Over Feet' goes back to the faves and to Jagged Little Pill and of course there's plenty of love in the room for it. I forgot how many of her tunes used a harmonica, just an observation. 'Heart of The House' and now 'Ironic' as she lets the crowd take it away and it sounds sensational as you can tell this is one of those songs a lot of people have been waiting a long time to hear live and they relished their opportunity to join in.
Oh wow didn't expect this one actually 'Uninvited' and was one I really wanted to hear. Obviously the guy behind me did too as he sang along rather loudly but hey get into it. The echo in here for such a deep song is the only setting it could be in and what a treat to hear this tonight this way. Speaking of a treat, this truly stripped back version of 'You Oughta Know' is amazing. You know when a song is changed up so much that it takes the crowd a minute to realize what it is. Yeah that. When a song like that one came along back in 1995 it really took the music world by storm and even though we've all grown up, Alanis sings it like she still means it and it makes you wonder what's going through her mind every time she belts it out. Closing the set with 'Thank U' which is an apt way to go of course, she dropped the high notes to give this a different feel but one that echoed the sentiment of an amazing night.
Sometimes a show can leave you speechless after hearing such amazing vocals and raw versions of songs and judging by the numerous 'wows' I heard as we were walking out truly shows that it wasn't just me that enjoyed this show. Truly an amazing, special night of music from a performer who never lost it. Wow.
Essential Information
Venue: ICC – Sydney
Date: January 24, 2018
Presented by: Chugg Entertainment
Website: http://www.alanis.com
Set List:
You Learn
All I Really Want
Precious Illusions
Mary Jane
Hands Clean
Right Through You
Guardian
Hand in My Pocket
Everything
Head Over Feet
Heart of the House
Ironic
Uninvited
You Oughta Know
Thank U