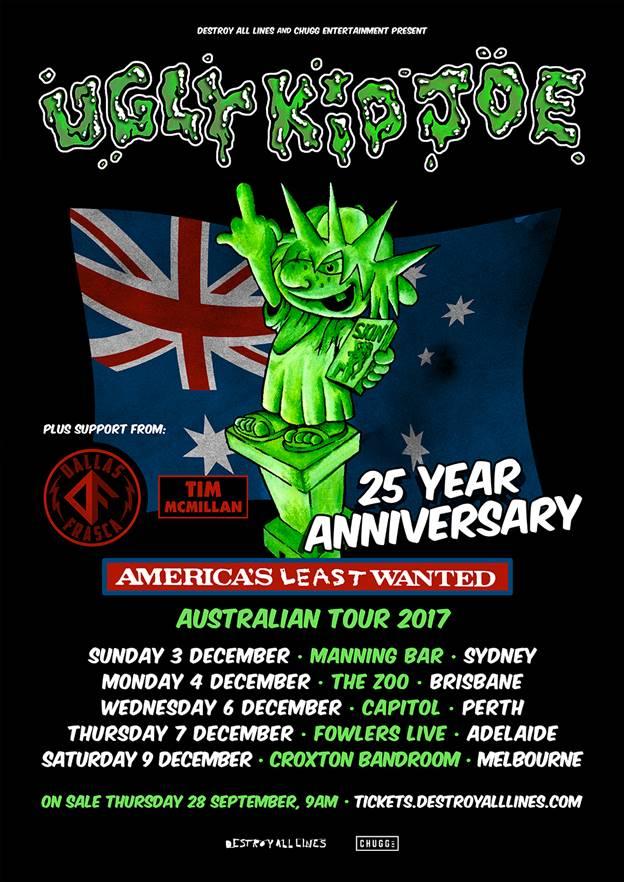 I dig these album anniversary tours, especially when it's an album I grew up with and this one was a part of that and twenty five years on we're all here to celebrate 'America's Least Wanted' hitting a quarter of a century, and this show even more special as it's the first of this run. So how it'll play out, we'll see, how the songs have held up over a quarter of a century, we'll see. I for one can't wait.
A couple of supports tonight before Ugly Kid Joe hit the stage and one of those being Tim McMillan and his acoustic guitar, bringing along his musical partner Rachel on the violin. Everyone looked puzzled but as soon as they started playing those outside started to come in and in between songs the comedy, the stories and the just sheer joy this duo brought was amazing. Acoustic renditions of Metallica, Slayer, even a bit of Game of Thrones thrown in for good measure was a treat. I have to give a special mention to cymbal crashes and helpful security guards for their appearances in this set. I can't believe I just witnessed him playing in front of 5,000 c*nts at Rod laver Arena… (you had to be there to get that one.)
Up next was Dallas Frasca and a complete 180 from what we just saw earlier, they come out rockin' and don't they what! Huge riffs, huge voice and just straight up classic style rock songs. These guys are impressive! Two guitars and drums with a big fuzz sound make these guys stand out and I can't help but wonder if they added a bass guitar and allowed this sound to get even fuller how massive this would be. As a front woman Dallas is amazing, a voice that blends the best of Melissa Etheridge, Ann Wilson and others is just perfect. I would love to see these guys play in a dark and dirty bar and just rock the fuck out with them. The crowd loved it and by the end of their set everyone was engaged and ready for Ugly Kid Joe.
Here we go!  The band come on and hit us with an intro but it's when Whit Crane walks on stage and with the opening note of 'Neighbor' that the place goes nuts and why not because this one off the album we're here to celebrate was a single and straight up kicks ass. "We haven't played this song in twenty five fuckin years" Crane laughs as they rip through 'Madman' and you'd have no idea that they hadn't because it was note perfect, this band is impressive!
Taking to their second album 'Menace To Sobriety' and 'Jesus Rode a Harley' was a big rocker and 'C.U.S.T.' is even bigger complete with mini drum solo from the beast that is Zac Morris who has already broken a cymbal and snare skin so that should give you an idea of how hard he's hitting. We all clap along to 'Panhandlin' Prince' and they've got everyone here hooked. Musically these guys are on fire and with a solo that just slayed they break it down to finish the song. Another that hasn't been played in twenty five years 'Come Tomorrow' which slows the set down for the first time and hits a killer groove again allowing both Klaus Eichstadt and Dave Fortman to shine.
'No One Survives' is one from their more recent work, recent being 2012 but it fits in perfectly into the set. 'Devils Paradise' is a welcome addition and heavy and there were many spirit fingers. Working back into Americas Least Wanted with 'So Damn Cool' and it's just that! I've almost forgotten how good these riffs are but I remember this one, how could you not when it was such a big hit. Of course it's 'Cats in The Cradle' and it still sounds great and actually better live than on the record in my opinion, big singalongs of course made this a crowd favourite. Back again to their 2012 EP 'Stairway To Hell' with 'I'm Alright' that gets them jumping and clapping and how Whit can sing the way he does amazes me, it's flawless and he's nailed every scream. It's beyond impressive!
Quick introductions lead into 'Milkman's Son' from Menace To Sobriety and this is one of my favourite UKJ tracks and it's damn good hearing it live. An impromptu guitar solo from Soldier their guitar tech leads into the slower 'Busy Bee' and then the funkier 'Same Side' then it's time to beware the 'Goddamn Devil' complete with Halford type screams. Klaus then takes centre stage for 'Mr Recordman' which was cool as you could see Whit trying to sort out the set and figure out what songs to take out after what looks like being told curfew loomed. Shame the gig started so late that there was a scramble to do that! Dedicating one to Ozzy on his birthday with 'V.I.P.' then 'Funky Fresh' and now with two minutes to go before midnight Whit is having a chat and finally they kick in to 'Everything About You' I hope we get the full song and they don't pull the plug, thankfully they didn't and they played out their lead single and the one that everyone belted out to end what was an amazing show from a damn good bunch of musicians.
Tonight was just a great night of nostalgia and great songs played by a band that has still got it. I had fun tonight, the band kicked so much ass tonight, I… loved everything about… it *laughs* (insert amazing rock ending.)
REMAINING TOUR DATES:
Monday 4 December – The Zoo, Brisbane – 18+
Wednesday 6 December – Capitol, Perth – 18+
Thursday 7 December – Fowlers, Adelaide – 18+
Saturday 9 December – Croxton Bandroom, Melbourne – 18+
www.tickets.destroyalllines.com
Essential Information
Venue: The Manning Bar – Sydney
Date: December 3, 2017
Presented by: Destroy All Lines & Chugg Entertainment
Supports: Tim McMillan – www.timmcmillan.net & Dallas Frasca – www.dallasfrasca.com
Website: http://www.uglykidjoe.net
Set List:
Neighbor
Madman
Jesus Rode a Harley
C.U.S.T.
Panhandlin' Prince
Come Tomorrow
No One Survives
Devils Paradise
So Damn Cool
Cats in The Cradle
I'm Alright
Milkman's Son
Busy Bee
Same Side
Goddamn Devil
Mr Recordman
V.I.P.
Funky fresh
Everything About You