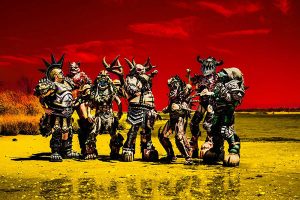 Attention Human Scum!!!!
Earth's favourite interplanetary warriors, GWAR, are returning to conquer and destroy Australia in APRIL 2018!
"The Blood of Gods Tour" continues on into Australia, as your masters and supreme overlords take their one of a kind carnival of blood-drenched death and destruction Down Under. The last time GWAR visited Australia in 2014, they upset the Australian public with the controversial and media-hyped beheading of an effigy of then-Prime Minister, Tony Abbott. The body count will be even higher when GWAR returns to Australia in April of 2018 for more heavy metal carnage. Mark your calendars or leave the country.
Blothar the Berskerer had this to say about the upcoming bloodbath: "People of Australia, koala bears, kangaroos, crocodiles, wallabies…lend me your ears…and your skulls, and all of your internal organs…GWAR is coming to turn the Land of Dreams into your worst nightmare. Fire up the barby, we are going to eat Australia!
As for the Adelaide scum and your worthless existence, the so-called "Rock Capital of Australia"… is that crack rock?  We shall turn the Great Australian Bight into our Great Australian BITE as our parting gift to Australia."
GWAR are riding the wave of worldwide dominance with their new record The Blood of Gods, released by Metal Blade Records in October 2017. The new record, and the spectacular tour to support it, have been praised by fans and media alike as triumphs of unimaginable genius.
Formed in Antarctica 1984 by manager Sleazy P. Martini, GWAR has forged a path of debauchery for over 30 years and it seems their work is still not done.
GWAR's mythology is rich in political and social satire. Their cult-following is galvanized by their controversial, indefatigable and ostentatious live performances, where crowds of willing slaves are subjected to ripe humour and theatrical imagery… and lots and lots of blood, vomit and other bodily fluids.
"This tour was a masterpiece of the bizarre, an epic telling of a collection of freakish fairy tales" – – – metalwani.com
Don't miss GWAR's odyssey of death and destruction as they turn their eyes towards Earth's most remote outcrop of human scum, Australia.
"Death cannot kill GWAR. Nothing can." – – – GWAR
GWAR April 2018 Tour Dates
Tuesday 24th April – Brisbane, Eatons Hill
Thursday 26th April – Sydney, Metro
Friday 27th April – Melbourne, 170 Russell
Sunday 29th April – Adelaide, HQ
Tickets from: http://davidroywilliams.com/tours/gwar/
Pre-Sale: Thursday December 21st, 10am
On Sale: Friday December 22nd, 10am (Local time)
PLATINUM VIP M&G Ticket – 6 only per show – includes:
Meet and Greet with GWAR
1 personal item autographed by GWAR
Photo of yourself with GWAR taken by professional photographer
Autographed Limited edition A3 Thick Card Poster
Watch two songs from side of stage
Collectors set of 7 guitar picks
Official commemorative VIP Laminate
Priority Access to the Venue
GOLD VIP M&G Ticket:
Photo of yourself and 5 other slaves with GWAR taken by professional photographer
Autographed Limited edition A3 Thick Card Poster
Collectors set of 7 guitar picks
Official commemorative VIP Laminate
Priority Access to the Venue
For More Info Visit:
https://twitter.com/GWARofficial