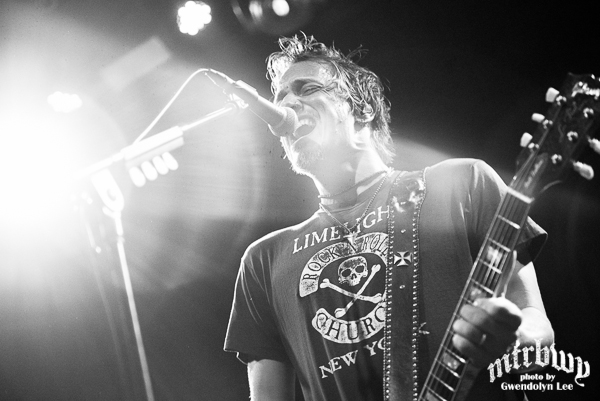 Reviewing one of your favourite bands is tough, even more so when you have their logo tattooed on your wrist but tonight I have accepted the mission to review the return of Fuel to Sydney after a very, very long time away while they're here to celebrate 20 years since 'Sunburn'.
Hurst open up the show with a good selection of rockers and testament to them for getting the crowd engaged early on, great voice and some good tunes they'll be worth keeping an eye on.
Judging by the number of Red Gazelle shirts here tonight I'm hoping that it's going to reflect what we hear. After an intro and their singer coming onto the stage like he was Jon Bon Jovi with a shrieking scream they kick off their set of rockers as they act and play like there's 10,000 people here which is always good to thrust that confidence out. The last three songs of the set really pricked up my ears and I'll be watching these guys too, there's something there.
Fuel take the stage and tear straight into the opener of the album we're here to celebrate, 'Untitled' is what we get and yeah they sound great, this is gonna be a big rock show and I can't wait. That all familiar opening riff just hit and the crowd cheers as 'Jesus Or A Gun' begins, this one straight up rocked and hearing it live is a pleasure. Sticking with the Sunburn album with 'New Thing' which was great to hear live, I'm really looking forward to hearing this album in full. "It's good to be back in Sydney" and after being told this song is for us it's no guesses, 'Song For You' as Brett takes the guitar off allowing him to shake a few hands and get his groove on.
Time for the albums namesake 'Sunburn' and after an extended intro they kick into the song that a number of phones are being held high up capture. Now that was amazing but hang on, it's time for 'Shimmer', this early? Wow!! Well that was unexpected and awesome! Hearing the whole place sing the song the band is most well-known for , that still gets played on the radio today is testament to a great tune and you can tell that everyone here has been waiting to hear for a long time.
'Bittersweet' is one of those songs you know and sometimes forget from their catalogue but make no mistake this one rocks. It's so good revisiting 'Sunburn' right now. 'Mary Pretends' gets all punk rock on us and 'It's Come To This' allows Brett to slink around the stage again as this deep album cut gets a run. With only a couple to go from the album next up is 'Ozone' and a motion for a circle pit didn't happen but this fast and frantic rocker kicked ass and Brett is giving his all up there right now, this is a damn good rock show! Closing out 'Sunburn' with 'Hideaway' and after a lengthy intro they keep the tempo slow and the chatty crowd can be quiet now as once it kicked in it silenced them pretty quickly.
Now, I love the playing of the whole album concept as it takes you back to that place when you first heard it and grew to love it, but tonight hearing it not in order it changed it up and was a surprise when you had no idea what to expect next. Well done, guys! What an album 'Sunburn' is! Welcome back to full rotation at home.
The band leaves the stage of course only to come back for a few more. The first of those being my favourite Fuel song, it's called 'Bad Day' and after congratulating us on passing same sex marriage he says no one is having one of these as the song begins, and now I'll be back in a few minutes, I'm gonna take this one in. The crowd loved it, and hearing us all sing along was awesome. So glad I finally got to hear that one live. Throwing in a Tom Petty cover of 'Mary Jane's Last Dance' was unexpected and awesome.
With only one more to go and annoyingly looks like they cut two off the set list that I would've loved to hear but that's beside the point, it's 'Haemorrhage (in My Hands)' and I'm so glad they played this one as what a way to close out this epic show, live this song takes it to a different level and the emotion through the lyrics really comes through. Brett's voice is still so good, he is the voice of Fuel and hearing these songs I've loved for two decades was a treat. Here's to the 'Something Like Human' anniversary tour!
Essential Information
Venue: The Manning Bar – Sydney
Date: December 8, 2017
Presented by: Metropolis Touring
Website: http://www.fuelrocks.com
Photo by: Gwendolyn Lee – Gwendolyn Lee Photography – Full gallery HERE
Set List:
Untitled
Jesus Or A Gun
New Thing
Song For You
Sunburn
Shimmer
Bittersweet
Mary Pretends
It's Come To This
Ozone
Hideaway
Bad Day
Mary Jane's Last Dance
Haemorrhage (In My Hands)