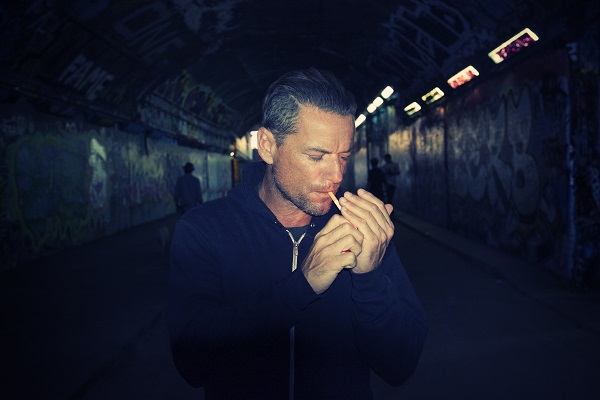 "Imagine if you dreamed you want to be in a band but you're not quite sure what it would be, it was that times a thousand because it was on fire, like the way it took us and took us around the world but we didn't know that, we didn't know what it was, we didn't how to react and all of a sudden we're like 'wow, what is this?'"
From release: It was September 1992. Millions of snot faced skate – surfers worldwide were cracking a few brews in their bedrooms, on beaches and in their garages listening to one album…'Americas Least Wanted' by UGLY KID JOE. 'Americas Least Wanted' was a double platinum phenomenon selling over 2 Million albums catapulting UGLY KID JOE to headlining Arenas and touring with the likes of Van Halen, Bon Jovi and Ozzy Osbourne. For the first time ever UGLY KID JOE will be celebrating the 25 year anniversary and performing 'Americas Least Wanted' in its entirety and Australia will be the first in the world to hear it as they kick off a National tour this December. It's time to re live the simpler times and embrace this wonderfully cathartic wrecking ball of rock 'n' roll energy and if there's one band that can start a party that everyone will remember, it's got to be UGLY KID JOE.
In Melbourne, Australia, we gave our old friend Whit Crane a call to talk about the upcoming Australian tour celebrating the 25th anniversary of 'America's Least Wanted', memories of releasing it, new music, highlights, advice, and much more.
It's been a couple of years since we last chatted, so let's catch up. How have the last two years been for you?
They've been great, we put the band back together, we've been touring, we started in 2012 we went all around the world, we played Australia in 2014 and we're bringing it all back to Australia in December. I tell you to be honest with you as long as I'm being creative I feel centered and good so it's been the last couple of years have been really cool I've had a couple of projects and it's good to have the guys back together, it's been a great last five years, 100%.
So of course we're here because you're heading back to Australia to celebrate the 25th anniversary of 'America's Least Wanted' and you'll be playing it in its entirety, what has it been like going back and essentially relearning and revisiting songs you may not have played for years and that were written in a much different time in your life?
Well we haven't gone back and done it yet, we've just been on tour in Europe for a couple of months so we played a fair few of those songs on that run. I'll go back to America on November 16 to look after my Mom for Thanksgiving, then I'll go to LA and we'll go have band practice and we'll knock this out. I'm pretty sure it'll be a walk in the park as far as familiarity goes, you know it feels good, it feels fluid and it's a great question I just haven't played half those songs in twenty five years but those guys have all got chops and I can sing, so it should work.
Am I right in saying that Sydney will be the first show for this tour and for the playing of the album in its entirety?
That's true, that's December 3rd. You know what else is December 3rd? Ozzy Osbourne's birthday, I think the world should say Happy Birthday on that day *laughs*
Set wise, can we expect any other surprises on the night, have you figured out how these shows will be structured?
Well I don't have any idea yet but you can expect some surprises for sure, we'll go in and put everything in, basically the way I like to function is you put every possibility forward and then water finds its level. So of course we'll play the record, we'll go through the catalogue, we have some great bands coming out with us, we have Dallas Frasca so we'll probably end up jamming with those guys and in each cities there's artists that we like that we may or may not jam with, but that will all show itself. So, yeah, it'll be a fun kick ass rock and roll experience, 100%.
So let's jump back a bit though to when you released 'America's Least Wanted', what do you remember about that time in 1992?
I remember it was lot, there was a lot going on, we were kids, we were really green and we were like "what is this?" we were all kind of half scared and half excited because we'd never been in a studio, we'd never been out of California, and we got to make a record, a full length record and we were like no way, we're making a record, how weird. We got to deal with a fantastic producer, Mark Dobson and without that dude it would've all just fallen apart and we didn't know what we were doing, so you ask me how I was feeling it was just a lot, it was a lot of movement and there's a lot or energy. Imagine if you dreamed you want to be in a band but you're not quite sure what it would be, it was that times a thousand because it was on fire, like the way it took us and took us around the world but we didn't know that, we didn't know what it was, we didn't how to react and all of a sudden we're like 'wow, what is this?' Then all of a sudden we're touring with our heroes and getting to see all these countries. I think our first proper show was in Australia at The Hordern Pavilion and I don't think we'd ever really played our own show in Australia and imagine that was going worldwide, so we get to a country that I'd only heard about in high school or looked at on a map and you get to a country but the music had already manifested there and we were selling out these big rooms and I was like 'what is this? This is so weird' and it was awesome and it was overwhelming is what I would say.
So in terms of new music we had 'Uglier Than They Used To Be' out in 2015, are there currently any plans for new music soon?
Yeah we'll go in the studio, our guitar player Dave Fortman is also a bigtime producer, so when the stars align we'll pop in and make some new tunes 100%.
You said you've got the band back together, have you got everyone back including Shannon?
Oh we have the front four, all the dudes that played on America's Least Wanted, the hard get which we got was Dave Fortman, so you've got Fortman, you've got Eichstadt, myself and Crockett and the drummer we have, Shannon is on tour with Godsmack so the drummer we're using is the drummer we've had for the last five years his name is Zac Morris and he hits the kit. So it's the front four as they say.
In terms of touring what does the rest of the year have in store for you?
Well we start here in Sydney on December 3rd, we end of December 9th then I'll figure out what we'll do for a month or two and then I'll do the same thing all through Europe in April and as it gets rolling forward I imagine we'll take it around the world. We have a year to do it, so I mean the response has been really cool and the main thing is that we're happy and if I can say this honestly, we're not chasing anything, or running away from anything and we're having a good time, we like being with each other and the fans are digging it and it's a good musical connection so everything's cool. So as long as everything's cool we'll just keep rolling with it and if it becomes toxic or bothersome we'll stop.
So over time obviously things change but what would you say is the one thing that's stayed the same in your time in Ugly Kid Joe?
Love of music, man, the love of rock and roll music, the love of Chuck Berry, the love of Little Richard, the love of Van Halen, the love of Motorhead, the love Black Sabbath, the love of AC/DC, that's all, the love of Lynyrd Skynyrd, all that, no one lost one millimetre of inspiration from those sounds so that's we've always been mirroring anyway, so we're always gonna do that.
Is there one piece of advice you were given when you started as a band that you've maintained and has stuck with you throughout the years that you still go back to to this day?
Yeah, be yourself. You should be inspired by things that inspire you and why not mirror that and put yourself into that and along the way because being a human is a weird gig, but the other thing that I figured out through time and space at least for me is to figure out different reasons why you're grateful, why life is good , why you can celebrate your day, your moment, your coffee, your girlfriend, whatever you've got, and if you just kinda be yourself and figure out different reasons why life is cool, life will be cool.
Let's also look at highlights in the last twenty five years, has there been one moment that stands out above all the rest that can't be beaten?
Well that's a loaded question because there's a shit tonne of experiences but if you have to take it all the way back to when we were green just cutting our teeth we were in a motorhome in Florida I think we played a show with Infectious Grooves wherever we were and I was like 'Wow I can't believe we're on tour' as I'd never been out of California and then we got the call, on the landline in some crappy hotel somewhere and our tour manager Billy Morgan came out, looked at us he was a Southern boy, and we're kids and he looked at us and he goes "You guys got the Ozzy tour?" and we were like "NO WAY?! Really we got the Ozzy Osbourne tour? There's no fuckin way" and he goes "and Motorhead" and we were like "YES!" we were shaking, like no way did that really happen? It did happen and by the time of the tour we graduated to a proper tour bus which we'd never been on and we were just so excited and there was Motorhead and Wurzel was still in the band and there was Ozzy Osbourne slaying it with Zakk Wylde, Mike Inez and Randy Castillo And so as far as like that first love it was like "WOW, this is amazing!"
Lastly let's look ahead to the future as always, so finish this sentence for me, in 2018 Ugly Kid Joe will?
Make new music.
TOUR DATES:
Sunday 3 December – Manning Bar, Sydney 18+
Monday 4 December – The Zoo, Brisbane – 18+
Wednesday 6 December – Capitol, Perth – 18+
Thursday 7 December – Fowlers, Adelaide – 18+
Saturday 9 December – Croxton Bandroom, Melbourne – 18+
www.tickets.destroyalllines.com
Presented by Destroy All Lines and Chugg Entertainment
Essential Information
From: Isla Vista, CA, USA
Band members: Whitfield Crane — Vocals, Klaus Eichstadt — Guitar, Dave Fortman — Guitar, Cordell Crockett — Bass, Zac Morris – Drums
Website: http://www.uglykidjoe.net

Release: America's Least Wanted (Out for the last 25 years!)