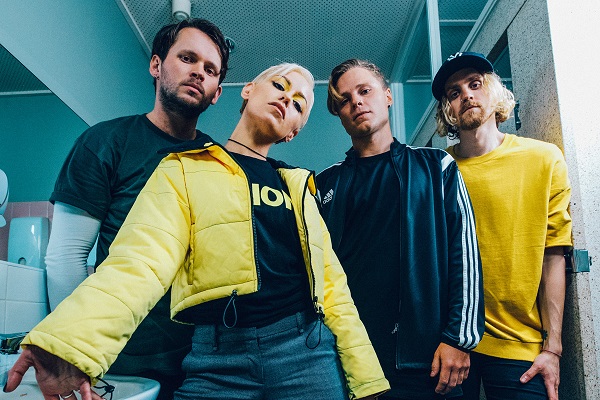 Let's get back to beginnings, sound like a good idea? Great, because tonight in Sydney we will see the long awaited return of Tonight Alive to the stage.
This sold out room is filling up early as Yours Truly start things off and a very receptive crowd start clapping along to the opener, you know when you can tell that this is going to be a good crowd tonight? Well, yeah this is going to be a good crowd tonight. Catchy tunes, great vocals and a kick drum that needed to be turned down, this band has something. Super special mention to their single 'When The Sky Goes Down' a big rock ballad and no surprise I liked it, but this really is a cracking tune. Throwing in a Neck Deep cover and the rocky and upbeat 'High Hopes' they close out with another rocker and I'm impressed. Shame about the mix tonight as the guitars were lost in here as at their full sonic capacity I think these guys could truly do something good.
Second band up tonight are The Beautiful Monument and seriously I don't know who's doing the mix tonight but bloody hell, it better not be this way for Tonight Alive. They powered through their set of rockers including 'Manic' but with such a muffled mix it's disappointing as it made their set hard to enjoy. The band is great but with almost non-existent guitars and overpowering drums it's a shame. A+ effort for energy and enthusiasm and I will most definitely be checking them out as there was something there, just unfortunately couldn't get that here tonight so I'll be in touch.
Tonight Alive who are now a four piece after the departure of Whak it'll be interesting to see how the band sounds tonight and I need a good dose of live music tonight and this band has never disappointed me in the past. As the curtains draw back and the band make their way onto this small stage it really is time to get back to beginnings. Straight into 'Lonely Girl' and the crowd is immediately in love. There's singing, clapping, arm waving and it's only the first song. Jenna is sounding amazing and it's so good to hear this kick ass band live again, then as Jake hits the opening notes of 'The Ocean' there's even a crowd surfer in this insanity. What an opening, if this pace keeps up then everyone here is going to be wiped out! Wow, she truly has everyone in the palm of her hand right now, 'How Does It Feel?' with its nice breakdown mid song finally slows this pace down just got a moment, oh ok, a circle pit just opened on the floor. Wow.
Going back to their first record and with the title track, 'What Are You So Scared Of?' it's nice to hear this older one still in the set and they all love it that's for sure. 'Listening' is actually amazing to watch, this crowd is so intense and the band is feeding off it all. 'Wasting Away' is so damn good and Jenna even braves her way into the crowd as surfer after surfer make their way over the top. 'The Other Side' gets a run and this big power ballad is outstanding and a highlight for me thus far. Damn these guys are good and these songs are just so powerful tonight. The energy this band and in particular Jenna give off is electric, it's actually captivating.
An acoustic guitar comes out as we truly go back to beginnings as we go all the way back to the band's first EP with '5 Years' and they know it, the crowd that is. This is a band that is truly loved and their fanbase has followed them, Jenna even pointing out a couple of fans she's known from the beginning, and that sort of stuff as a long-time fan of bands makes me happy too as sticking with a band can be tough but when they hit the right chord with you (pun intended) then it's pretty special and I can tell that Tonight Alive does that for a lot of people here. Another early one 'My Favourite Thing' is nice to hear as I'm not truly familiar with these songs but it was nice to let the band have a breather for a few minutes.
The band returns as does the electric guitar 'To Be Free' is another rocker with a big 30 seconds to Mars-esque moment to get us singing along.  'Don't Wish' is another one of their best and has been a favourite of mine from their catalogue for some time, so of course it's still in the set (not because I love it, just because it's so good).
Some amazing words from Jenna precede 'World Away' which is a newer one and damn she can sing as she belts this one out. Bloody hell it's still going and still intense and 'The Edge' may as well be the opener as there's as much passion and intensity as there was at the beginning of the show. This is impressive, there has been no wavering at all, they're all in, this show means a lot to them and you can tell.  Closing the show with their newest single 'Temple' and it's chunky, it's heavy, and damn this one is perfect for the stage and just wow, the fans have attached to it immediately and are shouting the words right back to the band, and if this is just a taste of what we can expect from their new album then sign me up right now (I'm already signed up, it's ok don't worry.)
That was one of the most fantastic performances I've seen from Tonight Alive if not from any band this year, I truly mean that. Tonight was what live music is and should be about. This band has been reborn and this is going to be one hell of a ride. Strap in as you're going to hear a lot more from Tonight Alive in the coming months and years. I needed this show tonight and it took me out of a stressful day and woke me up, so thank you Tonight Alive for your words, the performance and if I wasn't a fan before (I was) then you'd have hooked me for life tonight.
Remaining Tour Dates:
Friday 3 November – Cambridge Hotel, Newcastle
Saturday 4 November – The Zoo, Brisbane
Thursday 9 November – Fowlers Live, Adelaide
Friday 10 November – Corner Hotel, Melbourne
For complete tour and ticketing information, visit:
?tonightalive.com
unfdcentral.com & livenation.com.au
Essential Information
Venue: Oxford Arts Factory – Sydney
Date: November 2, 2017
Supported by: Yours Truly & The Beautiful Monument
Presented by: Live Nation Australia
Website: http://www.tonightalive.com
Set List
Lonely Girl
The Ocean
How Does It Feel?
What Are You So Scared Of?
Listening
Wasting Away
The Other Side
5 Years
My Favourite Thing
To Be Free
Don't Wish
World Away
The Edge
Temple