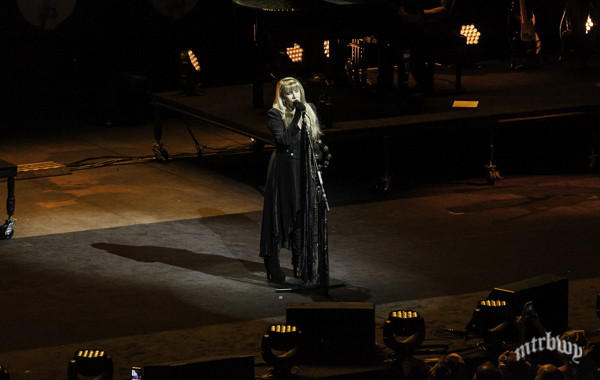 Two legends join forces tonight, so many years of experience and so many songs that the world knows and love. Tonight Stevie Nicks and The Pretenders grace the stage of the ICC for what is sure to be a night of classics and just a damn good time.
The Pretenders take to the stage and Chrissie Hinde looks fabulous in the world's best jacket. They open with 'Alone' and it sounds amazing. They keyboards star in 'Gotta Wait' as the driving drum beat keeps the rhythm. Oh yes! I know this one! 'Message of Love' is almost forty years old and what a tune still to this day, I have to say the band sound superb and Hinde's voice is just wow. Getting a little slower with 'Kid' but only a little and I can't even express here to you how professional this sounds, this band is stellar. So, Neil Young played on it on their album but tonight he's not here unfortunately but regardless of that, it fits nicely into the set 'Down The Wrong Way' and its ripping guitar solo actually make this one a stand out. Hearing a "to be classic" for the first time turns out it's 'Hymn To Her' and yeah we know this one!! That was great, loved hearing it and was amazing as after so long of knowing it but never hearing its power hearing it live tonight was amazing. OK back to the actual 'to be classic' we get a new one 'Let's Get Lost' with an awesome keyboard solo and after that we're 'Back On The Chain Gang' and it sounds exactly like it would have live back when it was released. Always loves the middle 8 in this one too, so good!! Special mention to some excellent work on the maracas too as it just tops off a classic.
Making sure she's in the right key she belts out 'Stop Your Sobbing' then one we most definitely know 'I'll Stand By You' sounds spectacular, this one and its key change is perfect. 'Don't Get Me Wrong' keeps the hits coming and I'm absolutely loving this set. That one got people up dancing and rightfully so. We get a little bit of a country jam happening with 'Thumbelina' as it turns the tempo way up and some killer guitar work plays this one. We get a little drum solo from Martin Chambers and the drum sound is so good, that's how live drums need to sound! It leads into 'Middle Of The Road' and I thought the maracas were the surprise instrument of the night but Chrissie just pulled out a harmonica. Well played, Ms Hinde, well played. 'Brass in Pocket' wow I finally got to her it live and that took me back to one of the first songs I remember seeing a video for when I was growing up, here I am just a few years later hearing it live and I'm a happy concert goer. The Pretenders were fantastic!
Ok. World's shortest change over time. Bloody hell.  I missed half the first song of Stevie Nicks due to crowds and once settled in hearing the end of 'Gold and Braid' we get a hello and jump straight into the amazing 'If Anyone Falls' and this is still so 80's and I'm in love. Stevie dressed completely in black looks marvelous as you'd expect. An amazing story about her first solo album and about Tom Petty was truly sad and at the same time something to celebrate the life of that man, and this early hearing 'Stop Dragging My Heart Around' is unexpected and damn I love this song!! Holy shit Chrissie Hinde just came out to sing it with her. Wow, even more unexpected and the pairing of these two classic voices worked perfectly. Hearing this one makes me realize I think we're in for a night of songs that we'll all know and it's going to be truly special. Stevie told us we'd be in for a night of stories and I'm loving the way she intertwines them with the songs. This is what I love, hearing them and putting words to the songs so to speak. This is great. 'Belle Fleur' complete with some amazing synchronized dancing from her backing singers and harmonies to boot. The tambourine gets some love I'm sure for not the last time tonight.
Wow, 'Gypsy' this early?! I'm not sure why but if someone asked me to describe Stevie Nicks in a song it would always be this one. She just has such an amazing voice, she's just the best. A twirl that sent the crowd wild ended the song and rousing applause deserved. 'Wild Heart' was beautiful then a new cape kicks off 'Bella Donna' and a story of how going back to Fleetwood Mac after a successful solo album to make 'Wild Heart' was easier than she thought, and it turns out the new cape is the one from the Bella Donna cover and we get a bit of show and tell with Stevie she shows us the cape. 'Enchanted' followed by the chunkier 'Outside The Rain' were great but of course when 'Dreams' starts there's a lot of shoulders moving and arms waving and deservedly so, these Fleetwood mac songs are simply timeless. A song called 'Starshine' from 24k gold gets a run along with the story of its creation. A beautiful piano interlude while Stevie takes a quick break only to come back for a big ballad in 'Moonlight (A Vampire's Dream) and vocally this is amazing, the harmonies between her and her backup singers is perfect. This could actually be my favourite song of the night so far. Wow.
Until this one. 'Stand Back' and what an intro! So many keyboards I'm in love. I didn't think I could love 80's Stevie Nicks anymore. Turns out I was wrong. That was spectacular sorry 'Moonlight' you just got booted as favourite of the night. Although the story of the song and of Prince's involvement was just brilliant and made the song even better, I had no idea about his involvement or how the song came to be. From the Buckingham Nicks album and a song never played before called 'Crying In The Night' a song now 44 years old. Back to ballads with 'If You Were My Love' was beautiful but the guitars come back out for 'Gold Dust Woman' which she absolutely nailed, again the Mac songs, wow.
After band introductions and before Stevie comes back to the stage as the band rocks out what is to be 'Edge of Seventeen' but with some AC/DC riffs in there for good measure. Here she is, just like a white winged dove but dressed in black. Amazing. That song had everyone singing along and as I turned to look at the audience there was just so much love and respect for her. Just when you think it's over. Oh no. They're back and it's time for 'Rhiannon' wow, I'd almost even forgotten about this one and here it is and didn't they love that! One more and it had to be 'Landslide' there was no other choice and this original version is simply stunning and the perfect way to end a perfect night.
Has Stevie still got it? Sure does, in fact you should be ashamed of yourself for thinking it maybe ever left. Tonight was 24k of absolute amazing music and of amazing memories.
Remaining tour dates:
ICC SYDNEY THEATRE
WEDNESDAY NOVEMBER 8*
ROD LAVER ARENA, MELBOURNE
THURSDAY NOVEMBER 16
Also performing at
A DAY ON THE GREEN
BIMBADGEN, HUNTER VALLEY, NSW
SATURDAY NOVEMBER 11**
A DAY ON THE GREEN
SIRROMET WINES, MT COTTON, QLD
SUNDAY NOVEMBER 12** – sold out
A DAY ON THE GREEN
ROCHFORD WINES, YARRA VALLEY, VIC
SATURDAY NOVEMBER 18**
All shows on sale now
For complete tour and ticket information, visit:
Essential Information
Venue: ICC Sydney Theatre – Sydney
Date: November 7, 2017
Presented by: Live Nation
Support: The Pretenders – http://www.thepretenders.com
Website: http://www.stevienicksofficial.com
Photo by: Annette Geneva – Check out out full gallery here
Set List:
Gold and Braid
If Anyone Falls
Stop Draggin' My Heart Around
Belle Fleur
Gypsy
Wild Heart
Bella Donna
Enchanted
Outside the Rain
Dreams
Moonlight (A Vampire's Dream)
Stand Back
Starshine
Crying in the Night
If You Were My Love
Gold Dust Woman
Edge of Seventeen
Rhiannon
Landslide