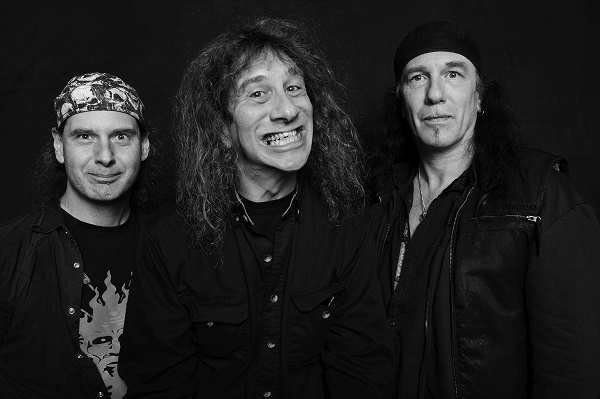 "I mean you always want more, you just don't want it to end, I just want continuance, ultimately to me I'm happy with continuance as long as I can continue it's all good, man. That's all you can ask for is more of being able to."
With 16 albums under their belt and their 17th one on the way, ANVIL pride themselves as being one of the most hardworking bands on the plane. The 2009 rockumentary Anvil – The Story of Anvil detailed the story of band that somehow fell into obscurity. However this award winning feature gave them a second wave of popularity, and resulted in the band playing the infamous Download Festival plus supported our very own AC/DC on tour! This is a band that had everything, lost it all but never gave up. To quote Lips – "This is the Rocky Balboa of heavy metal". They provide witness to the power of the human spirit, played to a heavy metal soundtrack.
At home in his kitchen in Toronto, Canada, we gave Lips a call to talk about Anvil's upcoming return to Australia, their forthcoming album, their amazing documentary, and much more.
You're headed back to see us next month, can you tell us what people can expect when they come to an Anvil show?
A lot of passion and a hell of a lot of fun *laughs* you know, what are you gonna say, man.
With a sixteen album catalogue, do you have an idea of how you'll be shaping up the sets?
Oh jeez, it's predominantly and when I say predominantly at least half the set is from our original old days, reason being 99% of people have never seen the band and most people know us from the albums 'Metal on Metal', 'Hard and Heavy' and 'Forged In Fire', we better be playing songs from that. So at least half the set is that and the rest is really from the newest era, the last five years.
You'll also be celebrating your 40th anniversary as a band, a great milestone, looking back to your beginnings did you ever see yourself still doing this forty years on?
Yeah actually I did, I didn't see there'd ever be a reason not to. You don't retire from this, you just die *laughs*. That's the way I look at it, what can I say?
I love that you've never lost your passion.
There's no point why would I? It's like people say 'hey man, how can you write another song when you've written so many?' what are you talking about? You're asking me why do I exist, it's a stupid question *laughs* if you understand what I mean, if your brain stopped working all of a sudden and you can't come up with something new or you can't think of something to say, I don't know, it's just the way I look at it.
You're currently working on your new album 'Pounding The Pavement' anything you can let us in on about the album?
There's not really much to tell you yet because we're still touring for 'Anvil Is Anvil' but what I can tell you about 'Pounding the Pavement' it came out absolutely stellar, just wow, even more focussed and even better than the last one in a certain sense, but you're always up on what you've just done so I don't want to sound overly confident but in many cases I've been surprised and in two cases on this album extraordinarily surprised and that wow jeez that's better than I thought it was gonna be *laughs*. The great thing about this album just like the album before it is we've got a pledge campaign going which is a great opportunity for the fans to feel completely connected to the band by buying the product directly from the band. The advantage of that is a number of things, first of all it circumvents money being taken away from us by the people involved, so it's a direct financial compensation that we receive to a much higher degree than doing it through a record company. That's one aspect. The other aspect is that the CD is actually thirteen songs that you get on the pledge campaign and everywhere else that it's coming out it's only gonna be twelve, so you get an extra track, and they're a limited edition run meaning that we only make them once. So we're making about 1,500 and once they're gone, they're gone. So it's a great opportunity, they're kind of a keepsake as well and the fact that on a personal level you're helping the band out to the point that our drummer Robb Reiner will actually be putting the stamp on your CD *laughs* and mailing it himself.
Obviously the amazing documentary helped get Anvil back out there again, what were the feelings like for you when people essentially discovered the band from it and thus allowed you to continue to record and to travel the world to come to places like Australia?
Oh well it changed everything at this point, we're ten years on now and basically, fundamentally I've been making a living doing this, it's kind of a blessing because quite honestly I don't think I'd be much up to going back to Choice Children's Catering if you know what I mean, I had enough of that. So I retired from that and into doing what I love doing most and it's all good and we've been very busy, very busy and it's not  complaint and it's not bragging it is what it is *laughs*.
I remember seeing the documentary at a screening that you both came down here for and the place was packed and it's probably one of the best music documentaries I've ever seen.
Oh wow, yeah I remember it too pretty bizarre standing in front of the poster as everybody came out and shaking everybody's hands. I particularly remember the Sydney show because the producer of the movie is from that city and her parents came to see the movie that night so I actually remember meeting her family and so forth which was kind of interesting, and yeah some things you actually remember.
So obviously things change over time, but what would you say is the one thing that's stayed the same over your time in Anvil?
Hmm… Robb *laughs a lot*
If you could give young Lips one piece of advice that may have changed the bands trajectory what would that be?
Oh, one thing that would've changed the band's trajectory, work with Johny Z rather than David Krebs that would be the moment that I would've said 'hey guys go work with Johny Z' he was the owner and guy who ran Megaforce records which has put out Anthrax, Testament, Kings X, Overkill, you know major metal guru guy, he's actually the guy that initially signed Metallica and sold them to Peter Mensch. So, yeah, and in fact that's how his whole business got going.
Over your career and since the amazing documentary you've done a lot so far but is there anything that tops your list of things to do you haven't yet had the chance to do?
It's really mostly about going places I've never been, that's probably the most exciting. I mean you always want more, you just don't want it to end, I just want continuance, ultimately to me I'm happy with continuance as long as I can continue it's all good, man. That's all you can ask for is more of being able to.
Lastly let's look ahead to the future, finish this sentence for me, in 2018 Anvil will…
Will begin touring all over Europe bringing their new album 'Pounding The Pavement'.
Well we can't wait to have you back in Australia.
Oh yeah, man, it looks like a lot of people are aware we're coming and I think that's a huge, huge, big, big break that we've been waiting for for many years, trust me on that. *laughs*
ANVIL AUSTRALIAN TOUR DATES
Wednesday 8th November – BRISBANE – Crowbar
Friday 10th November – SYDNEY – The Bald Faced Stag
Saturday 11th November – MELBOURNE – Prince Bandroom
Sunday 12th November – ADELAIDE – Fowlers Live
Tuesday 14th November – PERTH – Rosemount Hotel
TICKETS
From – https://metropolistouring.com/anvil/
Essential Information
From: Toronto, Canada
Band members: Steve "Lips" Kudlow – lead vocals / guitars, Robb "Robbo" Reiner — drums, Chris Robertson – bass / backing vocals
Website:  http://www.anvilmetal.com/
Forthcoming Release: Pounding the Pavement – Check out the Pledge Music campaign HERE