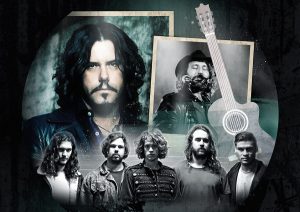 Bid farewell to 2017 and say hello to 2018 at an event like no other! A night full of special music performances with the incomparable Jeff Martin, lead singer of the iconic Canadian rock band, The Tea Party, and his good friends Lepers & Crooks, and Matt Boylan Smith.
The show will feature individual performances, and collaborations, as well as some special on-stage reflections hosted by Jeff Martin, providing some rare (and hilarious) insights in to the shenanigans and beautiful moments that happened 'behind the scenes' during their recordings at Riverhouse Studios in Byron Bay. As producer of each of these artists, Jeff will give the audience a real sense of the comradery that cemented them as musical brothers for life.
Fresh off a sold out Australian tour with his band The Tea Party, celebrating the 20th anniversary of their seminal record "Transmission", Jeff Martin has been described as one of the most impacting front men of rock & roll today.
"As usual Jeff Martin's voice was on song, there is a reason why I say that he has one of the best voices in modern day rock, and this time he seemed to entrance the sold out Forum Theatre crowd in a way that I haven't seen many lead singers do over the years…" Heavy Magazine, November, 2017
With multi-platinum success, this celebrated adopted Aussie loves nothing more than scaling it back, and delivering an up close and personal performance with his solo acoustic shows.
There will no better place to be than the Hawkesbury Hotel in Windsor on New Year's Eve, 2017. Special guests kicking off the night will be local band, Lizard.
A limited number of VIP packages are available which will include the chance to attend the sound check, a meet and greet, and a photo op.
Date: 31st December 2017
Venue: The Hawkesbury Hotel, Windsor
Address: 335 George Street, Windsor NSW 2756
Doors: 7pm
Tickets: www.oztix.com.au