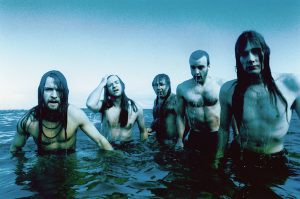 Legendary Australian rock band Horsehead have signed with powerhouse independent record label Golden Robot Records who will be re-releasing the band's catalogue and previously unreleased material internationally throughout 2018. The band's first two albums, Horsehead and Onism, will also be made available digitally for the first time ever!
Also planned for release are an album of B-sides, the band's 1999 Triple J Live At the Wirelessset, and The Lost Album, a collection of tracks never released!  Golden Robot Records will also issue a full vinyl boxset to be called The Legacy, featuring liner notes by veteran music writer Jeff Jenkins.
"Horsehead are my all-time favourite band," Jeff says. "The shortest review I've ever written was a Horsehead live review. It said simply, 'If there's a better band in this world, I'd love to see it.'Twenty-five years later, I stand by that statement. I am beyond excited that Mark and his team at Golden Robot Records are giving the Horsehead catalogue the respect it deserves."
Golden Robot Records founder, Mark Alexander-Erber, has been a longtime fan of the band and his passion for Australian rock knows no limit. Mark approached the band to be part of the label and says of the signing, "Horsehead have always been one of my all-time favourite Aussie bands over the past 30 years so I reached out to the band and after many months of dealings with various record labels and all the band, we ended up in a great spot where GRR can take the legacy of the band into the future. We have some very special things planned and I couldn't be more excited."
Cameron McKenzie from Horsehead comments: "When Mark at Golden Robot Records made contact to suggest we consolidate and re-release the full Horsehead catalogue, we were chuffed and agreed it was long overdue. Thanks to him, old and new audiences will see the Horseheadlibrary get a new lease of life and also get the chance to lay their hands on some previously unavailable material. We think the music has stood the test of time and we're really excited to land it all on a 2018 audience.  But we're biased. Long live the Head!"
With all of Horsehead's material available in the one place for the first time ever, their legacy can now be secured. Details on the reissues will be made available soon.
Horsehead join an impressive and fast-growing roster at Golden Robot Records that includes Dizzy Reed, Rose Tattoo, The Superjesus, Mi-Sex, Steve Balbi, Steve Kilbey, Kilbey Kennedy, Ben Gillies, The Heartache State, The Cherry Dolls, The Lockhearts, High Tropics, Palace Of The King, The Iron Horses, The Kids and more.
ABOUT HORSEHEAD
Horsehead burst onto the Australian rock scene in 1992, their members coming together from several iconic bands to produce something much greater than the sum of their parts and featuredScott Kingman (ex-Cattletruck) on guitar, Cameron McKenzie on guitar and Andy McLean on vocals (both ex-21 Guns), bassist Mick Vallance (Boom Crash Opera) and drummer Max Waugh (Uncanny X-Men).
They released three albums, Horsehead (1993), Onism (1996) and Goodbye Mothership (1999), before disbanding in 2000. Their hard rock was injected with melodic hooks and stadium-sized riffs that saw them become one of the most prolific bands of the '90s.
They performed at the 1993 Big Day Out and a few days later opened for Skid Row and Guns N' Roses in Melbourne. The video for their debut single Oil and Water won best rock video at that year's Kerrang! Awards.
Horsehead toured the nation on their own and with the Hoodoo Gurus, Baby Animals, The Screaming Jets and Midnight Oil among many others.
The band were part of 1995's Alternative Nation Festival which also featured Tool. Tool's manager recommended their producer, Sylvia Massy, and just 5 months later the band were in LA recording their second album, Onism, with Massy. Tours came thick and fast with the likes of The Tea Party, The Angels and Divinyls.
In 1997 they released The Golden Cow Collection EP via Shock Records, toured with Live in Australia and New Zealand and opened for Alice Cooper. They then teamed up with The Angels and The Screaming Jets for the Barbed Wire Ball tour of Australia.
1998 saw them open for Metallica for ten dates around Australia on their Pour Re-Touring Me tour.  They then released their third album, Goodbye Mothership, and performed their 400th show. They also appeared on Hey Hey It's Saturday and played an eight-song set on Triple J's Live At the Wireless.
Shortly after the release of the double single Bounce Back and Procrastinator in 2000,Horsehead decided amicably to break up and go their separate ways. Until now…
FOLLOW HORSEHEAD ON INSTAGRAM
https://www.instagram.com/horseheadrocks/