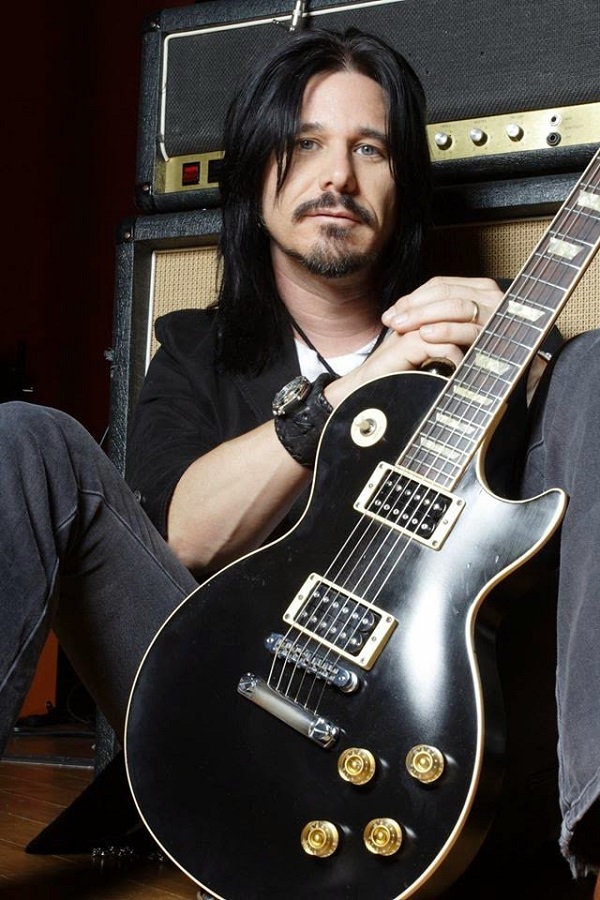 "I try to be honest with my music it's the only way I know how to do it, I've never as they say chased the tail I don't go 'I do it for my fans' I do it for me, I think it's important as an artist to be true to yourself, write the music that turns you on."
From Release: Before joining the GN'R circus, the guitarist bounced from the great Candy to his own, heartbreakingly ignored, big-riff quartet Kill for Thrills. Clarke has, along the way, toured, and/or recorded with everyone from Nancy Sinatra to Heart to Gene Simmons to Slash's Snakepit. In between touring & recording he was making videos with not only GNR, but Michael Jackson & Slash when MTV was de rigueur. Perhaps you saw him starring alongside Mötley Crüe's Tommy Lee on Rockstar: Supernova or VH1 Honors with Rob Zombie, Slash & Ace Frehely?
While in his recording studio we called Gilby Clarke for a chat about his upcoming Australian shows, new music, the years between music, producing, Butch Walker, Guns N Roses memories of Australia, and much more.
You're heading back to Australia to see us, what can people expect at a Gilby Clarke show circa 2017?
Rock and roll alive and well in 2017 *laughs* it's rock and roll I mean it may be no fashionable to talk about rock in 2017 but it is alive and well, we're not a metal band we're a rock band, loud guitars and I'm screaming over it. The songs are good, a lot of my influences come from the early 70's type of rock, the Bad Company, Zeppelin, KISS, Aerosmith, that's kind of my thing, but even English stuff like David Bowie and Marc Bolan from T-Rex, that's all the stuff that really turns me on.
You were last here in 2013, what do you remember about that first solo tour?
Wow, *laughs* I don't really remember much to be honest, I mean those places were smaller venues and stuff but I mean we always have fun, what I remember then actually has nothing to do with music but I had the opportunity to rent a Harley and go for a ride around town, of course on a different side of the road for me, but that was my fondest memory was taking a little time and getting out on the bike and kind of seeing things.
Like you said it was a small show but it was a rock and roll show and I loved it.
Thank you, I mean that's what I try to do, I try to be honest with my music it's the only way I know how to do it, I've never as they say chased the tail I don't go 'I do it for my fans' I do it for me, I think it's important as an artist to be true to yourself, write the music that turns you on. If people like it then you're all in it together and you've got a gang you know? That's the way we approach the shows, if they don't see me as an honest performer up there playing and enjoying myself then they're not gonna smile they're gonna stand around or stare at their phone and look for something else to do. When we get out there, look, I'm not the best singer in the world, I'm not the best guitar player, but I can be the best performer that night and I do the best I can with what I have but I truly love rock and roll music, I love the vibe I love the groove I love the feeling of being in the room with other people that enjoy it, it's just so much fun.
In terms of new music you said you're in there now and it's been a while since your last solo album, so what are the plans for new material?
Well you know what, yes you're right and I didn't even know it had been that long, 2003 was my last release, time just goes by and I don't know what happened I know back that when we did the Rockstar Supernova record that was a lot of music that I had planned for a new solo record and we kind of raided my catalogue for that record, but I can't make a record unless I think it's good, I'm not prolific in the sense I write thirty songs and put ten on a record, I usually only write ten or twelve songs for a record, if it doesn't feel good I just toss it, I don't finish it and it doesn't mean anything to me. So when I've got enough good songs that's when I make a record, so that being said the record is fairly done, I've recorded everything I'm just kind of tweaking and mixing and we don't have a set date, obviously because it's towards the end of the year it will have to be next year.
I saw that Kenny Aronoff is playing drums, one of the best!
Oh yeah, that's the great thing about being a solo artist is you get to have all your friends *laughs* you don't have a set band, but yeah I have Kenny Aronoff on drums, I have Steven Perkins from Jane's Addiction on drums, I have Matt Starr who plays with Mr Big on drums, my friend Morgan Young. My actual solo band is EJ Curse and Troy Patrick Farrell, they're on it, I even got Nikki Sixx playing bass on it *laughs* so it's got some real fun guys on it.
How if in any way has the creative process changed for you throughout the years?
You know what's changed for me throughout the years? I would like to say that I'm getting better, I'm a better writer, I'm a better singer, I'm a better guitar player, all these things is what's changed. I mean I still write from the same place I'm a guitar player first so it usually starts with a riff or a groove, but I always try to just make it the best that it can be, if I have an idea usually right from an observers point of view I very rarely and usually my songs start with a question like 'what do you do?' they never start by making a statement, it's almost like a sense of discovery with me with songs, but just getting better to answer your question.
I recently spoke to Matt of The Bronx and saw you produced their first album, and have continued to produce and engineer bands throughout your career, what's it like putting on the producer hat compared to being an artist?
*laughs* Well you know it's funny and that's a very good question because I've been not struggling with it but I had to make a couple of executive decisions on this one. When I do put on the producer hat and I usually say when I'm producing a band my job is to give you the ideas that you didn't think of, that's my job, I want to bring in the extra ideas, things that you didn't think of as a band and try to make it as good as we can, so when I'm doing my stuff it's really task driven because it's always in my head beforehand, when I write a song I've already got the drum beat, I've already got the guitar part the bass part, it's just the way that I'm built, I'm just an arrangement freak it's like I hear all the stuff so I start doing it. What's really nice is when I get the contributions of a drummer or a bass player or a background singer and they always bring these great ideas and they're always my favourite part of the song when they can bring in the ideas. I always wonder if I had more collaboration that they would be better records you know? It's just the way I am, I just get in there and I attack it.
I always like to ask when people have worked with Butch Walker, and you worked with him on the Supanova project…
Oh Butch is the best! *laughs* Now talk about prolific *laughs* I mean Butch is just one of those greatly talented guys, not only can he write, play guitar, perform, sing, but man he sings so well so most of are restricted with what we can do, I'm certainly restricted on my records by what I can sing, but someone like Butch there's nothing he can't do you know? It just blows me away, every one of his songs is good *laughs* you never hear any clunkers in there you know?
Did he give you any tips as a producer that you picked up and now use?
Wow, you know that's interesting, let me think about that. You know now really, I mean we definitely worked well with each other because we were on the same page a lot, we didn't really bump heads at all we were definitely on the same page. I think what was odd for him was when we were working together you know he's a guitar player but in that band I was the guitar player so he would have an idea and he said "OK here's the idea" and he had to wait for me to do it when I'm in that position all the time *laughs* like I give somebody a guitar idea and I've gotta wait for them to do it when you know you can just knock it out in a second. You know I've worked in his studio too and like I said I don't know if he's really shown me any new things as much as we were really always on the same page together.
Is there one piece of advice you were given when you started playing music that you've maintained and has stuck with you throughout the years that you still go back to to this day?
Interesting, yeah, it was be yourself, very, very early on I got some good advice of just be yourself, don't try to imitate other people and stuff, make sure you carve your own niche, and when I got the call for the GnR gig, that was a real strange thing for me, because number one I was just starting my own thing we just made the 'Kill for Thrills' record and I was just about to start a second one and I was just starting to make my niche when that choice to join a huge band *laughs* and when I got that call, replacing Izzy was a big job to do, Izzy was an extremely important part of that band, and we all are kind of the same guy we all have that Stone influence, some people could even say we look alike and stuff but it was really important for me to be myself and I had to make that decision. Look I'm gonna be myself I'm a little louder than Izzy and they're either gonna like it or they don't but you know what? If I'm gonna go down I'm gonna go down being myself, and I went the long way around the question but that's it.
Speaking of Guns N Roses, next year will be 25 years since you were in Australia with the band, now I was at the Calder Park gig in Melbourne and it was amazing, what do you remember about that tour?
Wow, I mean I have a lot of great memories about that tour, I mean number one my wife got to go with me and we spent like a week up in the Cairns area and went to some wildlife habitats so I have a lot of stuff off the music thing there that I really enjoyed. I think we met some really nice people that almost had nothing to do with Guns N Roses that would show us around town and stuff like that and Bondi beach and I just got that feeling that people were genuine there, they all had like good hearts and they just wanted to have a good time and it didn't matter that we were in a famous band or not.
Over your career you've done a lot so far but is there anything that tops your list of things to do you haven't yet had the chance to do?
Oh yeah there's so many thing, I really like and we've been doing this thing with Kings of Chaos and there's another band here called Royal Machines which are kind of like all-star bands and I've really been enjoying it because you really get to work with some great artists and you really get to be yourself and some of these guys that don't really know you, I always feel like in Kings of Chaos I'm always the low guy on the ladder there which is OK but when I get to work with Billy Gibbons and get to sit down and play guitar with just Billy Gibbons and talk to him and hear his great stories about Jimi Hendrix and Jeff Beck I mean these are things I really, really enjoy doing. I never wanted to be guitar for dollars but I really like those kinds of collaborations, I mean I don't know anybody that would say they didn't want to do it *laughs* but those are things I really enjoy doing and hope to do more of.
Lastly let's look ahead to the future, finish this sentence for me, in 2018 Gilby Clarke will…
Wow, will be back on the charts *laughs* I don't know what charts but I want to get back on the charts, I'll have a new record and I want to be back on the charts again.
Gilby Clarke Australian Tour Dates
Thursday 30th November – Crowbar – Brisbane
Friday 1st Dec – Cherry Bar – Melbourne
Saturday 2nd Dec – The Basement – Canberra
Sunday 3rd Dec – Frankie's – Sydney
With the final show at Frankie's in Sydney being a huge party in celebration of their 5th birthday. – FREE ENTRY
Tickets on sale now via: www.hardlinemedia.net
VIP meet and greets available
Once in a lifetime chance to get to meet an important member of from Guns N Roses history.
Watch soundcheck
Meet Gilby
3 personal items signed
VIP laminate
Tour poster
Only 20 VIP available at each show
Essential Information
From: Los Angeles, CA, USA
Website: http://www.gilbyclarke.com