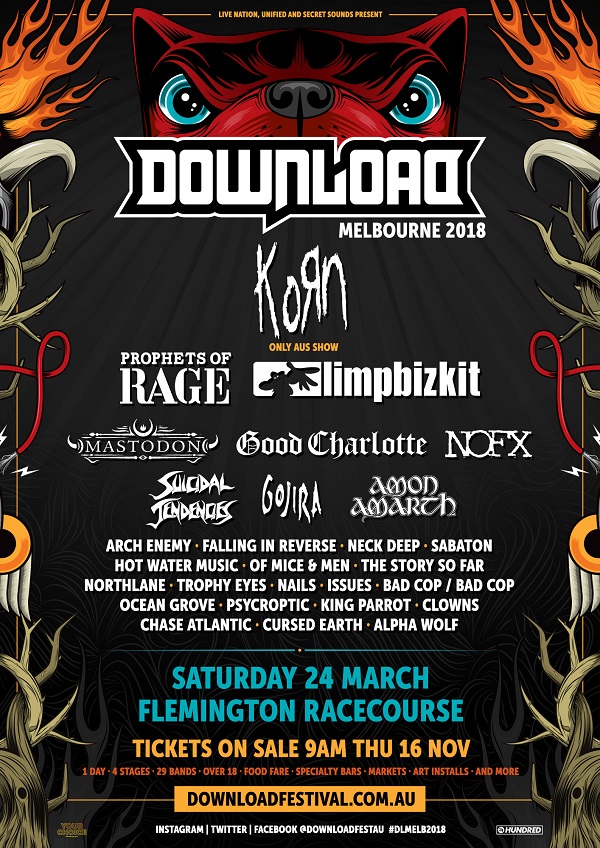 Melbourne Saturday March 24, 2018 
Flemington Racecourse
Optus Perks Presale: 9am (AEDT), Monday 13 November – 9am (AEDT), Tuesday 14 November
GP On Sale: 9am (AEDT), Thursday 16 November
www.downloadfestival.com.au
  Download is an 18+ fully licensed event
Korn (Only Australian Show)
 Prophets of Rage | Limp Bizkit
Mastodon | Good Charlotte | NOFX
Suicidal Tendencies | Gojira | Amon Amarth
Arch Enemy | Falling In Reverse | Neck Deep | Sabaton
Hot Water Music| Of Mice & Men | The Story So Far 
Northlane | Trophy Eyes | Nails | Issues | Bad Cop / Bad Cop
Ocean Grove | Psycroptic | King Parrot| Clowns

 Chase Atlantic | Cursed Earth | Alpha Wolf
The world's premiere rock and metal event is set to hit Australia for the first time with a tsunami of international and local acts flooding Melbourne this coming March. Fifteen mammoth years in Donington UK, the spiritual home of rock, two years complete in Paris France, one year in Madrid Spain, and now… we are beyond stoked to be rolling out the welcome mat for Download Melbourne2018.
News that is sure to slap a smile across the face of heavy music fans across the country, pure rock fury is set to burn through Flemington Racecourse this Autumn, twenty-eight bands, across four stages, in one day! Ice cold beer, great food and an endless crew of heavy music fans!
"It is a great honour and very exciting that we are bringing Download Festival to Australia. Since the inception of Download UK in 2003, we have been looking for other territories to launch the festival and having successfully found a home for Download in France and Spain, we felt that the next country had to be Australia. Many rock fans from Australia have been in contact with us asking us to bring the festival to them – we have finally heard their calling and I cannot wait to put Download Australia on the map!" Andy Copping Download Founder
"When it comes to festivals, heavy music fans have had little option of late, with Download recently expanding from its Donington stronghold, into Paris and Madrid, it seems like the perfect time for it to storm down here. Starting with a single day event in Melbourne with the intention to grow it at a sustainable pace over the coming years, to a nationally touring festival for the long term. We have 28 bands in total, 1/3 of those are Australian. We are really excited to have the Australian artists on the line up for Download Melbourne, Oz heavy acts are drawing a lot of people both here and overseas so we are happy to be able to showcase that strength." Nigel Melder Download Melbourne Producer 
Rumors in 2016 of an imminent Australian tour announcement for 2017 from 2-time Grammy winners, Californian alt-metal heavy weights Korn, sent fans into a spin, and we are excited to confirm they will return for the first time in four years for one show only- an Australian exclusive to kick off the inaugural installment of Download! Since 1993, Korn have been obliterating preconceptions of the parameters of alternative and metal, spiked with rhythmic influences, bagpipes, and brutally honest, at times uncomfortably raw lyrics. They initiated one of heavy music's most profound paradigm shifts in history. Their 1994 self-titled debut LP has been hailed as the most important metal record of the past 25 years.
The band has released twelve studio albums, countless platinum and multi-platinum releases, all of which have charted in the top ten of the Billboard Charts. Their most recent LP 'The Serenity of Suffering' released in 2016 debuted at #4, saw them dive back into their weighty beginnings, serving up some of the heaviest tracks fans have ever heard from Korn and reaffirming, Korn are still the unparalleled masters of alt-metal.
Tom Morello, Tim Commerford and Brad Wilk of Rage Against The Machine, Chuck D and DJ Lord of Public Enemy, and B-Real of Cypress Hill have lived the resistance from day one. They are beyond being just a band, they are a counteroffensive —  they are Prophets of Rage! An elite task force of revolutionary musicians here to wake us up, encourage us to question everything, find our voice and fight for our rights. All served on a soundtrack of furious rhythm and rhyme. It's no surprise that in the midst of 2016's tumultuous election, the revolutionary musicians would join together as Prophets Of Rage to combat the incoming storm. We welcome them to Download for their first Australian show. A pummeling live set that will feature tracks from their album, as well as a range of tracks from the back catalogues of the aforementioned bands!
Limp Bizkit what can we say, still one of the most fun and entertaining live bands from America. After 22 years and going stronger than ever, Limp Bizkit will carry their rap-rock torch loud and proud all the way to Download Melbourne 2018. Songs like 'Rollin', 'My Generation', and 'Break Stuff' will have everyone going full throttle. You are not going to want to miss this special appearance.
Since forming back in 2000, the mighty Mastodon have certainly made the most of their time. Performing everywhere from Coachella and Bonnaroo to Download and Sonisphere and nearly every major festival in between, they've headlined legendary venues such as Red Rocks and sold out shows around the globe. Their epic sets of cerebral metal casting dark shadows over pop culture, bridging the gap between hard rock and mainstream, thanks to their progressive instrumentation and multi vocalist delivery. Mastodon received 'Best Hard Rock/Metal Performance' GRAMMY® Award nominations in 2007, 2014 and again in 2015 and landed like a nuke on the set of Jimmy Kimmel Live for a performance earlier this year! These Atlanta natives are the cool kids of metal; fans adore them, critics applauded them and their musical peers wanna be them!
Formed in the mid-90's, Good Charlotte have six albums and two collaborations under their belt. The band was integral in establishing a global critical mass for the pop-punk genre. The group's 2000 self-titled debut laid the foundation with the singles 'Little Things' and 'Festival Song'. Then in 2002, the breakthrough success of The Young and the Hopeless catapulted pop-punk into the stratosphere and set them on the path to worldwide superstardom. The group followed with multi-platinum albums including The Chronicles of Life and Death (2004) and Good Morning Revival (2007). Following their release Cardiology (2010), the group needed to take a breather. In November 2015, Good Charlotte released a video for the song "Makeshift Love", a classic anthem that unabashedly screams early 2000's. Now, after the release of their new album "Youth Authority" on MDDN July 15th, 2016, and tour dates around the world in fall 2016 and 2017, Good Charlotte are ecstatic to get back to their true purpose and continue sharing their music.
Birthed over a sandwich at Fairfax High in 1983, the reigning Californian kings of punk rock, NOFX are one of the most successful independent acts of all time. Successively spanning the scale between hardcore 90's punk and vicious reggae, NOFX have remained relevant all this time by continuing to push the boundaries of their music, lyrics and good taste in a way that's as endearing as it is infectious. When punk rock catapulted into the mainstream in the mid-nineties, NOFX skated that wave right into the mass populous, thanks to their 1994 LP 'Punk In Drublic', all the while keeping their feet cemented in the underground subculture who first embraced them. In the past 34 years, they have gone on to release thirteen studio LPs, including their most recent, 'First Ditch Effort' 2016. After battling skinhead punks in the eighties, major-label executives in the nineties and George W. Bush in the early 2000's, NOFX are finally ready to enjoy the success they've been too preoccupied to embrace in the past… and it's turning out to be pretty exciting.
The god fathers of crossover thrash, Suicidal Tendencies have been serving up their fast
hardcore punk since 1980. An ever-changing line up that remains intimidatingly tight, these Californian's have released thirteen studio records over the past three decades, touring relentlessly around the globe becoming more intense, and more immense as the year go by! Mike "Cyco Miko" Muir will land in Australia joined by, Dean Pleasants, Jeff Pogan, Ra Díaz, and ex Slayer drumming genius Dave Lombardo.
Musically, French quartet Gojira gracefully swing between quaking and quivering guitars, mind-bending percussion, chillingly elegant melodies, and cosmic atmospherics. The band has always dealt in extremes, uncovering light in darkness and finding beauty in heaviness. Since their 1996 beginnings they have made their mark as one of the paramount metals bands of this generation.
Amon Amarth have been marching purposefully from triumph to greater triumph for the last two decades. Formed amid the fertile Swedish metal scene in the mid 90's, these dedicated diehards brought a new sense of drama and destruction to the world of heavy music, propagating tales of Viking mythology and mortal combat over a devastating soundtrack of crushing rhythms, refined melody and rousing, rebellious refrains. Their latest album, Magma debuted at #11 on the ARIA chart!!
Sweden's Arch Enemy are one of the most explosive and proficient metal bands of modern times! They have spent the last 20 years propagating an unerring creed of technical excellence, songwriting genius and thunderous, irresistible live performance, accruing a huge global fan base along the way since their inception in the mid 90's.
Vegas rock gods Falling In Reverse walk that fine line between genius and insanity, self-seriousness and self-deprecation, implosion and explosion! The five piece have built a fanatical fan base off the back of the ridiculous vocal range of frontman Ronnie Radke and their enigmatic, unrelenting live shows that are nothing short of spectacular!
Wrexham pop-punks Neck Deep's trajectory of the last half decade has been, seemingly, one of unbridled success. Comprehensively the most successful British band in the history of their genre, and with an average age of just 23, they have risen – at a pace so head-spinning it nearly snapped necks – to become the zeitgeist capturing band of their generation and scene.
Our favourite Swedish war machine Sabaton are on their way to worldwide heavy metal domination, these platinum selling  these platinum selling, Falun-based heavy metal heroes are headlining to Download, no mercy will be given and all guns will be blazing, when this tireless killing machine will blow fans to another dimension!
If you have any love in your heart for beefy and unpretentious punk rock, Florida's Hot Water Musicare your band! They have remained a vital and increasingly relevant part of the punk landscape for the past twenty-five years, thanks to their no-frills approach and ability to balance their formative punk-rock grit with an engagingly catchy melody.
Of Mice & Men have hit No. 1 on Billboard's Rock and Independent Charts and No. 4 on the genre-spanning Top 200. They've racked up over 153 million Spotify streams, 20 million YouTube views and close to 5 million social media followers. They've played hundreds of shows for packed-house-crowds around the world, released four studio albums to critical acclaim, and recorded tracks that have blanketed rock radio airwaves. Their sound has broken through obstacles of language, distance and culture. Of Mice & Men have accomplished all that and more over the course of a mere eight years!
The grassroots, back-to-basics authenticity of The Story So Far is a blast of renewing fresh air! Their refreshing, energetic and impressively honest take on hardcore-infused pop-punk music propelled them to the cover of the 2013 Alternative Press 100 Bands You Need To Know issue, to the enduring subcultural benchmark the Vans Warped Tour, and into the hearts and minds of listeners.
Sydney five-piece Northlane are an ARIA award-winning, chart-topping metal band shaping into one of the most successful Australian heavy music exports ever, with critics drawing comparisons to established acts like Linkin Park and System Of A Down. Their latest LP, Mesmer, was released in March 2017 with no forewarning and has been streamed 10 million times since.
Trophy Eyes are known for their raw emotion, depth of introspection and courage whilst at the forefront of a new wave in alternative rock. The Novocastrian five-piece have been amassing a dedicated and rapidly growing fan base across the globe after their critically acclaimed release 'Chemical Miracle' debuted in the top 10 in late 2016, selling out headline tours and crashing festival stages worldwide ever since.
California's Nails have parlayed their influences into a ruthless, no compromise explosion of sound, where speed and groove fight for supremacy. Their caustic, take-no-prisoners grindcore tunes have earned them the reputation of being the angriest band in hardcore!
Issues broke big by infusing their metal-punk hybrid with pop-perfect melodies and the heavy rhythms of hip-hop and R&B. With their crushing guitar riffs, commanding vocals, and brutally intense drumming, the Atlanta five piece throw out an untamable energy that's nothing short of exhilarating.
Los Angeles quartet Bad Cop/Bad Cop are on a mission to make the whole world feminist with their aggressive pop punk, and the world is listening, they don't have a choice, these boss ladies are driving their political soaked message home hard with humour laced ferocity.
Ocean Grove take us on a breathless trip through a 90's nostalgia that visits the best of the Beastie Boys, Silverchair and Korn, these Melbourne kids nabbed a triple J feature record on their debut 'The Rhapsody Tapes', that has been hailed as one of the great heavy records of 2017!
Isolation can often result in unique outcomes, Psycroptic hail from the tiny, frosty, untamed and detached Australian state that is Tasmania, and have become an unparalleled act in an enigmatic worldwide movement commonly known as death metal!
Melbourne's unhinged extreme metal villains King Parrot deliver blistering upper-cuts of thrash punk chaos that will leave you dazzled by the road-side, ravaged and aroused, wondering what the hell just hit you!
Insubordinate instigators of madness, Clowns are bad ass motherfuckers from Melbourne manufacturing distortion drenched punk laden power pop, they are coming to kick your arse and ruin your life!
Chase Atlantic are a trio of brothers and one longtime friend who produce, perform, and passionately conjure up dark alternative pop punctuated by rock and R&B! These Aussies blur the lines between a nocturnal aesthetic and primal bliss!
Cursed Earth are Perth's most unrelenting metal band! They have been on a fast-upward trajectory since their inception in 2014, Metal Hammer dubbed them a "jaw-dropping edition to the new school of unrelenting hardcore"!
Taking the heavy riffs of their downbeat and deathcore contemporaries, mixing that with the groove of the current wave of nu-metal bands, and adding a melody that completely their own; meet Melbourne'sAlpha Wolf!
TICKETS TO DOWNLOAD 
downloadfestival.com.au/tickets
Max tickets per transaction – 10
Payment methods – VISA and MasterCard
downloadfestival.com.au/tickets
Optus Perks Presale: 9am AEDT, Monday 13 November – 9am AEDT, Tuesday 14 November
GP On Sale: 9am AEDT, Thursday 16 November
Ticket prices:
GA – $169.90 + booking fees and credit card charges
RIP – $289.90 + booking fees and credit card charges
Optus Perks Presale www.optusperks.com.au/events
Optus customers can grab tickets first with the exclusive Optus Perks Pre-sale, running from 9am (AEDT) Monday 13 November to 9am (AEDT) Tuesday 14 November. Login to Optus Perks or click on "Perks" in the My Optus app to secure your tickets before they go on sale anywhere else.
2018 EVENT INFORMATION: 
March 24th Flemington Racecourse 18+ event
EMBED + LISTEN TO THE 2018 LINE-UP PLAYLIST: 
<iframesrc="https://open.spotify.com/embed/user/downloadfestau/playlist/05e0VyQ7Aa8DdtSWAdg8jJ" width="300″ height="380″ frameborder="0″ allowtransparency="true"></iframe>
DOWNLOAD APP: 
App Store for iOS = http://bit.ly/DLMELB2018_iOS
Google Play Store for Android = http://bit.ly/DLMELB2018_Android
TRANSPORT: 
Flemington is the home of Australia's largest sporting and entertainment event – The Melbourne Cup Carnival. Flemington has hosted some of the largest one day music Festivals to hit Australia including Soundwave, Big day and Future.
Flemington is only six kilometers from Melbourne's CBD and is easily accessible by car, taxi, train, tram, helicopter or ferry.
By train
Trains run throughout the day, departing from Flinders Street Station, stopping at Southern Cross and North Melbourne Stations before arriving at Flemington's.
Travel time is approximately 15 minutes.
By tram
The No. 57 tram runs from the corner of Elizabeth Street and Flinders Street directly to the Flemington Racecourse main gates.
Travel time is approximately 30 minutes.