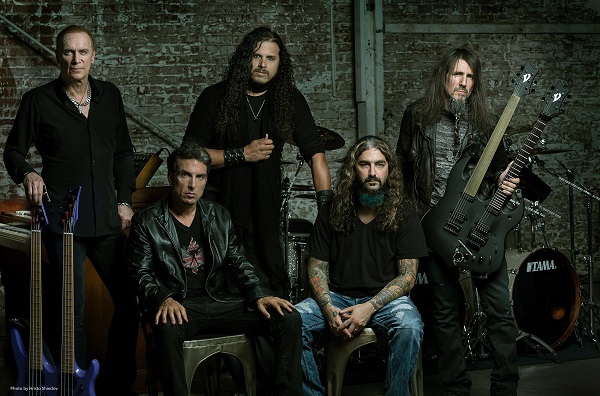 "We knew once the record came out that people would really hear that we're a rock band, that this record is primarily based in hard rock and classic rock but we have these progressive rock moments and you can hear the virtuosity throughout…"
From Release: The new supergroup featuring members of Dream Theater, Mr. Big, Guns 'N Roses, and Journey. For the past few months, rumours have been circulating about a new secret project including former Dream Theater members Mike Portnoy and Derek Sherinian. Now, the time has come to make the grand and highly anticipated introduction to their new band, SONS OF APOLLO. Reuniting to form SONS OF APOLLO, Portnoy and Sherinian have joined forces with Ron "Bumblefoot" Thal (ex-Guns N' Roses), Billy Sheehan (The Winery Dogs, Mr. Big, David Lee Roth) and Jeff Scott Soto (ex-Journey, ex-Yngwie Malmsteen's Rising Force). Their debut album, PSYCHOTIC SYMPHONY, is out now!
In Los Angeles, California sitting by the pool Derek gave us a call to talk about his killer new band, Sons of Apollo, their debut album, sound, the band, touring, and much more.
You've just released your debut album, what are the feelings like for you around album release time?
Man, the buzz and energy around the world has just been amazing and we feel it every day online and just from everyone we talk to is very excited about this record, we knew we made a great record but to see it resonate so quickly. Like we put out our second video four days ago and it's already at 100,000 views and our other video we put out a month ago is already at 800,000, so those numbers are great, you can really see that people are talking and we just can't wait to bring this out on the road in 2018.
When you're essentially introducing a new band to the world what's the process like putting together the songs that people will use as their introduction to Sons of Apollo?
Well you have to think about strategically, our sound we kind of cover a lot of different ground so there's a few different ways to go but we felt like we wanted to come out with 'Signs of The Time' which is progressive but it also heavy and straight ahead at the same time so we thought that was a good mix of our styles to put out. Then for our first video, 'Coming Home' is the most straight ahead rock song that we wanted to come out strong with a strong song visually for that video. So yeah, we put some thought into it, and everyone had their preconceptions from those few songs what does the rest of the record sound like? We knew once the record came out that people would really hear that we're a rock band, that this record is primarily based in hard rock and classic rock but we have these progressive rock moments and you can hear the virtuosity throughout, but the sections that we put in are very strategic and we called it and feel that we've mastered the art of 'strategic wankery', so we don't ruin the songs with just crazy playing, we put it in the right spot.
 'Coming Home' is an absolute monster, it's been stuck in my head for weeks, when you hit that groove what was the feeling like creating one of the catchiest songs I've heard in years?
Yeah so I had the intro riff and then I couldn't figure out where else to go with it so I brought it in to the studio and then Bumblefoot all of a sudden came up with that main killer riff, I go "Bam that's it" as we kept writing I had that cool section of the breakdown and then that's it, and the B section as well, so that was a great collaboration and it just goes to show you that you can have some great parts but if you can't find that other great magical section it's always great to have a writing partner or partners that can chip in and complete it. That's the beauty of song writing and collaborating.
What I love about this band is every one of you guys has been in multiple bands and involved with different projects, did this make it a somewhat easier process making an album with that much experience in the room?
Well you said it, this band has octopus pedigree, we've run out of arms to list the major credits for all the members in this band, I think that really plays into the chemistry in that we all have a deep respect for each other we all have very common tastes and we all have common work ethics, we work hard and we have big dreams and we really believe in this record and we're committed to bringing this to the people. We've cleared our calendars for 2018 because we know that this band has the biggest potential to do something great rather than any of the other things that we're involved with, so we feel that the future's bright and we're very excited.
Playing together with Mike and Billy previously was it a challenge to find the right voice and guitar for the band?
Well Mike was the one that suggested Bumblefoot because he's worked with him before, and once he put down the guitar on day one in the studio I knew he was the great and perfect choice and perfect guy for this band. He has a great background in hard rock and classic rock but the guy is an amazing virtuoso and just like a freak of nature on guitar, super, super skilled and so it was on, man. We wrote an album in ten days and we just moved full steam ahead, we had a lot of starting point stuff demoed up and song sections that I accumulated and Ron did the same thing once we got into the studio we just listened down and picked the best stuff, moved forward, finished the song structure and went on to the next song and just went down the line like that. The second phase was after we did the music in those ten days then we got together with Jeff and worked on the lyrics and the melody lines and Jeff had a lot of pressure because the music was so killer that we needed to make sure that the vocals were on the same standard and Jeff did an amazing job.
You mentioned you've cleared your calendar for next year, so when do you think we might see you in Australia?
The tour is being booked right now and Australia is definitely on the radar, we don't know the exact time yet but it will probably be later on in the year when we play Japan because we do all that in one swoop so it might be in September or October, but definitely we will be down there.
Is there one piece of advice you were given when you started playing music that you've maintained and has stuck with you throughout the years that you still go back to to this day?
I always form the very beginning I made sure that I'm playing the music that I love the most and I would rather fail, if I'm gonna fail I'd rather fail playing the stuff I love rather than try to play something that's not me and try to chase trends, and so I try to just keep it real and I really believe, and I would say this to any musician, just honour the sound that's in your head and don't deviate. Sometimes we have to play gigs in order to get by but never lose that sound that's in your head, always be working on your playing and always work on your song writing and don't ever get stagnate, I've seen it happen to 98% of the guys out here, professionals that are in famous bands.
Technology wise, how have you as a player adapted to the ever changing technological advancements?
Not really that music, I mean I use my Hammond B3 which is 1962, I use a lot of old keyboards and vintage keyboards on this record and so I have a nice mix of old school sounds and I have some newer keyboards, I have the new Korg Kronos Which I've been playing forever but everything else is old school, pre 1982.
So new Keytar's in the mix?
No keytars, no apps, no iPads, everything is pretty much old school and straight ahead. Oh and the two new keyboards I play oh the Nord Lead 3 I say it's new but it's eighteen years old now but that keyboard is something I use a lot, and then I use a Korg for a lot of the modern and eerie sounds. Other than that, man, Hammond B3, Mellotron, it's pretty basic. Another big thing is I run through amps, my Nord for my lead sound I'm going through a Marshall half stack and I'm going through pedals, then for me Hammond I'm also going through Marshalls driving the Leslie, there's just a sound when you're playing with distorted guitars as a keyboard player you can't make the band sound cheesy by using fakery and these cheesy sounds and you can never go wrong with a  Hammond B3, if you listen to Jon Lord Deep Purple that's what made him the greatest because he knew how to play with distorted guitars and I try to follow in that same spirit, and not only with the B3 but with distorted analogue or virtual analogue and going through guitar amps and it really pushes air, you just can't get those sounds through an iPad or an app or any kind of digital stuff, you really need to go through the speakers.
It's by far the chunkiest keyboard sound I've heard on a record in a long time and I got confused if it was a guitar at one point, it was amazing.
Me too and I go 'oh that's me' and I forget that it's keyboards *laughs*
Over your career you've done a lot so far but is there anything that tops your list of things to do you haven't yet had the chance to do?
I mean I'm very so thrilled that Sons of Apollo is finally taking root and I can't wait to bring this out, but one day I would love to play with Jeff Beck, or Brian May, or David Gilmour, or one of those heavyweight guys, or all three of them would be awesome.
I know you were on the Generation Axe tour you were out on, and man that was pretty impressive.
That was an amazing experience, one day I was sitting by the pool and I got three phone calls in twenty minutes, one from Zakk Wylde, one from Steve Vai, and one from Yngwie Malmsteem all asking me to do this tour and I figure when heavyweight guys like that call you and ask you to do something like that you don't say no, so I made myself available and it was like right after we finished recording Sons of Apollo I went right away and did that tour and it was just amazing playing with all of those heavy hitters in one night.
Lastly let's look ahead to the future, finish this sentence for me, in 2018 Sons of Apollo will…
Tour the world, hopefully twice and bring this five ring circus spectacle to the people.
Essential Information
From: USA
Band members: Mike Portnoy- Drums, Derek Sherinian- Keyboards, Ron "Bumblefoot" Thal-Guitar, Billy Sheehan- Bass, Jeff Scott Soto- Vocal
Website:  http://www.sonsofapollo.com
Latest release: Psychotic Symphony – (Out Now – Sony Music Australia)