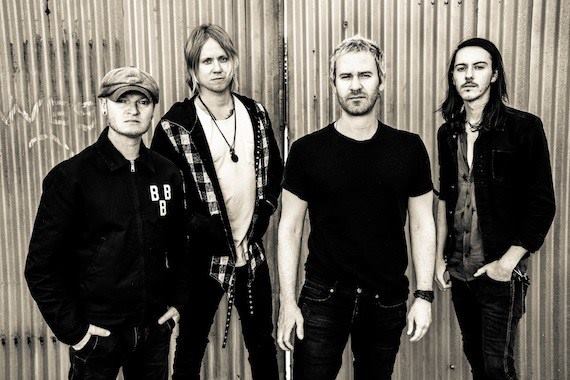 "…we don't try and recreate the first record over and over again, we try and grow but we definitely feel fortunate that if you hear a Lifehouse song you'll know that it's Lifehouse, and that's a good thing for us."
From release: Los Angeles-based Lifehouse broke through in a big way when "Hanging by a Moment," from their debut album No Name Face, spent 20 weeks in the Top Ten and won a Billboard Music Award for "Hot 100 Single of the Year." Since then, the band has released six more albums, sold over 15 million records worldwide and spun off such hit singles as "You and Me," "First Time," and "Whatever it Takes." Their newest 'Greatest Hits' album showcases all the songs you love, and more.
In Los Angeles and just finishing up rehearsals, Bryce gave us a call to talk about the band's return to Australia, Greatest Hits, changes, advice, and much more.
You're heading back to Australia to see us, what can people expect at a Lifehouse show circa 2017?
Well we've been a band for seventeen years we've had seven records and we've been touring pretty much non-stop since we've been together so it's kind of be a conglomerate of our singles and a lot of songs that we really like to play live that go over well live, we're really prideful of our show and we put a lot of energy into it, and we just released a Greatest Hits, so we kind of know what our audiences are expecting to hear and we'll have a set that's kind of tailored towards our Australian audience. So it's gonna be high energy and a lot of fun.
You were last here in 2015 and had such a great reception in fact you played my favourite show of the year that year, what was it like getting so much love on that tour?
Oh that's awesome, thanks for saying that, my man! We had a blast, that tour in particular was really special to us because we had a summer tour lined up in The States and that fell through for some reasons, and so we went on this worldwide tour and Australia was a blast for us. It was our first time there for a long time, probably since the early 2000's and were just overwhelmed with the reception from Australian fans, we feel like with social media and the way that the industry is now with digital marketing that a lot of people from Australia have still been following us and our career even since our big record 'No Name Face'. So really overwhelming, fun crowds and we're looking forward to coming back.
So what are you most looking forward to about coming back to Australia?
Well we have a lot of Australian friends, there's a lot of Aussies in Los Angeles and we're pretty familiar with the culture, we're going to the three biggest cities, Brisbane, Melbourne and Sydney and I'm gonna be staying a few extra days I got an Air B&B at Bondi Beach and that's gonna be a blast. The last time I was there I drove the Great Ocean Road all the way to the Twelve Apostles that was really fun. My parents were there in the 70's and they drove all the way to Darwin and Ayers Rock (Uluru) and that's gonna be my bucket list for the next time I go but I think on this tour because we have such a short period of time we'll be driving but I'm just looking forward to the good weather and being a Bondi for a bit.
You mention before that Australia has stuck with you a lot, and a song of course like 'Hanging By A Moment' is still played on radio to this day, coming in to the band after its release, what was it like being part of a band with a song that is almost now timeless?
Yeah you know it's funny, that song has just stuck through the ages, and another song that was really big for us was 'You and Me', and in Australia I think our biggest record was 'No Name Face' that had 'Hanging By A Moment' on it and every time we play that song live people are asking us like do we get tired of playing a hit song, but every time we play it we get that reaction from people that song resonates with and they have a connection with. So we're really grateful and lucky that our first single that we ever released was our biggest and we continue to play it at every show but we don't get tired of it. *laughs*
You talk about the Greatest Hits, but in terms of new music it's been a couple of years since 'Out of The Wasteland', are there any plans for new material any time soon?
You know, people have been asking us that because we just completed a big co-headlining tour with Switchfoot in The United States and it went really, really well and since we did that tour Jason and the rest of us have been talking about writing for a new record, we don't know if it's gonna be a Live record or a full record, but we're gonna start the writing process. Us putting out this Greatest Hits release isn't the final chapter, we're definitely keeping things going.
In your now thirteen years with the band how if in any way has the creative process changed for you throughout the years?
It's just naturally kind of grown, it's taken a bunch of different directions, the one nucleus of the band obviously is Jason's voice and his song writing style is very unique in the fact that he writes Lifehouse songs to its kind of most accurate conclusion, but as a far as the creative process goes I'll write a song here and there and get them on records and he'll bring it into the studio and Ricky and I will lay it down. Throughout the years the music industry has changed completely with electronic elements that come in here and there and we're always aware of what's going on in the world with other music and we kind of adapt to the creative style appropriately but we try not to push the envelope to adapt to what's hot at the moment, we try and keep things as timeless and true to ourselves as artists as we can. I think we're gonna continue to do that as things go, and we don't really force anything, like we'll go into the studio and we won't force a sound or force a direction, we just kind of do like a Ouija board we all just put our hands in and just see where the music takes us.
So as you said obviously things change over time, but what would you say is the one thing that's stayed the same over your time making music with Lifehouse?
Wow, I mean our fans and the connection to the music that the fans really bring we're super grateful to have that, we're at a point right now where our fanbase is very diverse, we have older and younger generations, men, women and a lot of people come up to us with stories about how the music affects their lives in a positive way, or they've gotten through hardships, and not a lot of bands are lucky enough to have that connection, so our fans have definitely stayed consistent. Jason's voice has stayed consistent, you know he doesn't have the Johnny Cash 'Black album' type voice yet *laughs* we don't try and recreate the first record over and over again, we try and grow but we definitely feel fortunate that if you hear a Lifehouse song you'll know that it's Lifehouse, and that's a good thing for us.
I was lucky enough to see Lifehouse support Bon Jovi in 2002 in London…
NICE!
You've joined the band since then but has there been a moment for you that has stood out as an amazing moment that sticks with you?
Yeah it's been a blast, lie I said the first record that I wasn't there for 'No Name Face' was our biggest especially in Australia that one was really big, then the second record I also wasn't there didn't have the same commercial success, really great album with the fans and really shifted the momentum of the band and they were kind of dubbed one hit wonders at the time, I remember when I joined they were on Much Music countdown for one hit wonders. I joined at a good time, their bass player had quiet him and Jason had some differences and I got involved and we put out the 'yellow' record that had the song 'You and Me' on it and I'm not sure how it did in Australia but worldwide and in The United States it did really well so I kind of got to experience a band that was kind of breaking again because we were playing smaller clubs and we went to large theatres and we had all this attention. That was really overwhelming for me because I'd never been a part of something that had done that well, we really connected and bonded through that and there have been peaks and valleys along the way but that's a part of life and growth and we are still together after this amount of time it's such a blast to be able to continue doing it.
Is there one piece of advice you were given when you started playing music that you've maintained and has stuck with you throughout the years that you still go back to to this day?
Yeah absolutely, I think the main, key component is to get into it for the right reasons, a lot of people get into music because they just want to have that talent notch under their belt as like "Oh I do music" but the biggest thing is you have to really love it, get in for the right reasons, get into it for an expression of yourself, an artistry and try not to do it for ego. Oh and if you're going to get in a band, try and get in a band with people that you really like and care about because you're gonna be with them, you're on stage 10% of the time and 90% of the time you're hanging out so you wanna make sure you get along. You just have to really enjoy the process because you're never gonna make it overnight, it's gonna take time and The Beatles put in their ten thousand hours before they were big as they say, so just enjoy the process and that's kind of a key component to success is fulfillment in making the music.
Lastly let's look ahead to the future, finish this sentence for me, in 2018 Lifehouse will…
*laughs* Be touring and making music.
LIVE TOUR DATES with special guests Lifehouse and The Calling:
November 15: The Riverstage, Brisbane QLD
November 17: Sidney Myer Music Bowl, Melbourne VIC
November 18: Roche Estate, Hunter Valley NSW
Essential Information
From: Los Angeles, CA, USA
Band members: Jason Wade – Vocals, guitar, Bryce Soderberg – Bass, Ricky Woolstenhulme, Jr. – Drums
Website: https://www.lifehousemusic.com
Latest release: Greatest Hits – (Out Now)