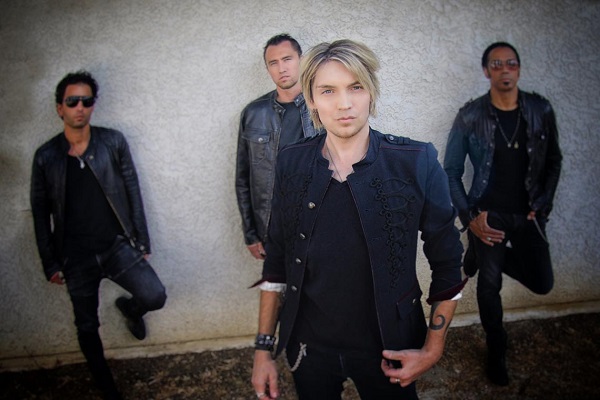 "…so for me I'm still here and I'm still writing and creating the music that everybody fell in love with from the beginning. It might sound more up to date, it might sound different a little bit but for the most part they're big songs you would hear in stadiums, they're anthemic, lots of big songs and just a lot of emotion, a LOT of emotion."
From Release: The Calling saw massive international success with the debut album release of Camino Palmero in July 2001, which has now sold over 5 million copies worldwide. Their debut single Wherever You Will Go remains their most renowned and successful hit, topping the Billboard Adult charts for 23 weeks, making it the second longest running number one in the chart's history.
In his studio rehearsing Alex gave us a call to talk about The Calling's return to Australia, new music, the absolutely amazing journey he's had to get here, and much more.
You're heading back to Australia to see us, what can people expect at a Calling show circa 2017?
You can expect us to look older *laughs* no I'm joking, we actually still look young. I would say for me the biggest difference is even though we'll be playing mostly on this tour old songs and only a couple of new songs, you're gonna hear a huge evolution in the sound of everybody, even me and my voice, just the amount of time I've spent honing my own craft. Whether it be playing instruments or just singing I've really found my voice and how to use it better and how to reach even higher notes and lower notes. We really rock live *laughs* it brings the songs which people know from recordings that were made sixteen years ago on two inch analogue tape to a grandiose scale. So it's exciting, it puts excitement in each song I'll sum it up like that.
You were last here in 2002, what do you remember about that tour some fifteen years ago?
I remember it was gorgeous obviously, I had been to New Zealand but I'd never been to Australia at that point and it was extremely exciting to see what a lot of people said is the combination of England and America in a way, I hope that's a good thing *laughs* and throw in just the beauty of the country, just the land too. We did have one day off too to explore it was too short that was the only thing, but the people were great and oddly even though I toured for many years later to over a hundred countries we never went back so we're really overdue.
I was at that show in Sydney, it was amazing.
*laughs* Thank you! Well this will be a hundred times better.
A song of course like 'Wherever You Will Go' is still played to this day, what do you think it was about that song that resonated with people so much?
Man, there's so many different things, not just the song and what it says and the feeling that everyone can relate to, but the multiple meaning that people got out of the song's lyrics, not even what I had written it about when I was fifteen. That kind of made it a song for a wedding and a song for a funeral you know? A song for a graduation but a song for a love story movie and then I think it was the timing of the world at the moment and the world needed the song maybe, I don't know. Certainly in America it coincided directly with September 11th as the release of the song and that had a very heavy impact at that moment in America especially needing a song of hope and stuff like that.
In terms of new music you mentioned a couple of new songs and it's been a while since a Calling album or a solo album from you for that matter, are there any plans for new material any time soon?
Oh yeah, absolutely! There has been a number of reasons all completely out of my hands of why The Calling has not put out new music in ten years. The first thing was being stuck in a legal label dispute drama for four years until 2008 or 2009, I wasn't allowed to tour, I wasn't allowed to put out music, I wasn't allowed to do anything, it sucked. So I was able to of course write music and those songs evolved into some of this new record but what really made this new album which has been five years in the making and it will be coming out next year, what made it really special was actually some really, really, really hard stuff that I had to go through personally which always makes for great songs *laughs* but being diagnosed with Parkinson's disease, losing all my mobility, being in hospitals for years and now the divorce, I was kidnapped *laughs* and held at gunpoint, I had my first child, it was awesome and so many things that have been both unbelievably difficult and also amazing and I'm missing a lot of other things but you get the picture. I can say hands down that this new album coming out and it's not just my biased opinion but it's an album full of songs that are at 'Wherever You Will Go' lever or higher. So I'm insanely excited for people to hear.
How if in any way has the creative process changed for you throughout the years?
Well hugely, I've been on all sides of the dice and anyway, I've been in whether it being in the past forced to write songs with the big writers that were hot at that time and then those songs would get trashed always which was weird and it was always the songs that I wrote that ended up coming through, I mean for instance I wrote the theme song for the World Cup in 2011 and I actually did put out a solo record with EMI out of Germany and it was a big hit there and I was doing all the soccer events, the football events and it started to hit all over Europe and then EMI went bankrupt before it went international and the whole record was put to rest, so that whole solo record I actually own now and will put that out some other day *laughs*. Anyway, going back to your question the music business changed so much and my life changed so much that I was able to retain and gain all ownership of my music and all my records and write whatever I wanted to write and that is a big difference, also feeling free to go places I hadn't gone musically I would definitely say that this new record has more contemporary electronic elements incorporated with The Calling's kind of roots, heart and soul rock and pop you know. The new Calling record is way less lush and extravagant, that solo record was still under the guise of a label and a certain someone I won't mention who was very powerful in the business at the time and he wanted every song to sound like a symphony and that's what he did, so that solo record is great, I love it, some of the songs on it are incredible and should probably be re-recorded.
Is there one piece of advice you were given when you started playing music that you've maintained and has stuck with you throughout the years that you still go back to to this day?
No. I could give plenty of advice, but no I didn't need it I'm born and raised in Hollywood and my Dad is a well-known Horror film director complete crazy dude so I was raised in that business and knew at such an early age what I was doing, got my record deal at fifteen with RCA, left school, did home schooling and so on and so forth, I was given a million of pieces of advice and they were all wrong actually *laughs* and had to learn over a decade learn from a lot of mistakes and a lot of things.
So obviously things change over time, but what would you say is the one thing that's stayed the same over your time making music?
Me. I mean The Calling was always me and everybody knows that I simply hired musicians to play with me in the studio, I hired guys to go on tour and there was always band people in and out. Early on I wrote all the songs with my writing partner Aaron Kamin who then left The Calling before the second record really, so for me I'm still here and I'm still writing and creating the music that everybody fell in love with from the beginning. It might sound more up to date, it might sound different a little bit but for the most part they're big songs you would hear in stadiums, they're anthemic, lots of big songs and just a lot of emotion, a LOT of emotion. There's a couple of songs that are even hard for me to listen to because of the struggles I have gone through with my health and with the music business and with my love life and my personal life and money and everything, as we all do but I really got handed a shit sandwich *laughs* in the last five years in getting kidnapped, Parkinson's, and a number of other things so I'm happy to be on the other side of that though.
Well I can't wait to hear it, it sounds like you're so passionate about it.
Yeah I really am, and I can't wait to show it to people, it's been so hard for so long to be creating a record and mind you I've written four albums worth of material and taken the best of it, but there's also another cool thing that I did which is I have an album slated to come out next year first potentially which is my eight number one songs that I had around the world as The Calling and 'Tonight' actually that's on there, but I recorded them as a symphonic album so it's all those songs but with a symphony and acoustic guitars and it's just stripped down and gorgeous and it gives kind of new life to songs like 'Wherever You Will Go.'
Lastly let's look ahead to the future, finish this sentence for me, in 2018 The Calling will…
Put out at least one if not two new records, tour the world and take over again in the music scene in a bigger way than they ever did in the beginning.
TOUR DATES:
LIVE With Special Guests Lifehouse & The Calling
November 15: The Riverstage, Brisbane QLD
November 17: Sidney Myer Music Bowl, Melbourne VIC
November 18: Roche Estate, Hunter Valley NSW
Tickets: www.liveaustraliantour.com.au
Essential Information
From: Los Angeles, CA, USA
Website: http://www.thecallingofficial.com