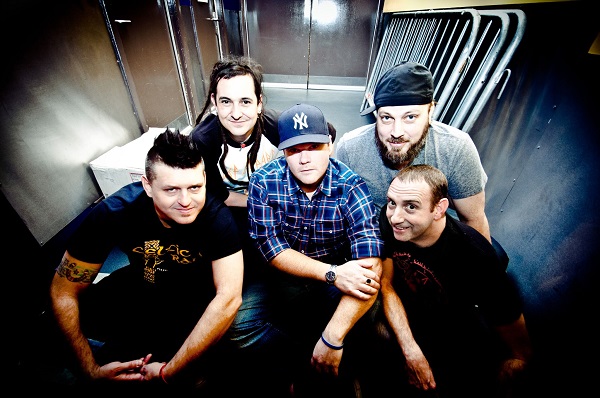 "…considering that Less Than Jake has surpassed my first marriage, Less Than Jake has survived rap metal, Less Than Jake has survived like three versions of pop punk being popular, I mean we're cool, twenty five years in, man, it feels great."
From release: Twenty five years and over three hundred releases since their original formation in small town Florida, the inimitable Less Than Jake return to a loyal local audience to play five headlining dates this October. This most excellent news follows the release of their new EP Sound The Alarm, in February this year.
In Gainseville, Florida and in a parking lot ready to drink a beer and chatting to us about Less Than Jake's 25th Birthday, their upcoming Australian tour, new music, advice, the future, and more.
Twenty five years. Happy Birthday! How does it feel being in a band for a quarter of a century?
Tiring *laughs* but it feels good, considering that Less Than Jake has surpassed my first marriage, Less Than Jake has survived rap metal, Less Than Jake has survived like three versions of pop punk being popular, I mean we're cool, twenty five years in, man, it feels great.
Of course you're coming back to see us in Australia, how will you shape up these shows set wise?
You know what? We're ready, Chris our guitar player and singer he's been practising some jokes and mainly sort of dad jokes that probably won't be funny,  and we know a bunch of songs that we've known for twenty five years and we're gonna come and have a good time. Australia has always been a great tour, always been filled with fun, always people that come to the shows and they want to party and want to have a good time and we want to have a good time, so I expect all those things will roll out justly, my friend.
You've been here more than a few times, do you have a stand out memory for a previous Australian tour?
There's plenty, one being the fact that particularly when we toured in the late 90's with Frenzal Rhomb, and those guys are amazing, those guys are funny, but being on that tour for the first time and being sort of shown around by them, the parties were momentous and I barely remember that trip but it was a great time man and it stands out as one of those quintessential tours that we did in the early days when we went to new places that we never were before. Showing up in the craziest places we could think of and we were there with friends, it was awesome.
How will you celebrate the birthday here in Australia?
You know what? Some parties and some all-out mayhem, because Less Than Jake we've always come down and whether it be a co-headlining tour, or whether we're doing festivals, we never felt like we got a complete show with us, and this time around we're going to bring our complete sort of ride that we would do in The States and beyond. So it's just gonna be a fun time, man, we haven't done a headliner, a proper headliner in a very long time in Australia so we're very excited to do so.
In terms of new music, we had an EP out earlier this year but can we expect any more new music soon?
I think in November we're going to start working on some new music, we've been working individually on writing stuff but usually it kind of takes everybody getting together and ironing it out to see what is what. So, 2018 you're gonna hear something, whether it's one song or whether it's gonna be thirteen or fourteen songs, who knows, I don't have a crystal ball but suffice to say twenty five years in it's what we do, if we feel like one song is a strong song and nothing else is as strong then we only put out one song, in the case of having fourteen songs and felt that only seven songs worked like on 'Sound The Alarm' to make a cohesive idea and a cohesive vibe then we'll record it. We don't want to force a full length out of it; we can just go and record these seven songs.
So over the twenty five years is there one piece of advice you were ever given early on that's stuck with you throughout your career?
You know what? The one piece of advice was from a friend that wasn't actually in a band he turned out to be a high school guidance counselor but he was just a friend, he had said that you can't build a house on sand, you always need a firm foundation so while we were starting to become a band and tour more we always maintained the foundation of being in a band was taken care of. So that's why I think we can be twenty five years in but still a band because early on we already knew that you had to be great to your fans, you had to be accessible, and besides the whole rock star party cliché kind of thing we were very, very self-aware of that, it was the other side of the coin, you had to care about what you do, you had to care about moving forward and do all those things. So you can't build a house on sand, there it is.
Obviously over twenty five years things can change but what would you say is the one thing that's stayed the same in your time together?
The energy that we have together while we're playing together, the band, you know? That energy it happens in sort of, like it combusts and it gets sent out to the crowd and they're singing back and giving us the energy back and it's an exchange. It happens to any great band amongst each other and standing proud, that what keeps us going, that's what keeps us pushing along and it's an important key as to why Less Than Jake is around twenty five years in.
Did you ever think you'd still be doing this twenty five years on?
Absolutely not, and it goes back to my thing about taking care of the foundations because when we were started our main goal was just to play out at clubs, then we did it and that was a win, a victory, then it was OK we want to play a show out of town and when we did that that was a victory, so it was these small victories and small steps. Like dude, I never thought we were ever going to play outside of our home town let alone be a band for twenty five years.
How long are the celebrations going to go for and where are you taking them from here?
Right now we're starting in the top of October, it's a short tour through California, then we're doing a show with Flogging Molly, then we're doing two festivals in California called the Punk In Drublic Fest and that's with NOFX and Flogging Molly and Bad Religion, then we're getting on a plane and coming over to Australia we'll do shows, then we're flying back and getting on a cruise ship to do the Warped Tour rewind cruise from New England Mexico and back. Then we're getting on a plane from there and going to play a late night show in New York and they'll film it, then getting on a plane and going to do two shows with this legendary band called The Descendants and then we wrap up the top of November and that's it until the middle of January / top of February.
Lastly let's look ahead to the future, so finish this sentence for me, in 2018 Less Than Jake will…
Less Than Jake will write music and potentially record it *laughs*
LESS THAN JAKE with special guests bodyjar + foxtrot
Thursday October 19
The Prince, Melbourne
Saturday October 21
The Gov, Adelaide
Sunday October 22
The Tivoli, Brisbane
Tuesday October 24
The Cambridge Hotel, Newcastle
Wednesday October 25
Metro Theatre, Sydney
Presented by: live nation, unify presents + Bombshellzine.com
Tickets: livenation.com.au
Essential Information
From: Gainesville, FL, USA
Band members: Chris DeMakes (vocals, guitar), Roger Lima (vocals, bass), Vinnie Fiorello (drums, lyrics), Buddy Schaub (trombone) and Peter "JR" Wasilewski (saxophone).
Website: www.lessthanjake.com
Latest release: Sound The Alarm (out now)