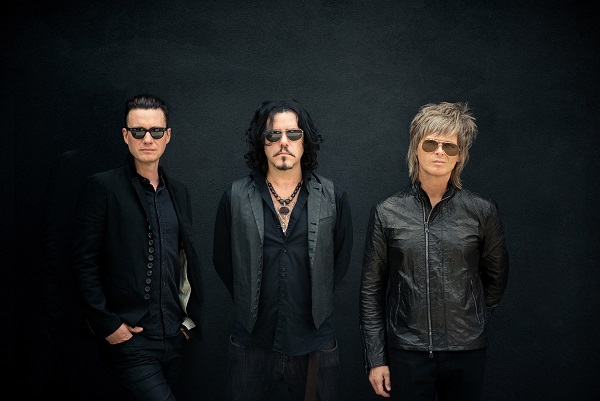 "I think the way we frame things is perhaps different from other bands, there's always been this desire to be timeless and have melodies and songs that strike as songs of quality and not caught up in the moment."
From Release: 1997 was an epic year. Steve Jobs returned to Apple, J.K Rowling published her first Harry Potter book and Pat Rafter won his first US Open. In Australia, fans of award-winning and genre-defying The Tea Party were celebrating the release of the band's third studio album, Transmission.  The Tea Party will perform Transmission in its entirety and The Tea Party live shows are a transportive, soul piercing experience where their unique sound is delivered with stunning force and magnitude; galvanising crowds like only a true rock band can.  Each show on the #TX20 tour will culminate with a set of greatest hits certain to deliver the majestic and unrivalled energy The Tea Party have been rocking since 1990.
At home in Vancouver we gave Stuart Chatwood of The Tea Party a call ahead of their return to Australia in celebration of the 20th anniversary of 'Transmission, memories of releasing it, the prospect of new music, and much more.
So of course we're here because you're heading back to Australia to celebrate the 20th anniversary of 'Transmission' and you'll be playing it in its entirety, what was it like going back and essentially relearning and revisiting songs you may not have played for years and that were recorded in a much different time in your life?
It was quite a challenge for myself as you probably know I'm the keyboard player and the bass player in the band but they also put me in charge back in the day of all the samples and straight from the recording studio onto a live stage time has really moved on from 1997 and everything is now on computers where back then it was all on floppy discs and the like, so it took quite an archival rediscovery process there where I had to dip into the archives and translate things that were on different formats and try and improve things where possible and try and salvage things. So I think for the first four or five days or rehearsal I was hunched over a lap top *laughs* and a bunch of vintage samplers putting the show together while Jeff Burrows and Jeff Martin watched Donald Trump on CNN make a fool of himself *laughs*. It took us maybe until the second show for things to come together because the first show out of the gates for the 'Transmission' tour we tried to play the record start to finish in order and it just didn't flow in a live setting for some reason, our records are designed in a way where we take you on a trip and then take you back down to Earth nicely whereas the live show kind of builds in different locations where an album might. We know a lot about albums and live shows we just didn't make that correlation we just decided to do it *laughs* all the songs on the record. Then songs like 'Gyroscope' we've never performed live in front of an audience, we did it at a sound check one time in front of a small audience in Canada one time to see if we could do it *laughs* but at the time Jeff Martin hadn't practised it and just the lyrics being so syncopated against the rhythm of the song was difficult to cover all the parts off but we've built that song up now and it's one of the highlights actually for us, it's powerful and we do a little ode to Led Zeppelin prior to it so it's pretty fun *laughs*.
Set wise, can we expect any other surprises on the night, have you figured out how these shows will be structured?
Well the surprise for us is always the second set, just what we're gonna do, I know in between shows in Australia we're going to be flying to Byron where Jeff has a studio and we're gonna be finishing up new music for 2018, so I have a feeling I don't know, if we get a double encore *laughs* maybe we'll be pulling one of these new songs out to test them on the loyal Australian fans and see if they go over well.
I was going to ask about that as we had The Ocean At The End back in 2014, so we can expect much more in 2018?
Yeah, I mean it's just such a big undertaking the 'Transmission' thing and then the opportunity arose to do the orchestra thing, I mean in retrospect maybe we should've put that off for a little while but you never know when you're gonna have an opportunity to do those orchestra shows so you have to seize the moment when that arises. It's such a different world now with Spotify and EP's and singles compared to LP's and listening sessions, things have changed and we're not sure what format, myself I still like a good quality album and having an artist take you on a journey but we're not sure, we've got around nine to eleven songs in various states and we're just not sure, is this an album we're gonna be putting out, is this a series of EP's, is it singles? So I think once we've got most of the bulk finished we'll sit down and work that out then. I think Jeff Martin in particular is still a fan of the album, and I'm a fan of it too but if it doesn't make sense then I don't know how to get the music out there to people. It'll be interesting. We have great new managers though, so they're doing a great job and they're very current too *laughs* so it's nice to have a voice you can trust with our managers.
So let's jump back a bit though to when you released 'Transmission', what do you remember about that time in 1997?
Well in Australia we'd just come off 'Alternative Nation' and Pop Will Eat Itself, and Nine Inch Nails and I think touring with Nine Inch Nails on that little run actually rubbed off on us when we went into the studio *laughs* but what I remember about that time, it was kind of interesting just to arrive when people hadn't heard the record just to play it for them the first time because it was such a departure for us, it wasn't just industrial sampling, it was very rough around the edges especially the demos if you ever hear the demos. I remember playing 'Transmission' for the record label the first time and all the record labels in various territories we visited and they were all like "wow, that's The Tea Party? Strange" after the third listen they were kind of like "I like that" *laughs* it still had the power and almost a melody that fought against like you that song in particular, it's like I'm not supposed to like this but it's growing on me. We had expanded so much to the world music thing on 'The Edges of Twilight' it was just good to take the band in another direction. I hate to admit it, it retrospect we didn't know where to go after that *laughs*, 'Tryptic' wasn't really a great leap and since then somewhat it's been just mining similar influences of world music and blues based rock, folk and industrial keyboard elements. I think the way we frame things is perhaps different from other bands, there's always been this desire to be timeless and have melodies and songs that strike as songs of quality and not caught up in the moment. So grunge was big, we were really considered a grunge band even though we had guitar rocks and all the elements and then when bands had DJ's and stuff like that we never got into that, so at the end of the day all these tools that were brought to us via the synths and stuff like that it was just more pallets to play with and we just really embraced it.
That's the one thing I've always loved about The Tea Party is that in my opinion there in no one else that sounds like you guys, not even close, after all this time what do you think it is that makes you guys stand out the way you do?
I think as you grow older you start to look back at the whole catalogue and I think the interplay between Jeff Burrows and Jeff Martin was similar to Jimmy Page and John Bonham in the sense that the drummer is following the guitarist a lot and I'm locking in with the drums, whereas most bands the bass and the drums lock and the guitar will be doing something over the top of it. So there's a riff heaviness to some of our songs and the ultimate compliment though at the end of the day is when bands form and the site us as one of their influences *laughs* I've seen that on a few wanted ads or whatever *laughs*. I mean for us we're a little dumbfounded too that no one else, I mean Peter Gabriel is influenced by Rahat Fateh Ali Khan and the idea that no one else would pull from an incredible artist like himself and all this other world music elements that are sitting there, it's like we're looking through a musical pinhole camera and we're missing out on all these other incredible influences. It just takes a little bit of effort to wrap your head around it, I mean when I listen to Rahat Fateh Ali Khan the Qawwali singer from Pakistan I hear the blues in his voice, you know? *laughs* and I'm not turned off by the strange scales, and myself I worked on a few soundtracks for the Prince of Persia and I dug in deep with folk music from Iran and every morning I'd listen to two hours of folk music *laughs* on internet radio just so it was kind of in my psyche and so that music doesn't really turn my ear off by any means you know, so it's very common to my ear now.
So it's sometimes easy to say what's changed in your time in a band but what would you say is the one thing that's stayed the same in your time together in The Tea Party?
Well when we did come back together in 2011 we didn't know how much the world had changed but the first couple of shows there were grown men crying and just telling us how much we meant to them and just that idea of the connection between the artist and the audience and if you can preach sincerity and be sincere and genuine yourself then you will find an audience, and we were just humbled that we were just able to still connect with people and sometimes on a deeper level. We have evolved as players and as people and we're less insecure on stage not from an ego standpoint but in a not caring about what other people think of us, like when you start you're insecure like how long is this gonna last, what will people think, why are they clapping, why are they not clapping? None of that really matters now, there's enough road behind us, enough miles down the road that we don't have to worry about that, we're sure of who we are now I guess and with that comes a comfort and you can project that onto a crowd and I almost feel like we should have a warmup person come on stage and explain how this all works because some people are new to concert experiences and if they understand this exchange of energy like if you give to us we will give to you and it just climbs higher and higher and then three quarters of the way through the show you're reaching ecstasy and it can be other worldly and transcendental and its happened only a handful of times but when it does happen it's like 'wow that was incredible' and you can't sleep until four in the morning because you're still buzzing from the energy you received from the crowd.
Lastly let's look ahead to the future, finish this sentence for me, in 2018 The Tea Party will…
Hmm *laughs* In 2018 The Tea Party will once again warp minds with new music.
THE TEA PARTY TX20 AUSTRALIAN TOUR
Friday 27 October, The Astor Theatre, Perth
www.astortheatreperth.com or 1300 111 369
Thursday 2 November, Thebarton Theatre, Adelaide
www.ticketmaster.com.au
Friday 3 November, The Odeon Theatre, Hobart
www.ticketek.com.au
Saturday 4 November, The Forum, Melbourne
www.ticketmaster.com.au
Thursday 9 November, The Tivoli Theatre, Brisbane
www.ticketmaster.com.au
Friday 10 November, The Enmore, Sydney
www.ticketek.com.au
Essential Information
From: Toronto, Canada
Band members: Jeff Martin – Vocals / Guitars,  Jeff Burrows – Drums / Percussion, Stuart Chatwood – Bass / Keyboards
Website: http://www.teaparty.com