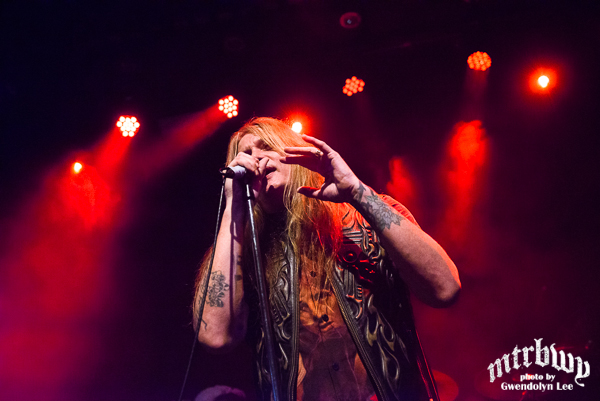 It's been a couple of years but he's Bach in Sydney and tonight a sold out Manning Bar is ready to Bach and Roll all Nite. OK no more Bach puns. Let's get to the show!
Oh wow this is different. Wait. Where's the kaboom?! This is 'Little Wing' holy shit, but as the arms start waving and with a "how you doing Sydney?" it begins. Man, I've always loved Skid Row's version of this song and hearing it tonight is awesome and hearing it open the show is even better! Baz seems in a great mood and as he essentially introduces 'Breaking Down' I'm happy as what the fuck is a song from 'Subhuman Race' doing in the set?! Wow. I can pretty much go home after this!! This is one of my favourite Skid Row songs and his chops on this, wow. BUT… as the guitar hits the opening notes for '18 and Life' the place goes (youth gone) wild as you'd expect. This song oh man, outstanding. It's so powerful and to think it's almost thirty years old. Wow. Timeless.
Speaking of timeless well here comes the acoustic guitar which can only mean one of a few things and this thing is 'I Remember You' and here we go, the phones get hoisted to capture it as you'd expect. Sebastian is singing better than I've ever heard him well since 1993 anyway but wow man, those chops. This song is by far one of the best power ballads of well, ever, so every time I hear it live it takes me back to that first time I heard it and that's what music is all about.
It's time to get loud. Here's the usual show opener 'Slave To The Grind' this far into the set as his microphone gets thrust around and it becomes an all-out assault which is what we needed to turn it up a notch and wow. Heavy. Brutal and it's on. Straight into 'Love is a Bitchslap' the first of his solo material tonight and it's going down a treat! Not wasting any time as the drums time a sing along before it's time to bring out the 'Big Guns' and he sure does. That was amazing and it just keeps going as we stay on the spectacular debut Skid Row album with the completely unexpected 'Sweet Little Sister' and it sounds killer. Man, this one is so chunky and made for the stage and hearing it tonight is so damn good. Then we're ready to get rowdy as 'Piece of Me' pumps things up a couple of levels if that is even possible at this point. How the hell is a song still this good after so many years?! It's outstanding. As heavy as it was many years ago and still has the same meaning and I'm loving every bit of it. Wow.
Time to slow it down again with what seems like an amazing impromptu version of 'Wasted Time' and holy shit play it all, but a promise of learning it for next time with a full version, I know I'll be waiting, it's hands down my favourite Skid Row track. Damn it. So instead we get Dimebag's favourite with 'In a Darkened Room' and it's not that I forgot how good a song this is but holy shit this is a good song. I won't join Dimebag as adding it to my favourite but wow his delivery of it tonight was just wow as this is a voice of gold. That's what this is. Gold. It's time for 'American Metalhead' but as per usual tonight it's 'Australian Metalhead' and that riff, wow. Then as expected when 'Monkey Business' begins the place goes crazy again, damn this song and thinking back how heavy this was for a 'hair band' and I say that loosely as I always thought Skid Row were more than that and this song was heavy and live it has always been perfect and tonight it just got a little better with some Rush! 'Tom fucking Sawyer' not the actual name of the song but excuse my excitement as this was an unexpected cover and realistically thinking about it, Rush never came here so this is as close as I'll get! Thank you Sebastian. It blends straight back into 'Monkey Business' to finish the song off and he still hit all those notes. Holy shit.
Ok it's time *musical sting* for *musical sting* YOUTH *musical sting* GONE *musical sting* WILD!!!!!! This place has just turned into a big sing along and I'm more than ok with that. Hang on I need to join in "SKID ROW" ok I'm good, oh shit I just realized we're at the end of the show! I don't want this to end. No. It can't. It's too good!! As he leans back for a final scream he nails it and has belted out one amazing set. Wow.
Oh he's not done yet?! Awesome. We get band introductions as they leave the stage. The worlds shortest encore with a bit of 'Rock and Roll Outlaw' and 'We Can't Be Beaten' from the mighty Rose Tattoo as be belts it out solo but we're left with one more and it's an AC/DC cover with some 'TNT' and as the entire crowd shots out a good "OI" throughout, we all know how much Sebastian loves his Aussie rock and this amazing hour and a half of straight up rock and roll was spectacular.
During the night Sebastian said "Rock and Roll is supposed to be fun" and that's exactly what tonight was, fun! Now hurry back and learn the entire version of 'Wasted Time', Baz, we're waiting. Oh, one more pun, as always, May the Bach be with You!
Essential Information
Venue: The Manning Bar – Sydney
Date: October 27, 2017
Presented by: Metropolis Touring
Website: http://www.sebastianbach.com
Photo by: Gwendolyn Lee – Gwendolyn Lee Photography – Check out the full gallery HERE
Set List
Little Wing
Breaking Down
18 and Life
I Remember You
Slave To The Grind
Love Is A Bitchslap
Big Guns
Sweet Little Sister
Piece of Me
In A Darkened Room
American Metalhead
Money Business / Tom Sawyer
Youth Gone Wild
TNT