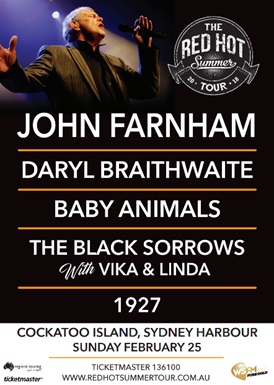 The Red Hot Summer Tour have announced one of their most exciting shows yet – a special one-off performance at the iconic Cockatoo Island, Sydney Harbour.  Headlined by the legendary John Farnham, with special guests Daryl Braithwaite, Baby Animals, The Black Sorrows with Vika & Linda and 1927. This is the first time the summer festival has taken its rockin' line-up to Cockatoo Island and one thing is for sure, this very special show is guaranteed to sell-out fast!
Promoter Duane McDonald says the addition of a show at Cockatoo Island is exciting for the Red Hot Summer Tour. "We are stoked to be able to addUNESCO World-Heritage listed Cockatoo Island to the 2018 run for the John Farnham headlined leg of the Red Hot Summer Tour," he says. "We strive to take the tour to unique venues and areas and it doesn't get much better than Cockatoo Island, right in the middle of Sydney Harbour. This is going to be a show where memories are made."
After a sell-out run in the 2017 Red Hot Summer Tour, John Farnham – the voice of the Australian music industry returns for 2018. His 1986 albumWhispering Jack was the first record to sell over a million copies in Australia and its chart topping single You're The Voice cemented the honey toned solo artist as the 'voice' of the country. Over the next several years he released hit after hit, including Pressure Down, Reasons, A Touch of Paradise, Age of Reason, Two Strong Hearts, Angels, Talk of The Town, Chain Reaction, Burn For You, Have A Little Faith (In Us) and That's Freedom to name a few.
A long-time supporter of the Red Hot Summer Tour, Daryl Braithwaite puts on an incredible performance. He is one of the most recognisable voices in the Australian music scene, and with a diverse career that has spanned decades. Starting his career in the 1970s as the frontman for Sherbet, in the 1980's Daryl set out on his own solo career, releasing smash hit singles such as One Summer, As The Days Go By and Sugar Train. His anthemic version of The Horses is always a crowd-pleaser and a favourite for Red Hot Summer Tour fans. Daryl has a special connection with Cockatoo Island as the place where he spent four years completing an apprenticeship as a fitter and turner.  Baby Animals burst onto the Australian scene in the 1990s with a solid rock force and a sassy lead singer. Suze DeMarchi proved that girls could rock just as hard as guys and the Baby Animals soon kicked some impressive rock butt with hits such as Rush You, Early Warning and One Word. This a rare chance for music fans to see original rock at its best.
Another icon of Australian music, Joe Camilleri, will be bringing his legendary band The Black Sorrows to the 2018 line-up. An incredible songwriter, Joe penned some unforgettable hits with The Black Sorrows, from tracks like Harley & Rose, Dear Children, The Chosen Ones, Never Let Me Go and Chained to the Wheel to Hold On To Me and New Craze. Any live show is guaranteed to get audeinces on their feet dancing, and the addition of Vika and Linda Bull to the band takes the show to a whole new level.. As a band, 1927 are known for their enduring hits – with a swag of classics such as That's When I Think Of You, Compulsory Hero, To Love Me, Don't Forget Me and If I Could. Their inclusion on the 2018 Red Hot Summer Tour is an exciting one indeed.
Tickets to this special event include chartered ferry transfers from King St Wharf to the Island, returning after the show concludes. Tickets are on sale at 9am on Thursday 19thOctober 2017 through Ticketmaster.
Open to the public daily, Cockatoo Island is the only Island in Sydney Harbour where you can stay overnight. Visit www.cockatooisland.gov.au for visitor information.
Sunday 25th February 2018
Cockatoo Island, SYDNEY HARBOUR NSW
Ticketmaster 136 100 | www.ticketmaster.com.au
John Farnham, Daryl Braithwaite, Baby Animals, The Black Sorrows (with Vika & Linda) & 1927
For more information, please visit www.redhotsummertour.com.au