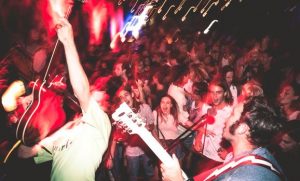 Sydney-based boutique PR & artist management company, Rare Finds are proud to announce their new East Coast touring circuit launching in January 2018 – Presented by Oporto and Pilerats, and supported by Mountain Goat Beer and Arthur St. Studios.
The Rare Finds circuit will showcase curated line-ups of Australia's most-promising emerging talent once a month across the East Coast. It's the next progression for Rare Finds after the agency has been successfully running nights in Brisbane and Sydney over the past two years.
Managing Director of Rare Finds, Rob Carroll describes the motivation behind the project:
"The Rare Finds nights serve to foster a scene within the Australian indie community and provide a strong live platform for outstanding emerging artists. One of the biggest challenges faced by artists, managers and agents at the early stages of an artist's career, is developing a live following. With the launch of our Melbourne event, we're now able to provide an East Coast touring platform to new acts, so they can play to ready-made crowds, which largely consist of industry, tastemakers and the core local indie community".
The first circuit run will be headlined by QLD Sunshine Coast-based artist, Ayla, who has just revealed new single 'Porcelain Doll' and news of her forthcoming sophomore EP 'Let's Talk Monday' (due January 12) – produced by Sam Cromack (Ball Park Music). Ayla is currently performing for sold out crowds as national support for Kim Churchill's 'Weight Falls' album tour.
Supporting the songstress in each city will be Royal & The Southern Echo, Asha Jefferies and DJ Tom Bloomfield in Brisbane, Otious, Magnets and British India DJ's in Melbourne, and Aikonawena, The Longboys and Rare Finds DJ's in Sydney.
Rare Finds has been operating since 2011, specialising in digital music servicing, management consultancy, publicity and label services for undiscovered Australian artists. Previous and current clients include Megan Washington, Dune Rats, The Griswolds, Dappled Cities, Bootleg Rascal, Deep Sea Arcade, Ocean Alley, Mookhi, The Lulu Raes, Cub Sport and WHARVES.
Stream Ayla's New Single 'Porcelain Doll'
RARE FINDS
EAST COAST TOUR CIRCUIT
FRI 12 JAN | BLACK BEAR LODGE, BRISBANE QLD
w/ Ayla, Royal & The Southern Echo, Asha Jefferies and DJ Tom Bloomfield
www.moshtix.com.au
FRI 19 JAN | THE PENNY BLACK, MELBOURNE VIC
w/ Ayla, Otious, Magnets and British India DJ's
Free Entry
SAT 20 JAN | OAF GALLERY BAR, SYDNEY NSW
w/ Ayla, Aikonawena, The Longboys and Rare Finds DJ's
www.moshtix.com.au
FOLLOW RARE FINDS
FACEBOOK | TWITTER | SOUNDCLOUD | SPOTIFY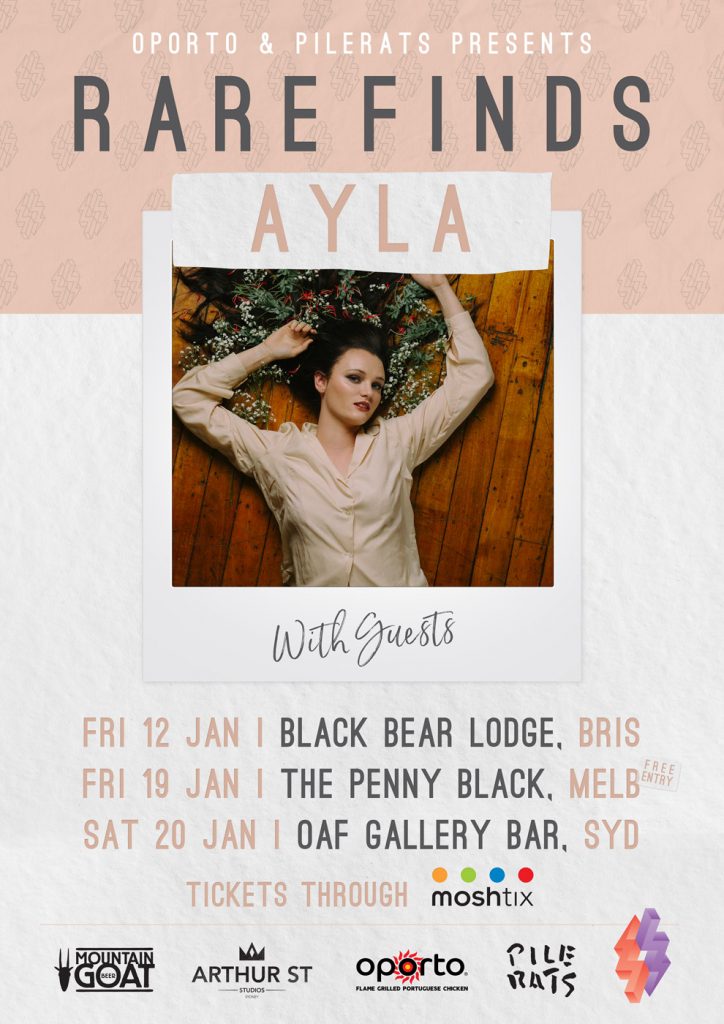 Comments
comments